Electrolux & Niteco

- A prospering partnership
Since 2018, Niteco has been Electrolux's go-to partner for all things digital in the APAC, ANZ and MEA regions.
Thanks to a long-term relationship built on trust, any and all new projects with the aim of improving and optimizing Electrolux's presence in the digital space can be handled by Niteco's teams of experts. As a one-stop shop, Niteco ably handles everything from website and E-Commerce development and maintenance to marketing automation, content governance, SEO and analytics.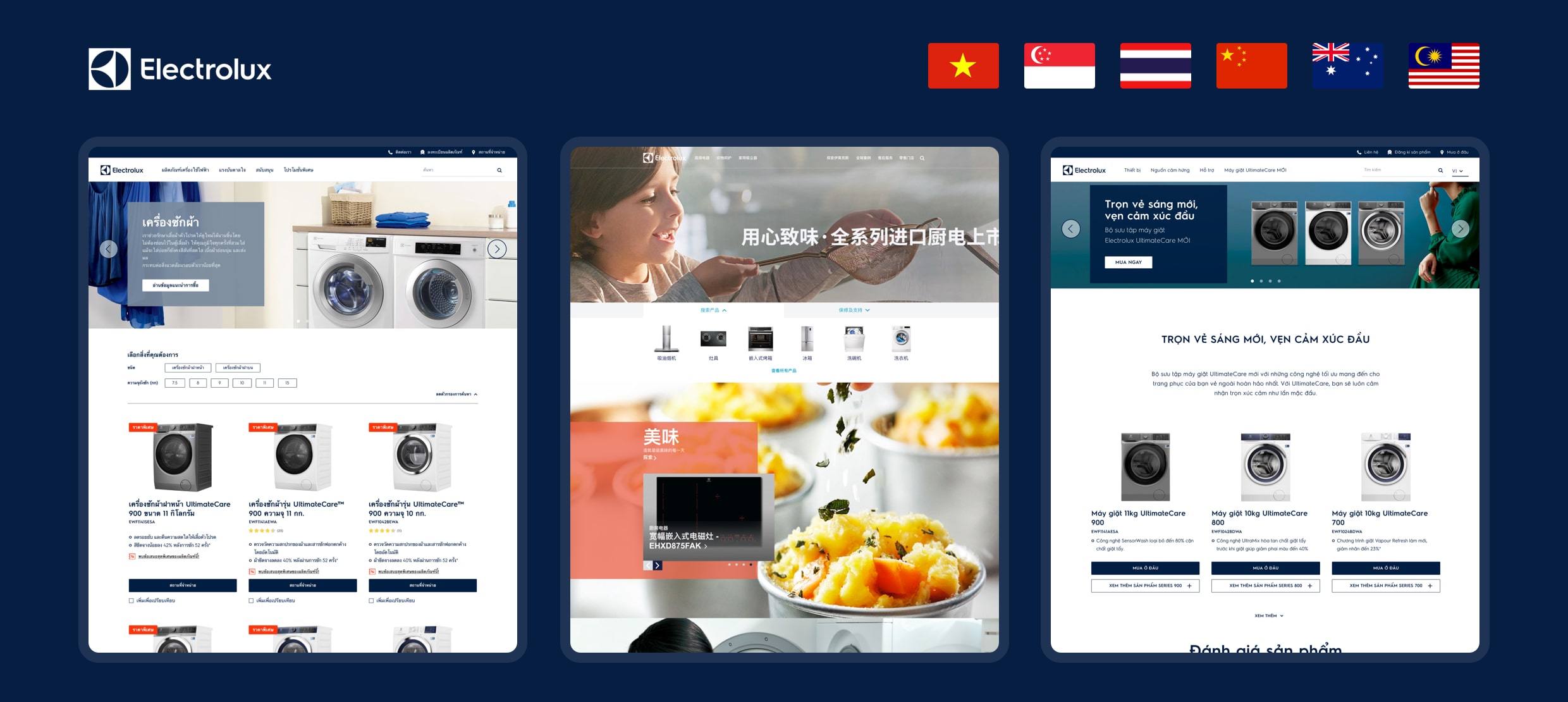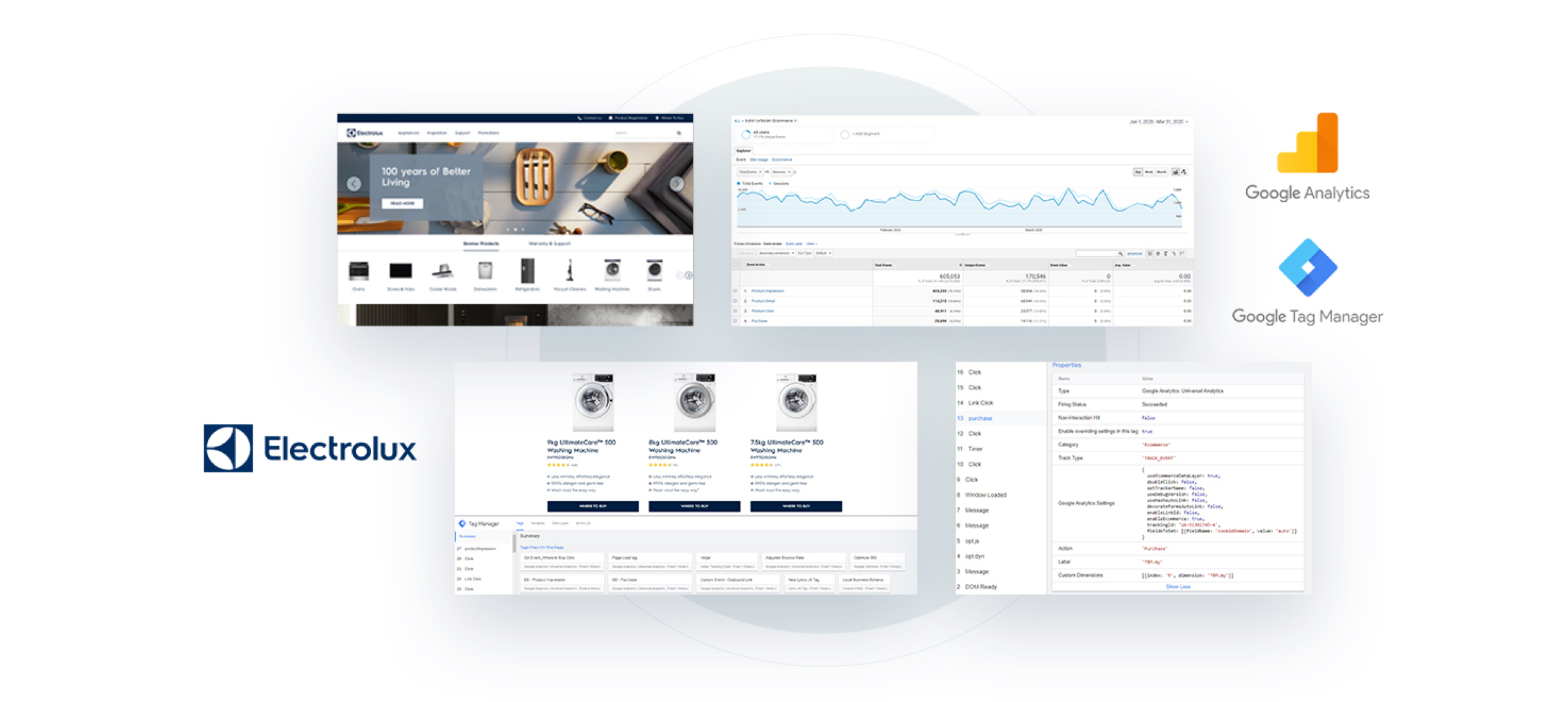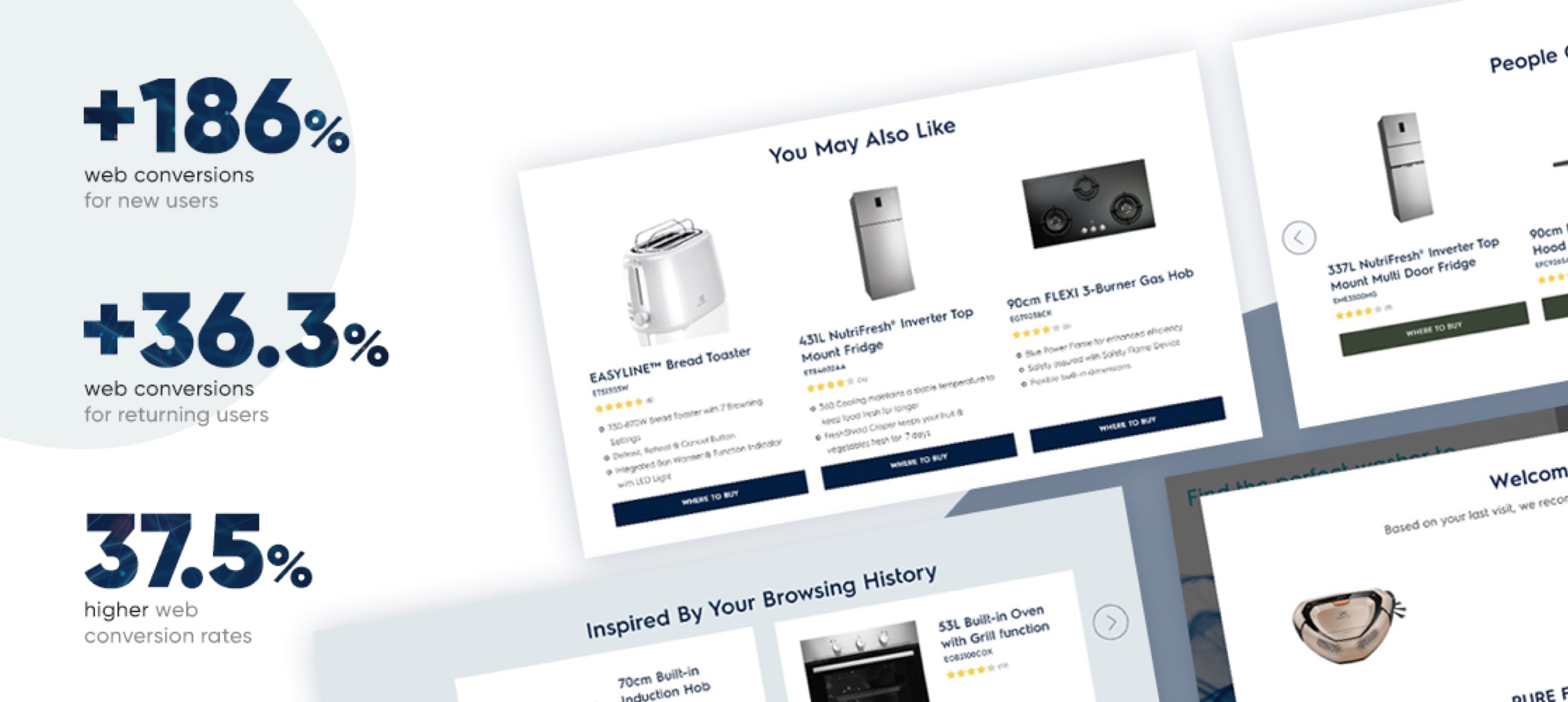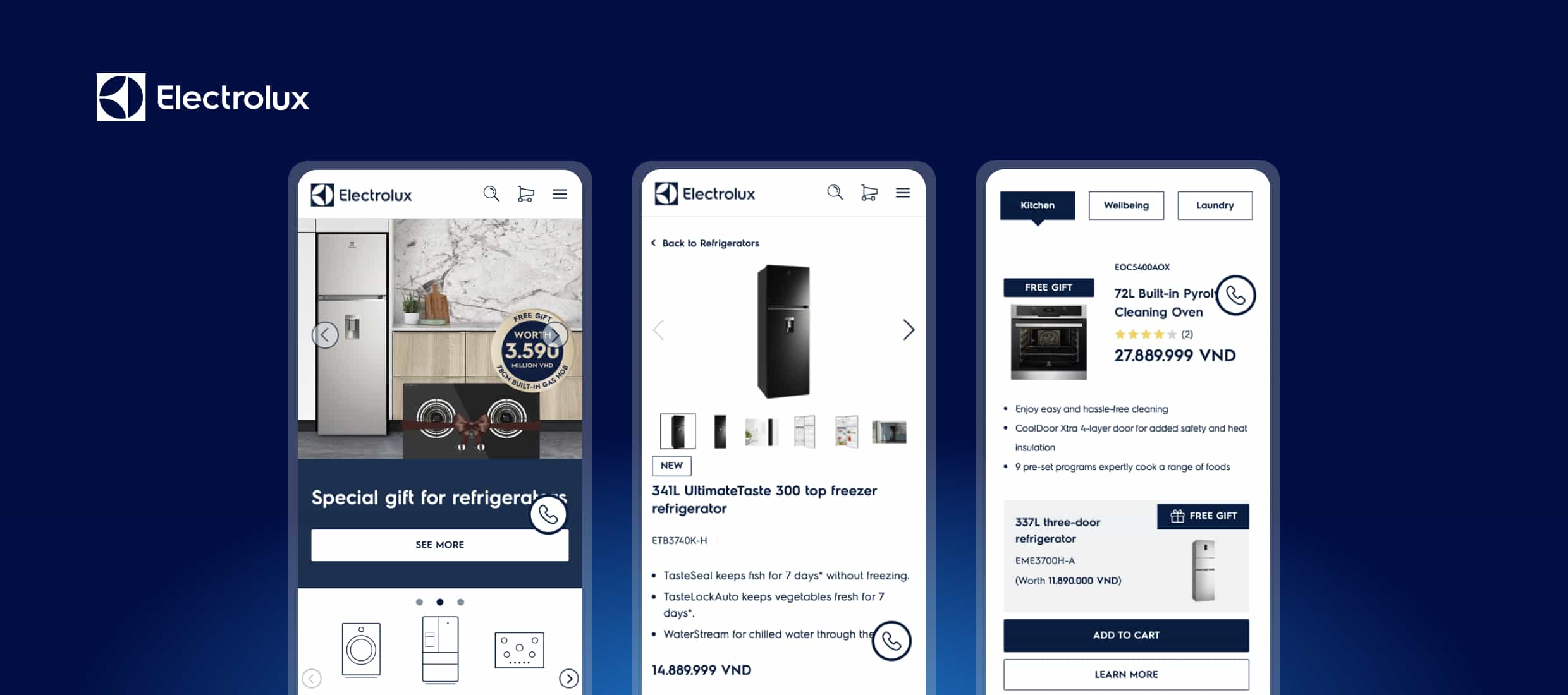 Niteco and Electrolux have collaborated on more than XX projects over more than 3 years.
See Our Work
Niteco and Electrolux have collaborated on more than XX projects over more than 3 years. The following is an overview of some of Niteco's completed and ongoing projects for Electrolux across the APAC, ANZ and MEA regions. All of these projects required close cooperation between Niteco and Electrolux stakeholders across the APAC, ANZ and MEA regions.
E-COMMERCE SITES
9 markets, millions in annual revenue
CMS WEBSITES
Scalable, cost-effective and fast
DIGITAL MARKETING
From design to content and analytics
CUSTOM SOLUTIONS
Aligned with Electrolux's needs
Website Performance
100% of Electrolux's websites complete each page load in under 3 seconds.
Timeline & Budget
100% of projects completed within estimated timeline and budget.
Continuous Growth
100% of projects see major increases in key performance metrics such as traffic, conversion and revenue.
CMS customization, development and maintenance

for 70+ websites
Everything began in 2018 with Niteco performing a thorough CMS customization for Electrolux's website in 11 countries in the APAC region. The sites needed country-specific customizations to appeal to users in the respective countries. Niteco's Optimizely experts worked with a single code base, fixed bugs and errors and improved the overall architecture on which the developers carried out updates and customizations. In addition, the team carried out content updates and improved the UI/UX design to improve the look and feel of the sites.
As a result of this work, user experience in these 11 markets was vastly improved while maintenance and editing of the sites was simplified. Due to their excellent work, Niteco's team was also assigned development and continuous improvement for further sites, with the scope growing annually – from Electrolux-brand sites and Zanussi, AEG, Westinghouse and more in Australia, Asia and the Middle East to Arthur Martin, Kwikot and Frigidaire in Morocco and South Africa. As of late 2021, Niteco's development teams maintain and improve more than 70 sites in more than 30 markets throughout the APAC, ANZ and MEA regions.
Full content services

with
SEO, content publishing and governance
With a product catalog containing thousands of products across dozens of markets, the company came to Niteco to take on the challenge of content entry, publication and governance for its sites. Electrolux marketing teams often lacked the time and technical know-how needed for managing the brand websites built on Optimizely as well as the company's product information (PIM) system. A dedicated team trained in the use of the Optimizely system initially took on content governance for 7 markets.
That number was increased to 24 websites in 21 markets thanks to the Niteco team's good work. For Electrolux's country teams, the content publishing team's work frees up resources, resulting in more available time to spend on marketing work without having to focus on the technical implementation of the content. In addition, a dedicated SEO team works with the various markets' marketing teams to improve on-site and technical SEO, greatly increasing organic traffic across sites.
Data tracking and analytics

for more than 30 websites
Project information:
Since July 2019
Beginning in 2019, Electrolux came to Niteco for an extensive user data tracking and analytics project covering more than 20 sites. The company's existing data tracking system had become obsolete and was not delivering workable data on user behavior, so Electrolux wanted a complete overhaul of its tracking. The goal was to deliver data that would inform decisions and provide insights into business objectives and their feasibility. This was also needed for some newly launched websites of the sub-brands Zanussi and AEG.
Niteco's analytics experts set up Google Analytics (GA) and Google Tag Manager (GTM) properties. To make sure that Electrolux would reap the highest benefit, our team suggested best practices and went the extra mile to restructure the data layers and reset the goals in order to make the tracking consistent across 11 new sites in APAC and MEA. The scope of this project also increased thanks to the team's great work, with Niteco now handling more than 30 sites in more than 15 countries, with more than a dozen further sites to be covered in the future.
For the ANZ region, the project was extended to cover the creation of a custom data dashboard to serve all Electrolux stakeholders.
Marketing automation, personalization and email marketing

with high conversion rates
Project information:
Since August 2019
Starting in 2019, Electrolux wanted to use its customer behavior data more efficiently. Looking for a solution, the company decided on Lytics, a customer data platform (CDP), as the brain of its marketing automation and personalization campaigns. Niteco worked alongside Electrolux experts to implement this new system for several APAC markets. The platform was also integrated with the email marketing and messaging platform Iterable to better reach customers.
Personalization powered by the data stored in Lytics resulted in an upturn of +186% in web conversions for new users and + 36.3% in web conversions for returning users. The email marketing campaigns, which reached an average email open rate of 26%, were also extended to cover the Australian market in 2021. Here, Niteco handles email marketing for the Electrolux, AEG, Westinghouse and Vintec brands, with further brands slated to join the scope in the near future. Average open rates for these brands range from more than 20% to more than 30%. Niteco also managed several ratings and reviews campaigns, increasing the number of customer reviews across brands.
Customizable E-Commerce solution

to support 8 markets
In 2020, Electrolux decided on a change in strategy with a shift towards selling directly to consumers in order to decrease its reliance on retailers. Due to the positive experience of working with Niteco, Electrolux once again chose to rely on our Optimizely experts. Niteco created an E-Commerce template that could be reused and customized across markets, making the expansion of Electrolux's B2C plans to other countries and brands much simpler.
Niteco covered everything from discovery and design to implementation, content governance, SEO and analytics, integrating it with Electrolux's existing PIM and ERP systems and heavily emphasizing web performance and speed. After only four months, the first site was launched in the crucial Vietnam market, with Egypt and Japan following in 2021. For the currently planned rollout, the site will use one platform to support 8 markets, integration with 4 separate ERP systems, 8 payment gateways, and 8 distinct checkout and fulfillment flows.
A high-performance revamp

for AEG Australia
Niteco undertook a complete revamp of AEG Australia's website in early 2021. The brand's old website had been done 3-4 years prior, with lifestyle as key messaging throughout the site. Over the years, however, AEG had sharpened its strategy to become more focused on consumers. This meant that their current page structure and UI style needed to be replaced. Niteco took the project from discovery and design to implementation. In parallel with the technical implementation, Niteco's content team filled the new site with AEG's newly created content, optimizing it for performance and SEO health along the way.
The new site brought a major performance boost. For product detail pages, the Speed Index improved by 640%, while Start Render and Largest Contentful Paint (LCP) for those pages improved by 88% and 82%, respectively. Speed Index for the homepage improved by 195%. These are all key factors of the newly introduced Google Core Web Vitals. In addition, the site's SEO health score increased by 35 points to reach a healthy 99.
Customizable E-Commerce solutions

for the Australian market
For the Australian market, Niteco created a single-platform E-Commerce solution that can accommodate B2B, B2C and staff sales commerce using the same codebase. For staff, a portal allows the purchase of full products as well as spare parts at discounted prices. This uses Microsoft Active Directory Federation Services to enable Single Sign On and is integrated with the Oracle JD Edwards ERP system as well as with Electrolux's proprietary product information management system (PIMS).
For regular customers, the spare parts portal – integrated with those same systems – shows different pricing for retailers at different membership levels. For business customers, the B2B portal even individually calculates prices for each customer. And with each customer being assigned a different price, the portal can handle thousands of different pricing schemes. The entire solution being built on a single codebase saved not only time in deploying the portals, it also greatly simplifies maintenance, with improvements easily deployed across all portals simultaneously.
Ongoing improvements

for higher engagement
In addition to delivering high-performance solutions, Niteco's teams have worked on continuously improving user experience and opportunities for increased user engagement across Electrolux's sites. To improve the presentation of Electrolux's large amounts of content in Australia and other markets, Niteco created a Content Hub, designed by our own UI/UX Design team to be easily accessible to users. With more internal linking and new types of content, it also significantly contributes to strong SEO results.
Beginning its rollout in 2021 with AEG Australia, Niteco also designed and built a completely new support hub, collecting all resources used for customer support in a central location on the website. Making all this support content available to users with fewer clicks was aimed at encouraging more self-service support and fewer calls, reducing the load on Electrolux's customer support staff. To increase engagement, Niteco also helped set up the company's new Electrolux Experience Center, which offers live product consultations and cooking demo events across brands.
More projects
to be revealed soon ...