In October 2018, Niteco's charity foundation NICEF paid for life-saving heart surgery for a young boy named Lich from Northwestern Vietnam. A visit to Lich's home one and a half years later shows how the poor family's life has changed since then.
One afternoon in early June, a group representing Niteco's charity foundation NICEF makes the journey to the village of Nham, about 20km from the town of Bao Yen in the northern Vietnamese province of Lao Cai. After a five-hour trip from the capital city Hanoi to this mountainous area near the Chinese border, a narrow, winding dirt road leads them across a small stream to a simple wooden house in the village. The house is home to the family of four-year-old Trieu Tien Lich, who had to undergo heart surgery in October 2018. On a monthly income of only 50 US dollars, Lich's parents had little hope of raising the money needed for surgery and were desperately seeking help in order to save their son's life. That help came in the form of NICEF, members of which stepped up to pay for the procedure.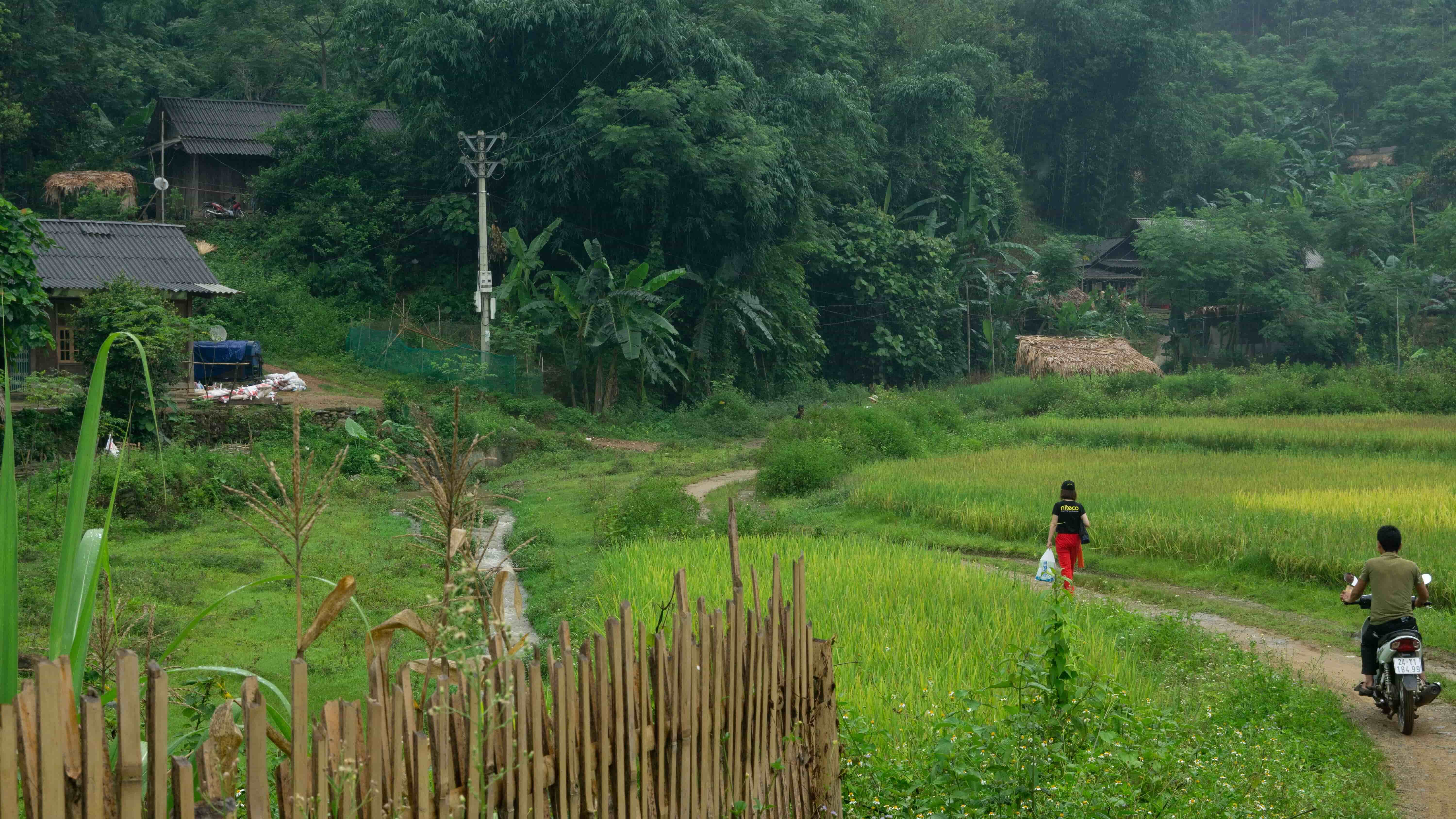 The house of Lich's family lies on the edge of the forest in the village of Nham.
About 1 ½ years later, NICEF decide to pay Lich's family a visit to check on the boy's recovery and bring the family gifts from NICEF's generous members. As they arrive, little Lich and several other children are playing football in the front yard. He is wearing clothes decorated with typical motifs of the Dao ethnic group, woven in brocade. Like any other four-year-old, Lich appears joyful and energetic, with his eyes betraying a bit of a childishly mischievous streak as he kicks the ball as hard as he can. Seeing the lively boy, it's hard to imagine that only about two years ago, Lich and his parents struggled with repeated journeys to the district and provincial hospitals, hoping to cure the boy's congenital heart defect.
The difficult search for a treatment
Trieu Van Lich was born into a family of the Dao ethnic group in Nham. Despite the poor family's difficult living circumstances, his early childhood had been relatively worry-free and harmonious. Life had been no different than in any other home in the surrounding mountains. Until one day, his parents discovered that Lich suffered from breathing difficulties and showed what seemed like an abnormal heartbeat.
From their mountain village, the boy's parents made their way to present his case to a medical team from Hanoi who came to conduct free examinations for people in remote areas. The doctors diagnosed little Lich with a congenital heart disease.
Generous NICEF members step up
"My wife and I almost collapsed when we learned that our child was sick. Given our difficult living circumstances, we didn't know to overcome that. But thank God, we were fortunate enough to find out about NICEF, which gave him one more chance to live," Lich's father Trieu Van Ta emotionally recalls while having tea with the visitors from NICEF.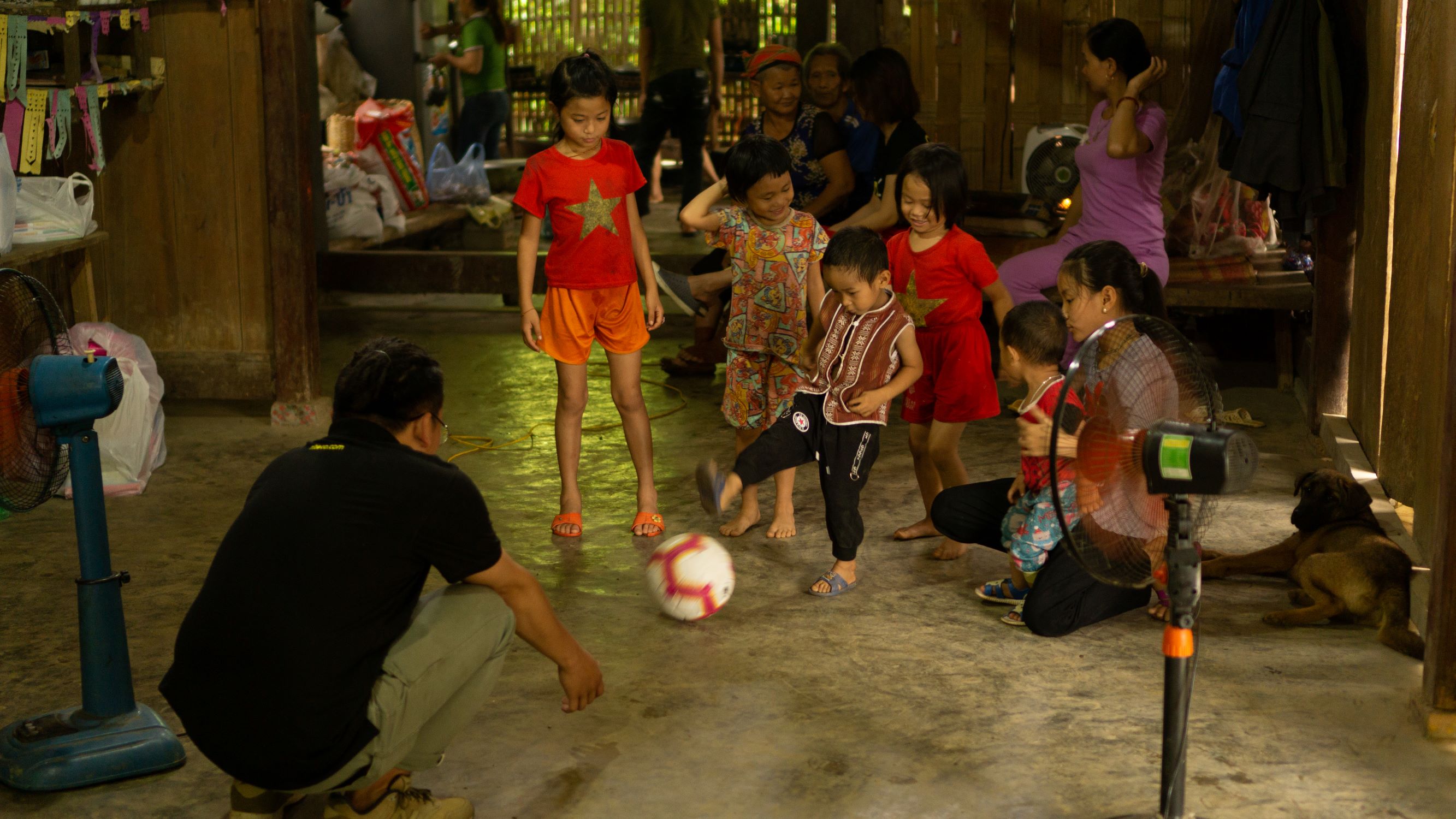 Playing football with Lich and his friends inside his family's home.
In October 2018, little Lich received heart surgery, with NICEF covering the cost of 25 million Vietnamese dong (approx. 1,000 US dollars) with donations from their own pockets, matched by Niteco CEO Pelle Niklasson. The surgery was a success and Lich quickly recovered soon after. Now, he is able to grow and develop the same as other children.
Hospitality despite difficulties
As a result, it wasn't just Lich and his parents who welcomed the NICEF members to the house in Nham. "Lich's grandparents and aunts and uncles all came to see us," said Hau Luong, president of NICEF. While communication was difficult due to the fact that the Dao people use their own language and often only have basic knowledge of the national Vietnamese language, this didn't keep the family from showing their feelings. "Lich's grandmother made every effort to make us feel at home and talk to us, even though it was hard for her. But she wanted to express how thankful she was to us for helping her grandson," Hau Luong went on to say.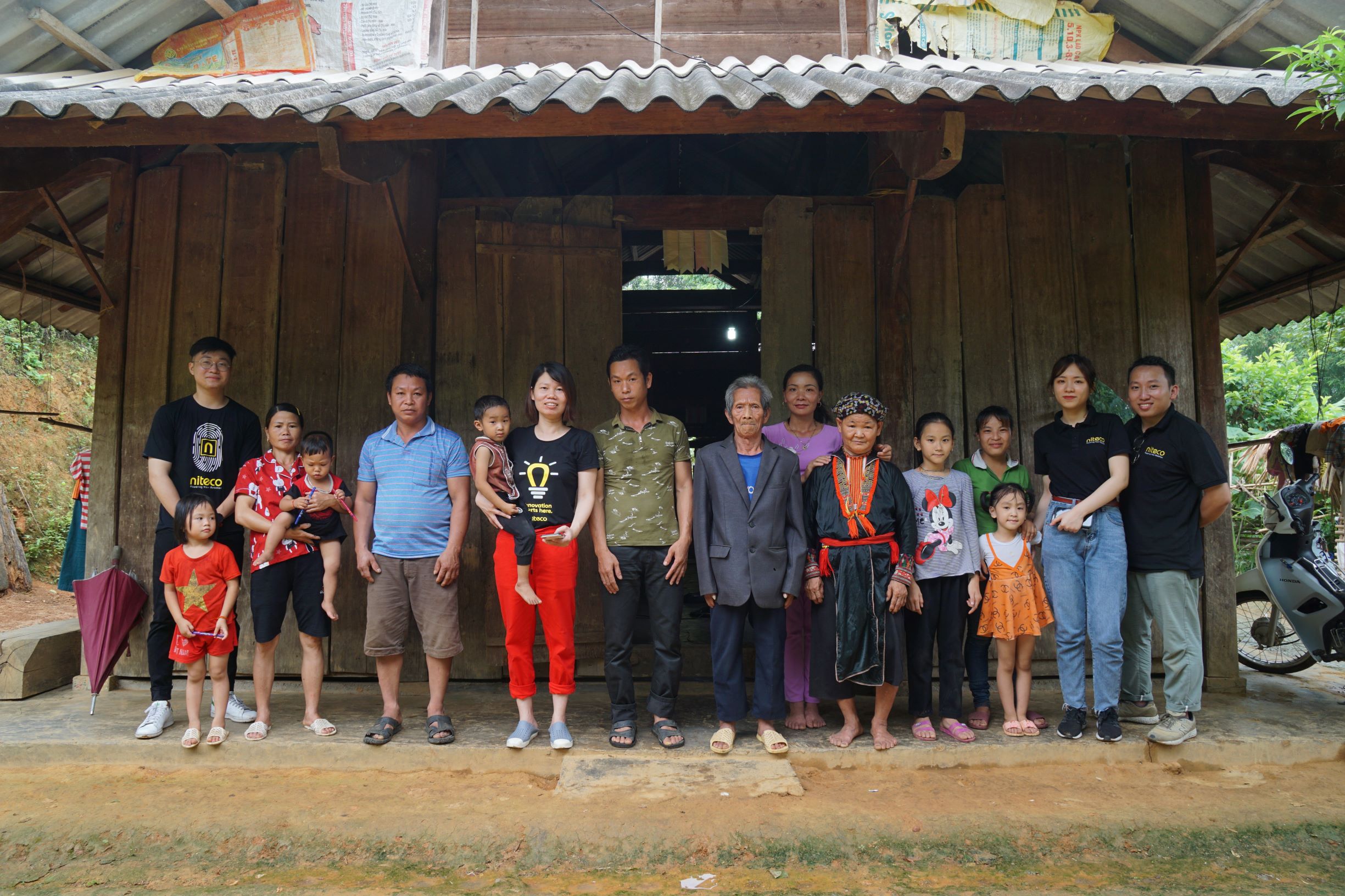 Lich's hospitable family and the visiting NICEF members outside the family's home.
During this visit, NICEF brought along a set of books and toys as well as the best wishes for Lich to grow up strong and healthy. With the presents in his hands, little Lich's eyes sparkle and, with an innocent smile on his face, he gives thanks in what little he knows of the Vietnamese language.
For the members of NICEF, it was heartwarming to see what effect their personal generosity has had on this home far from their own. By a simple act of kindness, the life of a family that had been devastated by the news of the life-threatening condition of their son had been allowed to return to normalcy. "It's always worth helping others, even if you don't know them," said one NICEF member after the visit. "But seeing the effect of your help with your own eyes like this – it's an indescribably humbling experience."
About NICEF
The Niteco Charity Engagement Fund (NICEF) is a Niteco employee-run initiative that aims to improve the lives of Vietnam's most vulnerable. Since its inception, NICEF has raised a phenomenal 75,000 US dollars and helped more than 500 children in their time of desperate need. This includes the provision of funds for children with clef palates to have surgery, building a school and providing educational resources, as well as funding heart operations for children like Lich.