When you're running a global e-commerce business, you're completely dependent on customers' ability to make purchases in multiple markets any time of the day. This means there's no room for poor site performance, slow loading times, payment gateway challenges etc...
We get that. That's why we offer a unique, dedicated service to clients called 24/7 Proactive Response.
What is a 24/7 Proactive Response Team?
"They're like a crack team of ninja's"... that's how Mark Welland, our Sales representative in the UK office describes them. Here's why...
24/7 Proactive Response is a team of dedicated specialists that are available 24/7 to monitor and manage your application. This means dramatically reduced wait times for your service requests and a much more responsive support team, which, in turn, produces vastly improved stability and availability for your application.
However, the 24/7 Proactive Response Team, as the name suggests, is anything but passive. What you get is an active management team that takes care of everything for you. The 24/7 Proactive Response includes advanced application monitoring and integration monitoring tailored for e-commerce and online transactions. It also includes advanced integration, performance and security monitoring. What that means for you is that the team doesn't just take care of your build and its infrastructure. They go beyond, even monitoring your integrations with PIM or DAM systems or any other platforms you may have integrated with your site.
The service is tailored to support both on-premise or cloud solutions like:
• Episerver DXC cloud
• Sitecore Experience cloud
• Amazon AWS cloud
• Microsoft Azure cloud
• Rackspace Managed cloud
Depending on your needs, the 24/7 Proactive Response Team also offers additional services. These include measures to prevent downtime or breaches, such as regular security checks, performance checks, latency and response time monitoring as well as eco-monitoring.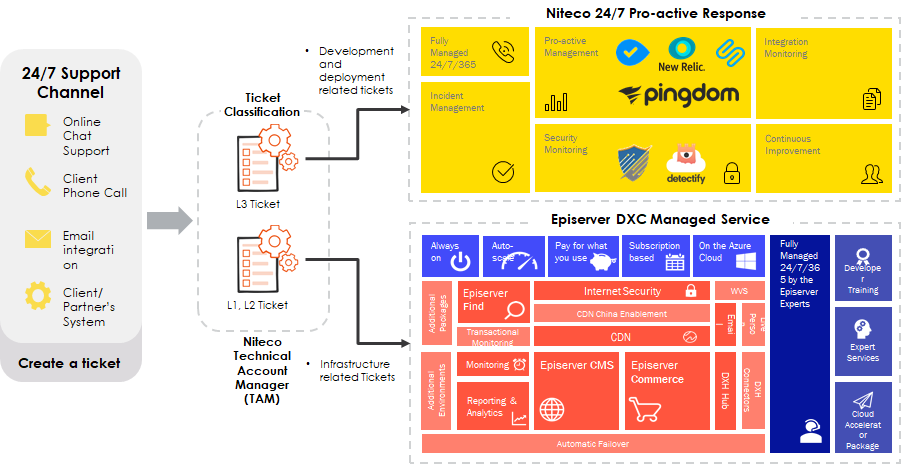 What's more, 24/7 Proactive Response teams are particularly helpful when clients want to scale their projects, offering a rapid response instantly. It's the perfect service for an international company that operates across multiple continents.
Want to know more?
Discover if the 24/7 Proactive Response team structure could work for you and your project by getting in touch with us for an in-depth, no-obligation discussion.