Episerver, founded in Sweden in 1994, has steadily become a force to be reckoned with in the CMS and Digital Commerce market. With its suite of products aimed mainly at mid-sized companies looking to grow their business, it now consistently features prominently in Gartner Magic Quadrants and other reports on the landscape of CMS today.
As a Premium Partner, Niteco has worked with Episerver for many years and throughout many iterations of its platform, garnering a deep knowledge of the company's offerings in the process. We've already given you our thoughts on Episerver Commerce, so this time, we will take a look at its sister product: Episerver CMS.
See how Niteco redefined the way to communicate with clients by developing a mobile app >
Here are our top four reasons to choose Episerver CMS for your website.
1. Smooth content-editing experience
Content management systems are notoriously complicated and require content authors to be thoroughly trained in order to make use of all their arcane capabilities. When you have a huge site to manage, an unnecessarily complex back end can drive you mad. Which is why your website editors will thank you for deciding on Episerver.
Firstly, Episerver provides On-Page Editing capabilities, which allow content editors to see and make changes right where the rendered visual page is. Most often, content manage systems provide a Preview feature that allows editors to toggle between View and Edit modes so they see the changes in the context of the entire page. While this is also provided in Episerver, with On-Page Editing, no toggling between View and Edit mode is required as your editors see the changes right away.
Secondly, Episerver CMS provides developers with the ability to extend the default user interface so it can be tailored to your content editor's needs. This is true for editor views, admin views, global menus, dashboard and add-ons.
Thirdly, content changes can be grouped into Projects. A project can consist of multiple pieces of content, which could be a combination of multiple pages, components and media files. This allows content authors to batch-publish content grouped into projects, which is very useful when setting up campaigns that involve multiple pages that can easily be rolled out in one go, as well as backed out or have an expiry set.
In addition, it also provides commenting features for user collaboration, version history and rollback features.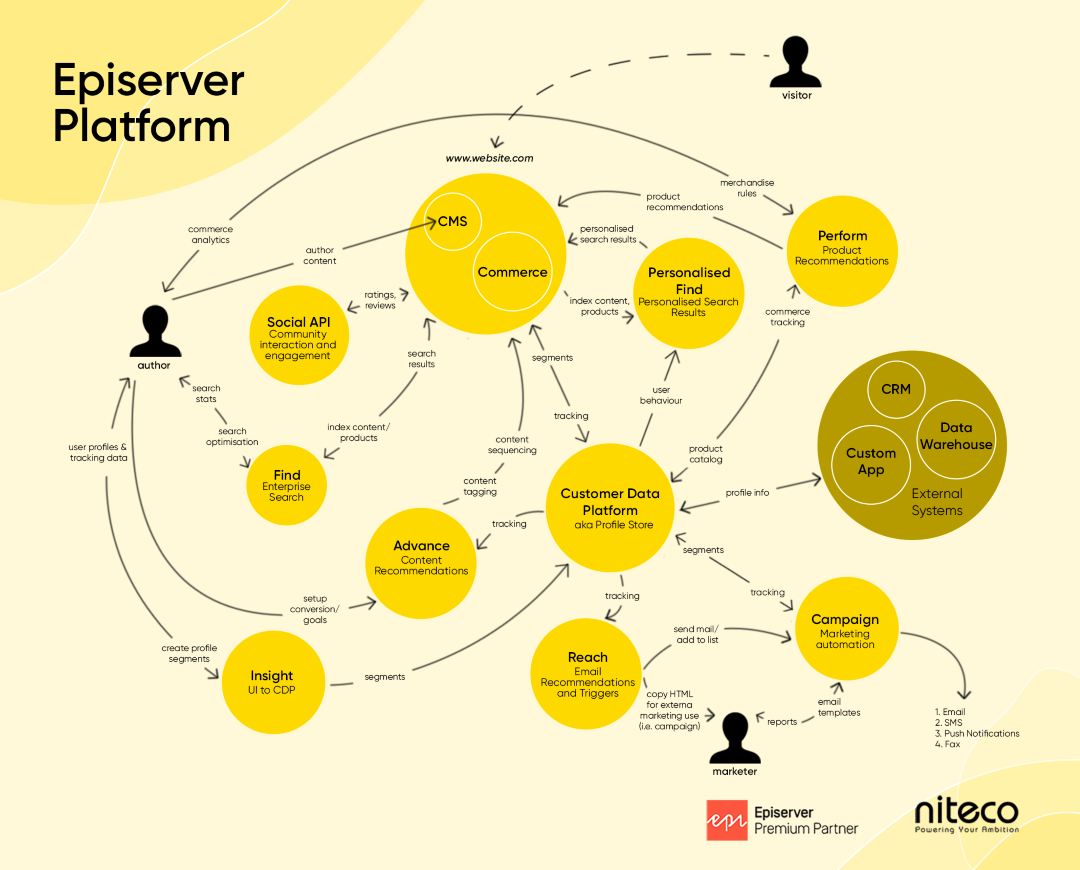 2. Configurable workflow approvals
We know that crafting creative and engaging content takes a lot of effort. In order for content editors to be able to focus on producing a winning piece, it's important that administrating it does not require much time and is made easy.
Episerver provides the ability for admins to configure an approval workflow to ensure content is reviewed and approved by the right stakeholders before it gets published. It allows for setting up a sequence of approvals, as well as adding comments for collaboration between editors and approvers, setting up notifications for pending reviews and comparing changes between different versions.
3. Personalization options that keep your users coming back
If you're looking to personalize your site to increase conversion rates, improve user experience and keep your users coming back, Episerver CMS may be the best choice for you. The breadth of Episerver's targeting and analytics tools like Insight, Advance and Personalised Find in combination with Episerver's block make-up for its pages allows you to completely control what different visitors to your site see – all based on the information that is collected about your users and stored in the Profile Store.
4. A cloud service that lets you focus on your business
While others may have taken the route toward offering their own cloud services ahead of Episerver, the Swedes now offer a service that doesn't need to shy away from comparison to any of its competitor. It's called the Digital Experience Cloud or DXC and transports your full stack into the cloud. The best thing about it? Your DXC build can automatically scale up or down as needed, meaning that you only pay for what you actually use. That means that high usage, which brings you more conversions, will also cost you more, but instances of low usage let you save money as you go.
If you're worried about compliance in different markets, DXC takes care of this aspect as well. And thanks to Episerver's DXC Support, you don't have to worry about your infrastructure either. Every problem is handled by Epi's experts without inconveniencing you or impairing your site's performance. If you combine this with an additional layer of support like Niteco's Application Management Service (AMS), you'll be covered for every eventuality.
Of course, there are myriads of other reasons why Episerver CMS may be the right platform to power your company's web presence and engage your users. That's why Niteco completes a comprehensive audit with the customer before any project begins. Niteco's Consultants and Solution Architects provide advisory services to ensure you get the end-to-end solution best suited to your business. Call us.