Designing, building, maintaining, and running a website, be it an Ecommerce site or not, requires more than the efforts of a website development team. You also need teams to take care of your digital marketing, SEO, conversion rate optimization and A/B Testing, design work, and more. In the past, this meant having to deal with lots of different agencies, each providing one of these services. If you've ever had to do it, you know it's a nightmare of stakeholder management.
Working with a one-stop shop agency like Niteco, however, is different. Communication is greatly simplified, since teams within the partner agency know each other and work closely together. Taking care of your website development as well as your digital marketing needs suddenly becomes a much easier task – and we'll show you how it works.
What is a one-stop shop agency?
A one-stop shop agency is a company that provides a comprehensive range of services in web development and digital marketing. These services often include web development itself, web design, content creation, search engine optimization (SEO), conversion rate optimization, email marketing, and many others. The goal of a one-stop shop agency is to provide clients with a single point of contact for all their needs, streamlining the process and making it more convenient for clients to access the full range of services they require.
Taking Niteco as an example, the greatest advantage of working with a one-stop shop agency is having to manage fewer stakeholders. For complicated tasks that need the involvement of several different teams, it's enough to brief one team. They will then put a process in motion that involves all the teams that are relevant for the given task, freeing up time for the client that would otherwise be spent on having numerous meetings with different stakeholders.
The benefits of a one-stop shop solution in web development and digital marketing
Simplicity
Without a doubt, it's an advantage to have all the services you need under one roof. While, of course, you're working with different teams on different services, those teams share an office in a one-stop shop agency. That means that issues between teams are resolved much more quickly and processes are less ambiguous. Also, adding more services to your suite becomes simpler than ever if your partner offers those services as well.
Streamlined communication
The existence of a single point of contact and the time savings associated with it may just be one of the greatest advantages of the one-stop shop approach. Zhenbei Li, Digital Manager APAC and MEA at Electrolux, put it best, we think. She said,
"When I have a task that needs the support of many different teams, I only need to brief one project manager. They will then go on to inform the others and put a plan in place. I saves me tremendous time I can then spend on other pressing business."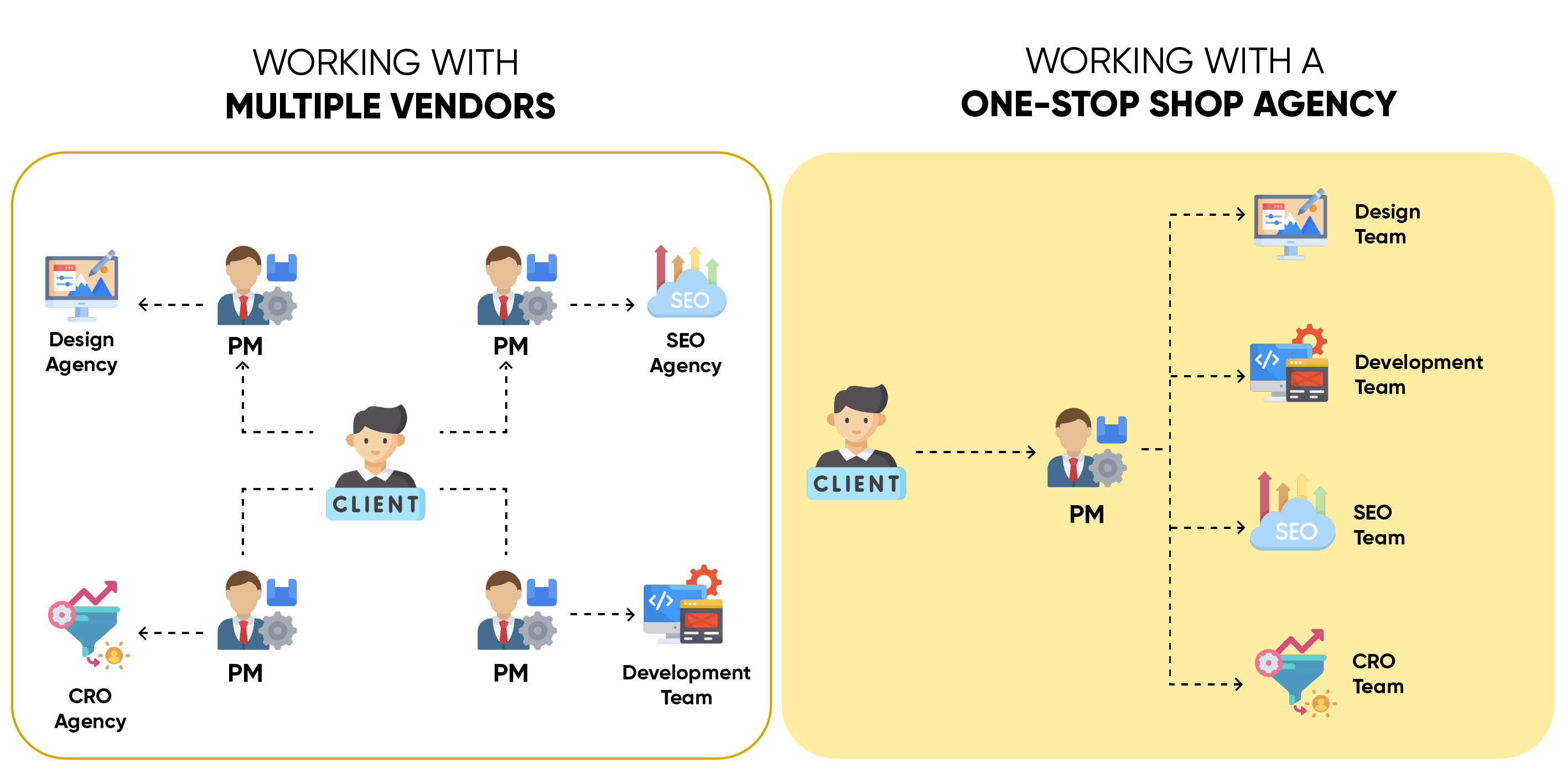 The simplified communication is a huge advantage of working with a one-stop shop agency
Cost efficiency
Maintaining relationships and contracts with several different vendors is not only complicated and time-consuming, it can also get quite expensive. Having to buy every single service individually from a different vendor means more time and money spent on researching those different vendors, getting to know new sales departments and project management teams, and reviewing contracts. When you're working with a one-stop-shop agency, you can often get bundled pricing for multiple services, with further pricing advantages as part of a long-term partnership, led by sales teams that get to know you and your requirements.
Consistency
When you're working on a project with several different vendors providing different services, making sure that everyone is working toward a common goal becomes your responsibility as the customer. While vendors will probably do their best to complete their tasks and provide their service as best they can, every agency invariably has different ways of doing things. So, to ensure consistency, you as the customer representative have to stay on top of everything, making sure that the work is aligned. Working with a one-stop shop agency, with different teams under common leadership, this alignment is much simpler to ensure, resulting in a more consistent solution.
Avoiding conflicts
Stakeholder management can be very challenging, and even more so when you're dealing with partners that don't get along. If you've ever been in a position where partner agencies were pushing blame for an issue back and forth endlessly, you know what we're talking about. When you're working with a one-stop shop agency, there's no more need to participate in such blame games. While, of course, miscommunications can still happen, knowing that everyone involved is working under common management makes conflict resolution much quicker and smoother.
Common one-stop shop services in website development and digital marketing
Most one-stop shop agencies cover a wide array of services, though few cover every single offering you might need for the running of a successful Ecommerce site. Some of the essential services most one-stop shop agencies offer are the following:
Web development
Website development is the core service for the building and maintenance of successful websites and Ecommerce sites. Whether your site uses Optimizely, Sitecore, Umbraco or other platforms, your chosen agency's extensive expertise will allow you to get the most out of it.
The web developers not only build your site and make sure it runs smoothly without any downtimes, they also support other teams in providing their services. For example, services like data analytics, SEO, or conversion rate optimization often require technical support in their implementation.
UI/UX Design
Great UI/UX design can make the difference between your site being a success or hemorrhaging users immediately. Good user experience is absolutely essential, and close cooperation between the design team and the development team can ensure that your design gets implemented in the best way.
In a one-stop shop agency, your development team and your design team are already familiar with each other and know each other's strengths. With their shared experience of designing, building, and implementing great websites, this multi-disciplinary team can make sure that users engage more closely with your site.
SEO and content services
Without good SEO strategy and good content, it's almost impossible for a site to be successful. Google's criteria for high search rankings are becoming ever more stringent, and also include technical requirements and minimum thresholds for your site's performance. These Core Web Vitals mean your SEO team also has to work closely with your web development and maintenance team to ensure that your site's performance is up to scratch.
Add to this that SEO requires quality content for Google and other search engines to crawl, meaning that you may also require content creation or content governance services – all of which require close cooperation with the SEO team. So, it's definitely a good thing if all those teams share a common space and can discuss issues within minutes.
Analytics and conversion rate optimization
Knowing how users behave on your site is incredibly important if you want to improve your user experience, guide users through your sales funnel, and maximize your conversions. With advanced tracking tools and A/B Testing, a qualified analytics team and conversion rate optimization team working together can tell you exactly where your users drop off and what kind of content converts.
To analyze and optimize all aspects of your site, your analytics and CRO team need to work closely with all the other teams, including content services or web developers. And with a one-stop shop agency, those teams working together under common leadership will deliver the most cohesive solution to boost your bottom line.
Why you should give a one-stop shop agency a try
Trying whether a one-stop shop agency is right for you is as easy as starting off with having an agency provide just two services. Once you see how effective this way of doing business is and have become comfortable with the way the agency does things, you can decide to add additional services to your suite.
With Niteco, this is the way our customers came to realize that working with our web development and digital marketing teams is the best way forward. If you're looking for a way out of your stakeholder management troubles, contact Niteco today to find out how your sites and workflows could benefit from working with a one-stop shop agency.