You've probably heard this before, not once but repeatedly: "Email is old-fashioned and will soon be replaced by social media", "Millennials don't use email", "Email marketing is dead", "Spend your money on Facebook advertising instead of running email campaigns". But is that true?
Well, you may also have heard that you shouldn't believe everything you hear.
In fact, in 2020, approximately 4 billion people around the globe regularly used email. In fact, with an annual growth rate forecast of 3%, the number of email users is expected to grow to nearly 4.5 billion in 2024. Meanwhile, the latest Facebook statistics show that it has over 2.2 billion active users. Even if you add Instagram's 1 billion users to that tally, both platforms are still outnumbered by email. And in contrast to what many people believe, millennials spend more than 6 hours a day checking their email, with more than a third checking their inbox before even getting out of bed.
With email alive and well, it's clear that if your Ecommerce business has yet to adopt email marketing, you're probably leaving money on the table. So read on to find out which email marketing campaigns can help you increase engagement and boost revenue.
The Welcome Email
This is the email you send out when a prospect decides to become your customer or a website visitor subscribes to your newsletter. Either way, it's your chance to make a great first impression and inspire people to be engaged with your next emails.
The welcome email is not just a greeting from your brand to the customer or subscriber. Studies have shown that welcome emails are more engaging and able to generate more revenue than many other types of emails – if they are run efficiently. Here are some examples of what welcome emails can accomplish, according to data collected by invespcro.com:
Welcome emails generate 4x more opens and 5x more clicks than regular email marketing campaigns.
Average open rate for welcome emails is a whopping 50%, which makes them 86% more effective than standard newsletters.
Subscribers who receive a welcome email show 33% more engagement with the brand.
Welcome emails have a 14.4% click rate compared to just 2.7% in other types of emails.
That being said, it's not easy to stand out in a cluttered inbox. So, to make sure you establish a meaningful connection with the recipient, your welcome email should be customer-focused and packed with valuable content or offers.
With an onboarding welcome email for new customers, your audience is someone who has already converted, so the purpose of the email should be to get them up and running with your product as soon as possible. The email content should focus on educational resources like tutorials, tips or manuals that help new product owners get started. Don't try to upsell or cross-sell anything in this email. It would be a big turn off and you will see them less engaged with your next emails.
On the other hand, the welcome email sent to new subscribers is more challenging, as these users have only shown a bit of interest in your business and you have to do a lot to make sure their attention isn't going away. Below are a few items you can include in your template:
Show your appreciation with a genuine 'thank you'.
Remind recipients what they've signed up for, what they can expect to receive in the future, and why it will be valuable to them.
Introduce your brand.
Provide something of value to get your new audience engaged straight away.
Here is an example of a well-designed welcome email that Niteco designed and set up: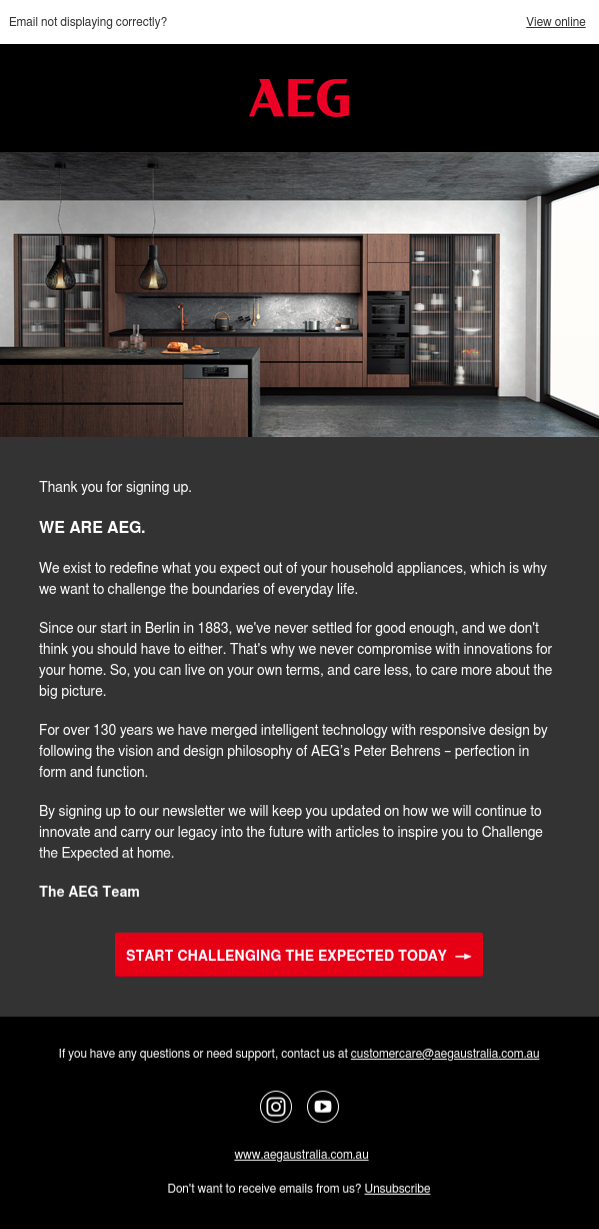 The Cart Abandonment Email
Before the pandemic, window shopping was a popular pastime. Now it has become such a luxury in many countries that people have begun moving to a virtual experience as a replacement. With many businesses now complementing their traditional brick-and-mortar stores with Ecommerce platforms, shoppers can easily browse the site and add the items that catch their eye to the wish list or to the shopping cart. However, not all added items are going to make it to the final step of checkout. Many are left in carts for quite a long time due to various reasons, such as customers are waiting for a better price or them not being so sure about their chosen products.
This is where the abandoned cart email comes in. It's a follow-up email sent to users who have added items to their carts but left them untouched for a certain period of time. This type of email campaign doesn't always convert, but if you do it right, you should be able to see your revenue tick up.
Below are some ideas for your abandoned cart email campaign strategy:
Pay attention to your email subject line
What's the point of creating a good-looking email template with appealing content if your subject line is boring? Most likely, it will sit in your customer's inbox, eternally unopened. So, don't forget your email subject line needs a lot of care and attention too. Here are some tips for writing an eye-catching subject line:
Personalization is important. For example, you could include the customer's name or the product name in the subject line. Examples include 'Joe, did you forget something in your cart?' or 'Joe, still interested in your steam oven?'.
Be direct and clear about your message. Remember that not all of your subject line will show in the customer's inbox, so a long and complicated one might not work. Use simple language instead.
Sometimes, creating urgency or including a product discount (if available) in your subject line can increase your open rates. For example, 'Joe, your steam oven is selling out fast!' or 'Joe, your selected product is on sale!'.
A good subject line will give your email a better chance of being opened while also giving you more room to craft creative content.
Include social proof in your abandoned cart emails
One of the reasons why people abandon their shopping carts is because they aren't sure about their decisions and need more time to consider. That means gaining their trust must be your top priority – and abandoned cart emails are a good way to build a relationship between you and your potential customers. So, including positive product ratings and reviews in your abandoned cart emails is highly recommended.
Offer discounts to enhance abandoned cart recovery rates
Offering discounts or coupons for abandoned products has always been a successful method to boost your conversion rate. Your users might be more tempted to make a purchase when seeing the discounted prices. Free shipping is also an attractive offer to encourage people to re-visit their abandoned carts.
Back-in-Stock Email
Products can go out of stock due to various reasons, one of which is increasing seasonal demand. Obviously, this is a big turn-off for customers, especially those who eagerly expected to make a purchase. Apart from the direct consequence of a lost sale, there's also the risk that the shopper might turn to a competitor for their desired product.
But marketers can turn the risk into an opportunity to recover the potential lost revenue or keep the customers engaged with the brand by setting up a back-in-stock email campaign. Below are the main steps of creating a back-in-stock email campaign:
Step 1: Prepare your site
It's definitely a bad idea to remove the product page of a product that's out of stock and show your customers a 404 page. Instead, leave it on your Ecommerce site, place an 'Out of Stock' label and add a call-to-action (CTA) button to give customers the option to leave their email address in order to be notified when the item is back in stock (for example, 'Notify me when this item is back in stock).
First thing first: Put a lot of effort in writing an appealing subject line. In a sea of emails, you certainly don't want yours to be lost. Some customers may even have forgotten that they signed up and why they are getting the email, so including your brand or the product name in the subject line can be a good reminder. In addition, emphasize scarcity and urgency throughout the email, from the subject line to the email copy. Phrases that should be used include 'hurry', 'limited time' and 'selling fast'. Lastly, don't forget adding a compelling CTA to encourage customers to act as soon as possible.
Step 3: Send a follow-up email
You shouldn't expect all your back-in-stock emails to be opened and convert as soon as they're sent. What if your customers don't take any action at all? Should you just abandon the campaign if they don't open your email?
Of course not. That's why you should schedule a follow-up email to be delivered a few days later if the first email remains unopened. Ideally, send this follow-up one week later and use a different subject line.
These 3 email campaigns are a great start for increasing your conversion rate, but there are countless possibilities when it comes to email marketing for Ecommerce. Set up your first email campaign now to make sure you don't miss any potential sales.
Find out more about how Niteco doubled Electrolux's web conversion rate with marketing automation, personalization and email marketing by reading our case study. If you're interested in Ecommerce or want to get started with email marketing, contact Niteco today to find out how we can help you.