When it comes to E-Commerce sites, even small details can make a difference between a successful project and one that underperforms. That's why it's so important to follow certain Best Practices for E-Commerce sites, and these are the most important ones:
Have a responsive website

Reduce your site's loading time

Upgrade your web hosting

Prioritize SEO

Streamline your site navigation

Make your search function easy to spot

Make customer service easily accessible

Focus on image quality

Provide informative product descriptions

Create FAQ content

Maintain an up-to-date blog

Utilize email marketing

Support various payment options

Optimize your checkout process
Read on to find out more about why we at Niteco think these Best Practices are so important.
Best Practices for technical implementation
Have a responsive website
Responsive design or mobile first design is expected for an E-Commerce site at this point, with more traffic than ever coming from mobile devices. With a good responsive site design, you don't have to choose between potential customers that come to you on mobile or on Desktop devices.
Reduce your site's loading time
The modern user is increasingly impatient and will not tolerate more than a few seconds' delay when visiting a website. When you're running an E-Commerce website, keeping these load times down is absolutely crucial, since many potential customers will abandon their shopping intent if they're kept waiting. As Neil Patel points out on his blog, 47% of users expect a site to load in 2 seconds or less, so load times of below 2 seconds should be the goal for any site.
Upgrade your web hosting
Whether you're hosting your site yourself or you're using a service, good web hosting doesn't only help you with providing great performance, it also helps you keep your site secure. A good infrastructure is essential for keeping your and your customers' data out of the hands of potential hackers – it also doesn't hurt that Google prioritizes secure websites in its search rankings. A good web hosting service can also provide you with scaling options for surges in activity, like around the holidays.
Prioritize SEO
If you want your E-Commerce site to be successful and attract lots of potential customers, good SEO strategy for E-Commerce sites is absolutely essential. Ranking highly on page 1 of Google's search results can boost your sales into the stratosphere, while if you're ranking on page 2, you might just as well not rank at all. Good SEO means technical SEO (those optimizations you can make to allow Google's spiders to crawl and index your site more easily), off-page SEO (e.g. backlinks), and on-page SEO (content, product copy, etc.). Don't forget that Google has made its Web Vitals a prominent part of its SEO criteria, so make sure your site meets the requirements. Read on here to find out how Niteco increased conversions for one of its clients with its SEO service.
Best Practices for UI/UX Design
Streamline your site navigation
Your site's navigation should be easily understandable even on a user's first visit. Especially for E-Commerce sites, making it easy for customers to find the products they want is crucial. That means you need a logical site structure with product categories and tagging that make sense to a normal user. Then, once you've shown your customer where the product they want is located, you need to make it quick and easy for them to get there – no unnecessary landing pages or sub-category pages, just take them to their product at the click of a button.
Make your search function easy to spot
While this is part of having a good site navigation, it deserves its own entry here. Too often, E-Commerce sites hide their search functions in an inconspicuous box that doesn't stand out at first glance. If users have to search to find your search bar, you've made a mistake. Your potential customers should be able to spot your search box as soon as they arrive on your site, allowing them to get to the product they want as soon as they can. While you may want users to first check out some of your other content, a good User Experience demands that you make it easy for users to get to where they want to go, not where you want them to go.
Make customer service easily accessible
If, for some reason, a user has trouble navigating your site or has questions about a product, the way for them to get help should be just as obvious as your search function. You shouldn't hide help or customer service functions in your site's footer. Instead, we recommend that it always be available, either as a hovering button that moves with the user when they scroll, or as a prominent button on a sticky header that also moves with the user.
Best Practices for Content
Focus on image quality
High-quality, appealing images of your products are incredibly important, since users are becoming more and more visual-focused. Great pictures will lead them to try to find out more about your products, engaging them further. In fact, 87.6% of online shoppers named clear product images one of the most important elements of a great shopping experience.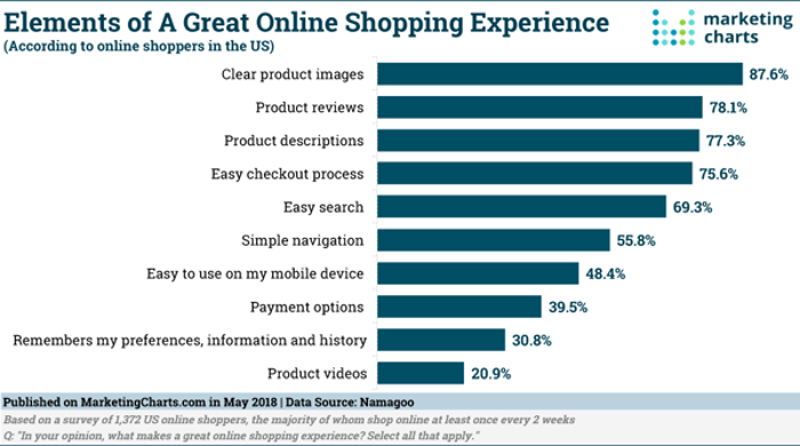 Provide informative product descriptions
Unsurprisingly, your product copy is your customers' most important source of information regarding the product they want to buy. So, you need to make sure that you provide all the information they might need. It's also great practice to include user reviews, since hearing of actual buyers' experiences can sway undecided potential customers in your favor.
Create FAQ content
The purpose of an FAQ section is to provide answers to any possible questions users might have about your products on your website itself. Not only does that mean users don't have to leave your site if they have questions while browsing your offerings. It also means that users that use a search engine with their questions can be returned to your site to find answers and then immediately continue their shopping.
Maintain an up-to-date blog
Blog content is a great way to improve your E-Commerce site's SEO and lead users to your site. Creating relevant content for your target audience can greatly increase your site traffic as well as your Google rankings. It can also help in informing your potential customers about why they should use your products or instruct them on how best to use them.
Best Practices for improved conversion
Utilize email marketing
Engaging with your potential and existing customers using email communications can boost your conversion numbers considerably. While regular sends like newsletters and promotion announcements help to send users to your site to check out your offerings, triggered email marketing can target users more directly. For instance, an abandoned cart email can remind users of that product they were intending to buy, leading them to actually make the purchase.
Support various payment options
Allowing potential customers to pay using their favorite option can go a long way towards convincing them to make a purchase. Unless your products are very unique, most users won't go out of their way to use a payment option they're not familiar with, so meeting them halfway is always a good approach. You also need to follow Best Practices for payment gateways in order to ensure security, and let users know that you're doing so.
Optimize your checkout process
Once you've gotten your users as far as putting their favorite products in the shopping cart and clicking on "Checkout", your work isn't done. A complicated checkout process can keep customers from sealing the deal. You need to get rid of any distractions in the checkout process and let users focus on finalizing their purchase. This is one of the many areas where A/B Testing is an incredibly useful tool. It will help you find out which elements of your checkout funnel are keeping users from finishing the process.
Conclusion
Creating and maintaining a successful E-Commerce site is incredibly challenging, and the Best Practices we listed here are just a selection of the ones we find most important. There are many more potential issues you need to keep in mind if you want to achieve great sales numbers on your site. We at Niteco are experts at creating E-Commerce websites that convert, and we have done so in markets around the world. Find out more by checking out Our Work and contact us to find out how we can elevate your E-Commerce experience.