On August 8th-10th, the retail industry of Australia and New Zealand descended upon the Gold Coast for the iMedia Online Retail Summit Australia. Representatives of 200 retailers from the ANZ region mingled with digital agencies and other online retail vendors to discuss the latest developments in the industry.
Niteco also attended the event at the Sheraton Grand Mirage, Gold Coast, with Paul Tannock, Head of ANZ and Emerging Markets at Niteco, taking the stage for a much-lauded session on Electrolux's digital transformation.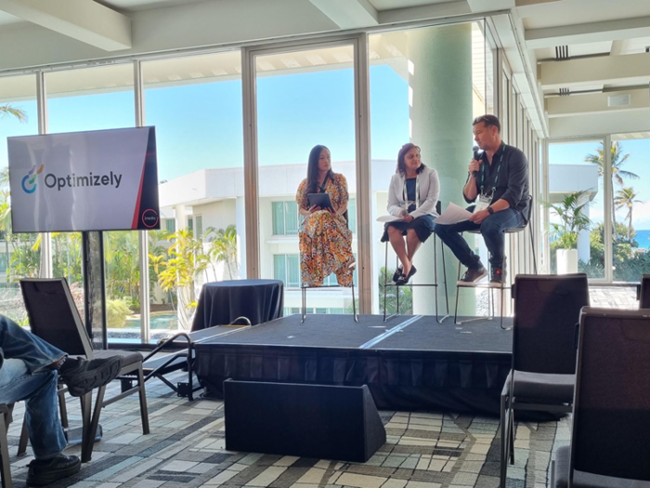 Nicola, Shraddha, and Paul

at

i

Me

dia

Summit.

Phot

o

courtesy

of Nicola Ayan, LinkedIn
Paul was joined by Nicola Ayan, Optimizely Director of Technology and Growth APJ, and Shraddha Karapurkar, IT Senior Lead, Sales & OS COE APAC & MEA at Electrolux, and the team shared their experience of how Electrolux continues to adapt in an ever-changing-digital-landscape-following the pandemic.
What triggered Electrolux's digital journey?
Asked about Electrolux's motivation for speeding up its digital transformation, Shraddha shared that the willingness to embark on a digital journey had been growing strongly across the company. Prior to 2020, Electrolux was still forced to tangle with legacy applications that restricted the digital possibilities, with orders and service bookings being handled manually, costing staff valuable time. To save time and costs as well as improve the customer experience, the company decided to undergo a transformation.
With the support of Niteco, a staff portal as well as a B2B portal for real-time orders were rolled out, followed by an E-Commerce platform for B2B and B2C spare parts sales as well as online service bookings – freeing up staff time for other tasks. Based on the Optimizely platform, Niteco also developed a brand-new E-Commerce site for Electrolux that could be used as a template for expansion into new markets.
The importance of data
Coming out of the height of the pandemic with these E-Commerce sites in place, Electrolux and Niteco now also focus on the usage of first-party data. As Shraddha explained, Electrolux has numerous systems with their own data silos, keeping decision-makers from getting a unified view across multiple channels. This is why the two partners are now also integrating the Optimizely Data Platform into Electrolux's system, allowing for a 360-degree view of customers.
Omnichannel Commerce looks different for Electrolux than it does for other brands since Electrolux doesn't have its own storefronts. However, the addition of new digital channels makes a holistic view of the accumulated data a crucial component for an improved customer experience. This is especially true for the post-purchase journey, where Electrolux tries to further engage customers through its high-quality service and repairs as well as useful content like recipes and guides.
Why finding the right partner and technology is crucial
Paul and Shraddha also underlined the importance of finding the right partner and the right technology to power a company's digital transformation. Understanding the business challenges and outcomes by setting up a Discovery Phase, and setting clear KPIs (key performance indicators) that give stakeholders an easy overview of the progress and the benefits of the development is also critical to get a business' leadership to buy in, they affirmed. Paul also emphasized the flexibility and adaptability of Optimizely, which makes it easier to build and improve solutions without having to over-invest in new technologies. The Niteco team's deep understanding of the Optimizely platform was invaluable in this case, allowing the companies to harness the full potential of what Optimizely has to offer.
For businesses looking to start their digital transformation, Paul and Shraddha had some clear advice to give: prioritize features and don't over-engineer the solution. On Electrolux's digital journey so far, Paul explained, it was most important for Niteco to understand the company's business requirements in order to design a solution that creates agility for the customer. Both sides agreed on a minimum viable product (MVP) and adopted an experimentation culture, with new features added in later phases based on actual data and insights. This, Shraddha stressed, meant that Electrolux avoided using time and money for features that would never get used.
Find out more at Opticon
With Electrolux's digital transformation still ongoing, Niteco will give attendees of the upcoming Opticon 2022 event even deeper insights into the company's journey, which Niteco's expertise shortened from three years to just nine months. Be sure not to miss the event, taking place from October 3rd-5th, 2022 at the Marriott Marquis San Diego Marina in San Diego, California.