On January 7-8, 2023, Niteco's charity foundation NICEF paid a visit to the small commune of Kim Bon in the rural Vietnamese province of Son La to sponsor the reconstruction of three schools and donate winter clothes to the schools children.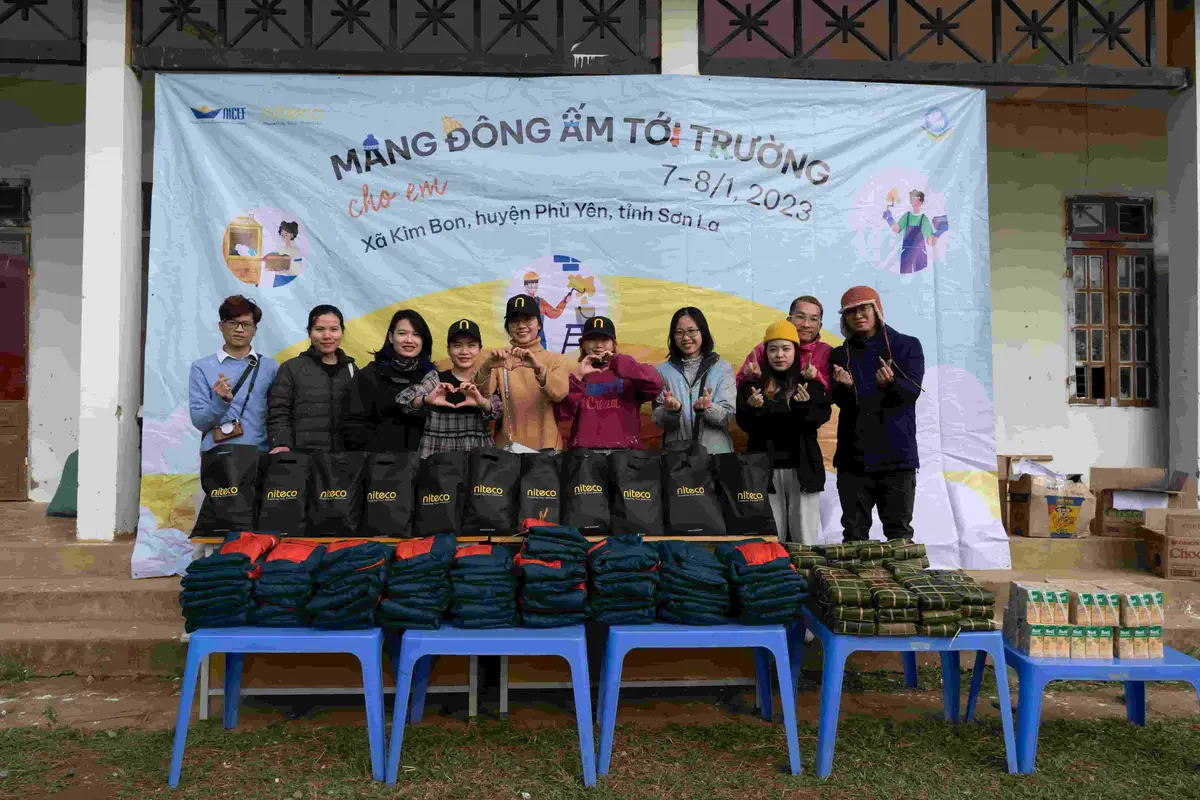 The three schools – Kim Bon primary school, Kim Bon kindergarten, and Dan B primary school – were dealing with run-down facilities and infrastructure that were in dire need of reconstruction and renovation.
During the two days they spent in Kim Bon, NICEF took part in repainting and repairing the schools' walls with a team of 10 people. The team, with support from teachers and locals alike, also constructed fences around the schools to stop cattle from entering the schoolyards.
In addition, due to the harsh conditions of Son La's winter, NICEF also distributed winter jackets and donated clothes to a total of 150 children.
"In winter, the children don't have sufficiently warm clothes to wear to school, so we have to set up a fire in the classroom. It's also becoming more of a problem that after the Lunar New Year holiday, teachers have to find a way to encourage children to go back to school because it's really cold and the road to school is very difficult. So, for instance, we bring instant noodles to school and tell the children we will make a warm lunch for them," one of the teachers said.
Son La, like many other mountainous areas in the North of Vietnam, is notorious for its lack of decent road systems. According to the local teachers, very few people visit Kim Bon commune because of the degraded road conditions. According to a recent study published in 2020, this lack of traffic connections and low-quality roads and bridges in rural and mountainous areas is one of the causes of poverty in Vietnam.
For Loc Nguyen, president of NICEF, this trip to Son La was quite an eye-opening experience. "I was really excited for this trip. For this visit, we were able to leave the cities behind and go to a place with a totally different way of life, meeting people we'd never met. Despite the harsh conditions, the teachers there are devoted to the children's future and the children are incredibly eager to learn."
When asked about future projects, she said NICEF would continue donating clothes to the children of Kim Bon commune and maintaining the facilities that the team had previously worked on.
NICEF used a total of more than VND 31,000,000 (~USD 1.350) in funds for the materials and resources needed for the reconstruction and the distribution of winter jackets to the children. More than VND 22,000,000 (~USD 940) was raised in NICEF's recent Walk for Better Lives campaign, with Niteco employees raising money by meeting walking challenges.
For more information about NICEF and the work we do, visit: https://niteco.com/nicef/