Are you facing challenges in managing product information across multiple touchpoints to ensure a consistent user experience? If so, it's time to explore the benefits of implementing a Product Information Management System (PIMS). A PIMS is specifically designed to maintain consistent product data across multiple channels. This, in turn, enhances productivity and positions your business to provide an exceptional customer experience.
For a more comprehensive understanding of what a product information management system is, the advantages it offers your business, and how to select the most fitting PIM solution, scroll down and read on.
Table of contents:
What is a product information management system?
Product information management (PIM) means storing, distributing, updating, and enriching product data. This ensures the consistent delivery of product information both within the organization and to external stakeholders. The management of product data can be accomplished either through manual efforts or automatically – with the use of a software known as a Product Information Management System (PIMS).
A PIMS functions as a central repository to facilitate data management tasks, including collecting information from various sources like CRMs, ERPs, WMS, data suppliers, internal systems, and external agencies. It then distributes this information across multiple output channels, including mobile apps, websites, marketplaces, and more.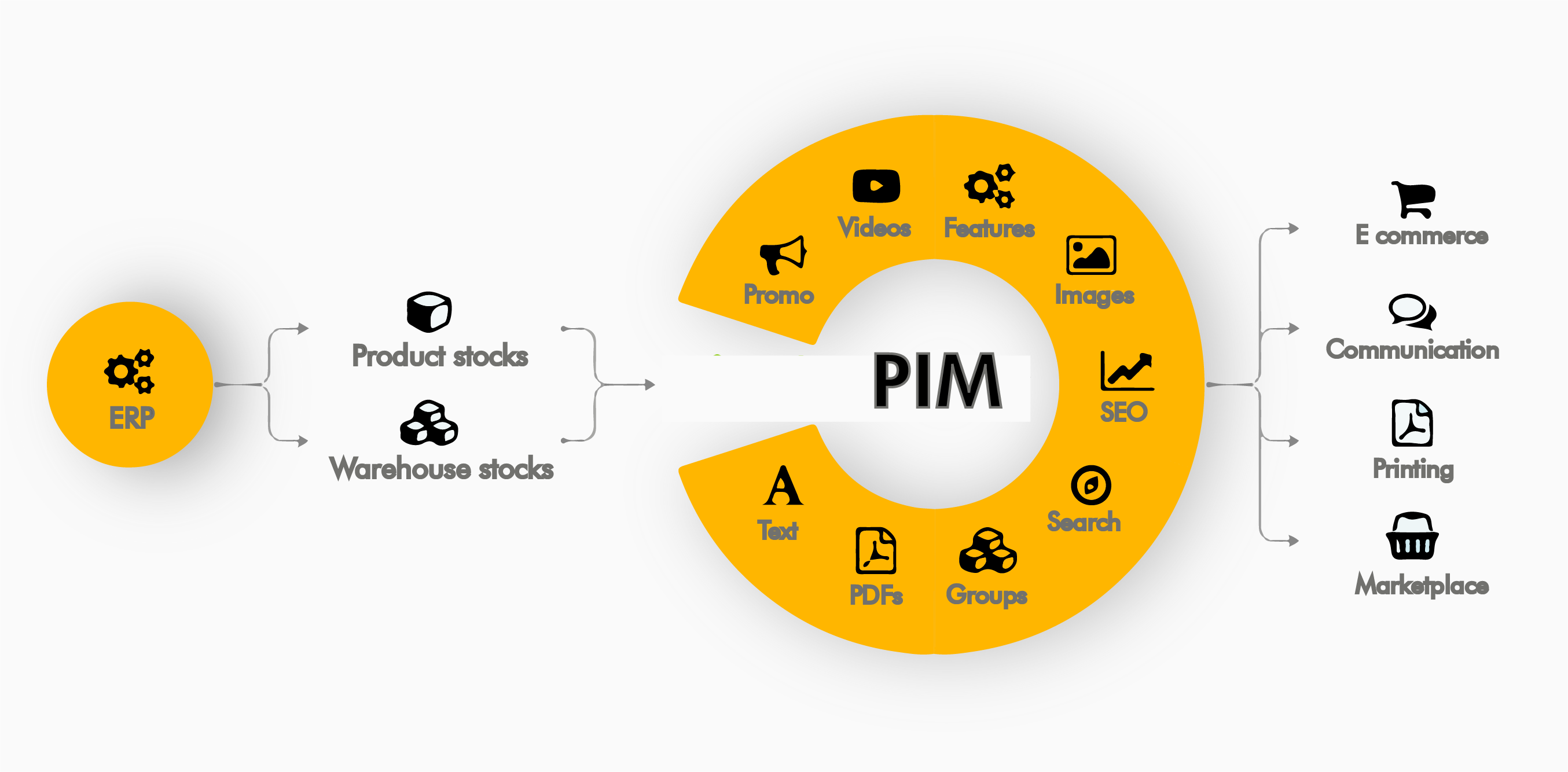 Source: varstreetinc
What are PIM applications?
The applications of PIM can vary significantly from one company to another. For example, they may involve processes tailored to the organization's specific requirements, like enhancing collaboration during particular stages of the product lifecycle. Below are the most common areas where PIM can be useful:
Content management for Ecommerce: The PIM system automatically distributes images, marketing texts, and additional product data to all relevant output channels. A PIMS becomes especially beneficial when you're introducing new products or updating existing product information.
Creation of product catalogs and brochures: A PIMS is great for database publishing, automating the inclusion of text, images, and other content. This significantly reduces the effort required for print production.
E-catalogs: The PIM system facilitates the uploading of product descriptions to the product catalog management system.
Retail assortment strategies: Suppliers can be seamlessly integrated into a PIM system to incorporate long-tail items with higher profit margins into the product assortment, all without the need for additional storage space.
5 reasons why a PIMS is important to your Ecommerce business
Both small and large businesses can benefit from a PIMS, as it can have a major impact on their operations. The following are the 5 main advantages of implementing a PIMS.
1. Effective data management
PIM systems provide centralized storage for product information, ensuring that data is accurate, up-to-date, and consistent across all channels and platforms. Additionally, they can guarantee the successful migration of Ecommerce content with standardized attributes and validation rules. This minimizes the potential for data discrepancies and errors that may occur when managing product data manually or through disparate systems.
2. Accurate and consistent data across channels
If your business is multi-market, a PIMS can keep your data accurate and consistent more easily. And since your product data is managed in a system, the distribution is simple. A PIMS can help to deliver information to various channels and communication touchpoints, including websites, apps, physical stores, offline brochures and more. Ultimately, this consistency enhances the customer experience as customers receive the same reliable information regardless of channels, increasing trust and customer satisfaction.
3. Improved productivity
By automating manual data management tasks, PIM systems free up valuable time for product managers and marketers. That means they can focus on enriching and optimizing product data rather than spending hours on data entry and verification. This improved productivity leads to faster time-to-market for new products and updates.
4. Targeted customer communication and enhanced customer experience
In the competitive Ecommerce landscape, the addition of new sales channels has increased the complexity of data management for retailers and manufacturers. It becomes tougher all the time to target specific customer groups, each with distinct needs, requirements, and preferences that are difficult to manage manually. Therefore, a PIMS can simplify and harmonize data management and distribution.
The ultimate goal for any business is to satisfy its customers. By providing rich and consistent product data, PIM systems contribute to a positive customer experience. Customers can easily find the information they need, compare products, and make informed purchases, reducing product returns and increasing customer loyalty.
Check out our successful Maria Nila case study about PIMS synchronized between Magento and the Pyramid ERP.
5. Increased conversion rates and revenue
Lastly and most importantly, a PIMS can help to optimize your conversion rate and boost revenue. A product information report from Shotfarm showed that 87% of consumers said they wouldn't buy from an Ecommerce store again if it provided inaccurate product information. Therefore, accurate and consistent product data distributed by a PIMS across various touchpoints can determine whether your business' revenue or its return rates will skyrocket.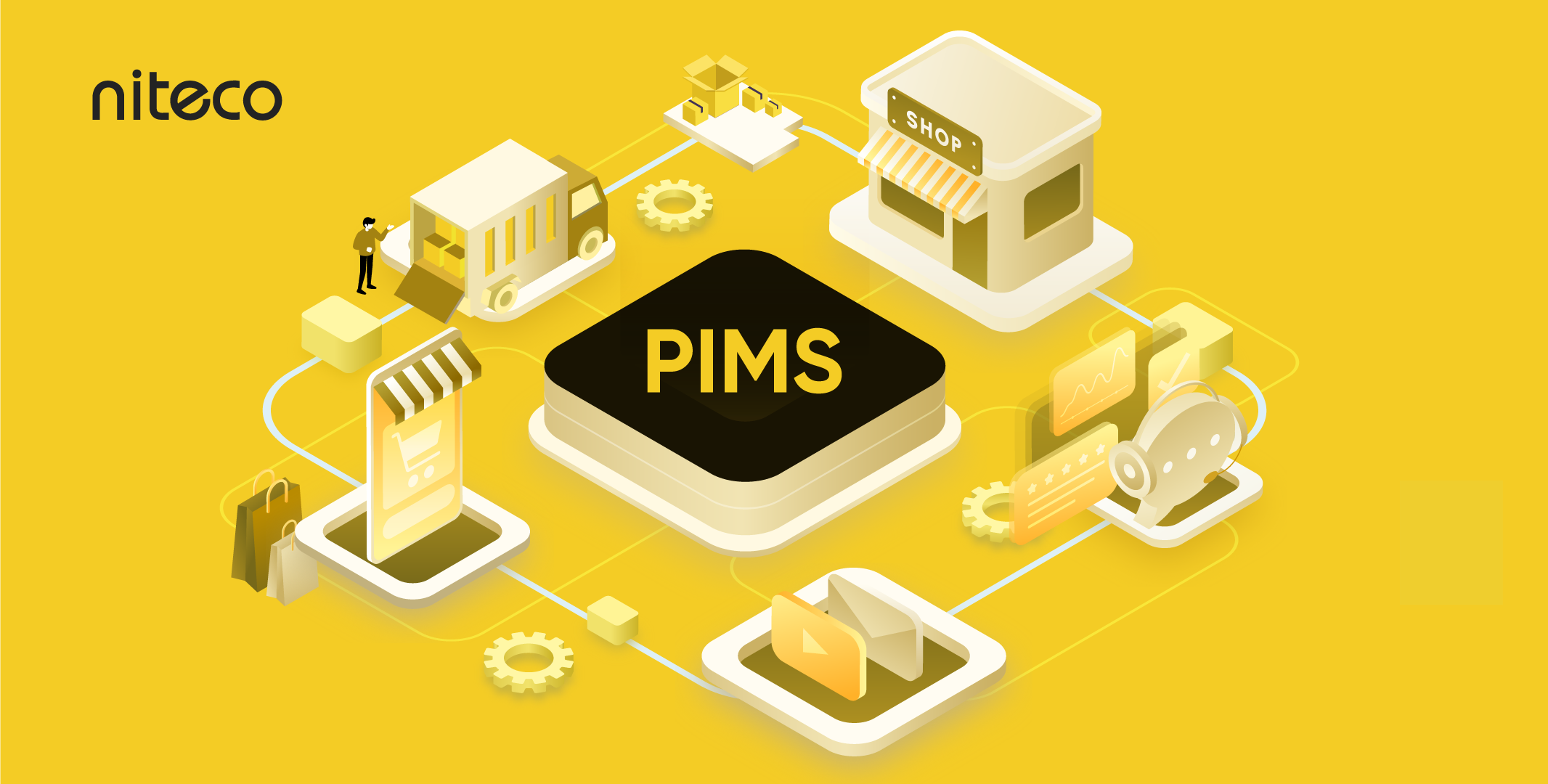 The best PIMS: 5 vital criteria to consider
The significance of a PIMS is undeniable. However, choosing the best PIMS can be difficult due to the abundance of tools available in the market. Evaluating a PIMS based on these 5 criteria can help you narrow the options down to find the most suitable one for your business.
1. User-friendliness and automation
A fundamental requirement for a PIMS is its ease of use and automation capabilities. The selected system should simplify rather than complicate your tasks. A user-friendly and intuitive PIMS can facilitate seamless data management, reducing the learning curve for your team and ultimately enhancing efficiency in handling product information.
Furthermore, a PIMS can automate labor-intensive and repetitive tasks and help to streamline processes. This not only makes it easier to run bulk operations, track task progress prior to publishing, and validate work, but also conserves your resources' time, allowing them to focus on more demanding activities and innovative solutions.
2. Data management functionality
Another important requirement for a PIMS is its data management functionality. You should choose which offers your business the features you need the most:
Data validation: It should provide validation rules to ensure data accuracy, consistency, and adherence to defined standards during the data entry and import processes.
Data cleansing: It can identify and remove duplicate or inconsistent data entries, which is crucial for maintaining high-quality product information.
Data enrichment: It allows for easy enrichment of product data, such as adding descriptions, images, and specifications, essential for enhancing the quality and completeness of your product information.
There is even more data-focused functionality you might want your PIMS solution to take care of. Send us a message to get exactly the solution your business needs.
3. Data integration ability
Consider this: Is the PIMS user-friendly and compatible with other management software? If not, you may want to make another choice. It's common for businesses to deploy multiple management systems, such as ERP and CRM platforms, simultaneously. Therefore, when integrating an additional platform like a PIMS into the existing ecosystem, it's crucial to ensure a seamless combination.
Moreover, the compatibility between a PIMS and other software determines how far you can rely on features like efficient data synchronization, automatic updates, and the seamless management of omnichannel operations, including sales and marketing. Therefore, it's essential to verify that your chosen PIMS is software-friendly and capable of integrating smoothly with other systems.
4. Room for scalability and flexibility
As your business grows, your product data management needs will also increase. As a result, a scalable and flexible product information management solution is a must-have. It should be capable of accommodating a growing number of products and adapting to your evolving requirements over time. Scalability ensures that you won't need to switch to a new system every few years as your business expands. This can save you valuable time and, more importantly, resources.
Meanwhile, the optimal PIMS should have certain criteria for flexibility:
Flexible data modeling: Choose a PIM system that allows you to define and customize data models, attributes, and classifications that fit your specific business requirements and product catalog structure.
Workflow customization: Look for a PIM system that enables you to design and customize workflows to match your organization's processes and approval hierarchies.
Customizable user interface: Consider a PIM system that offers a user-friendly and customizable interface, allowing users to personalize their working environment and access relevant data quickly.
5. Support availability
Implementing a new software solution can sometimes be a daunting task. This is why it's crucial to choose a PIMS software provider that offers instant customer support and training resources like tutorials and documentation. Having reliable support will not only make the transition to the new software smoother, but also ensure that your team can use the software effectively.
Of course, there are other important requirements you might want your PIMS to meet – for instance, reasonable pricing and a qualified vendor providing and maintaining the system. To get the most out of your custom product information management solution, contact Niteco.
Read more about our experience working with Electrolux's proprietary PIMS.
PIMS – An indispensable data management tool
In conclusion, a Product Information Management System such as Optimizely PIM offers an ideal solution to ensure data consistency across various internal and external channels. A PIMS not only refines data management but also allows for increased productivity, enriches the customer experience, and drives revenue growth. Selecting the right PIMS for your business involves considering key factors like a user-friendly interface, robust data management capabilities, seamless integration, scalability, and responsive customer support.
FAQs about Product Information Management Systems
1. Do I need a PIMS when I already have ERP?
Yes. ERP software is designed to automate and manage many core business processes, including inventory management, manufacturing, financials, and even HR. In the meantime, a PIMS is a more specific, targeted solution that can help with omnichannel digital commerce, sales and marketing activities, and product experience management. Therefore, while ERP systems are great at managing operational data, they're not always the best solution for managing product data or rich product content.
2. How do I know if my business needs a PIMS?
What a PIMS can do, people can do too. However, if you compare the resources needed for having employees do the job of a PIMS, you can see the significant advantages. In addition, while a PIMS is not a must-have tool for every business, it will facilitate your business operations in terms of data management, cross-team communications, etc. Therefore, it can not only boost your teams' productivity but also help you gain more conversions and increase revenue at a reasonable cost.
3. How much will a PIMS cost?
The price of setting up a PIMS depends on your business' size and complexity as well as what features you're looking for. You can expect costs for services such as system configuration, system customization and integration, etc. You can contact us for a more personalized PIMS cost estimation.
In the meantime, you can explore lists of considerations before finalizing your website budget, gaining insights into how to maintain cost-effectiveness.