What's kept Niteco growing strong throughout the last 13 years has always been the people! Whether it's a few-month or a 10-year journey, each of our employees carries Niteco's identity and we're beyond proud of that.
Among those who have been with Niteco through thick and thin, we want to share the inspiring story of Quan Pham, who has been a Nitecan for over 6 years and has grown from a Technical Project Manager to now the Delivery Manager of the Odin division!
How Quan started at Niteco.
Quan applied for a job at Niteco after having heard a good review from his friend, praising that Niteco's culture is top-notch and that Niteco management supports continuing education and learning on the job while rewarding high-quality work and enthusiasm.
"I'm curious about the challenges the company faces in global markets and how my skills and experiences can contribute to overcoming them." - Quan shares his motivation.
He started his journey with Niteco in November 2017 and took up the position of Technical Project Manager.
Changing his approach to manage a bigger team.
After three years of hard work at Niteco, Quan was promoted to Delivery Manager - leading the Odin division with over 20 members. His team was in charge of five clients, including Naveo Commerce, Nobia AB, Thinkmax Consulting Inc, North Shore Care, and Lexmod. Stepped into this new role, he had opportunities to understand the core values of Niteco thoroughly and demonstrated them across the team and in front of the clients. When the team size grew, he needed to be more strategic and focus his energy on prioritizing tasks, supporting the team, and paying attention to the team's culture.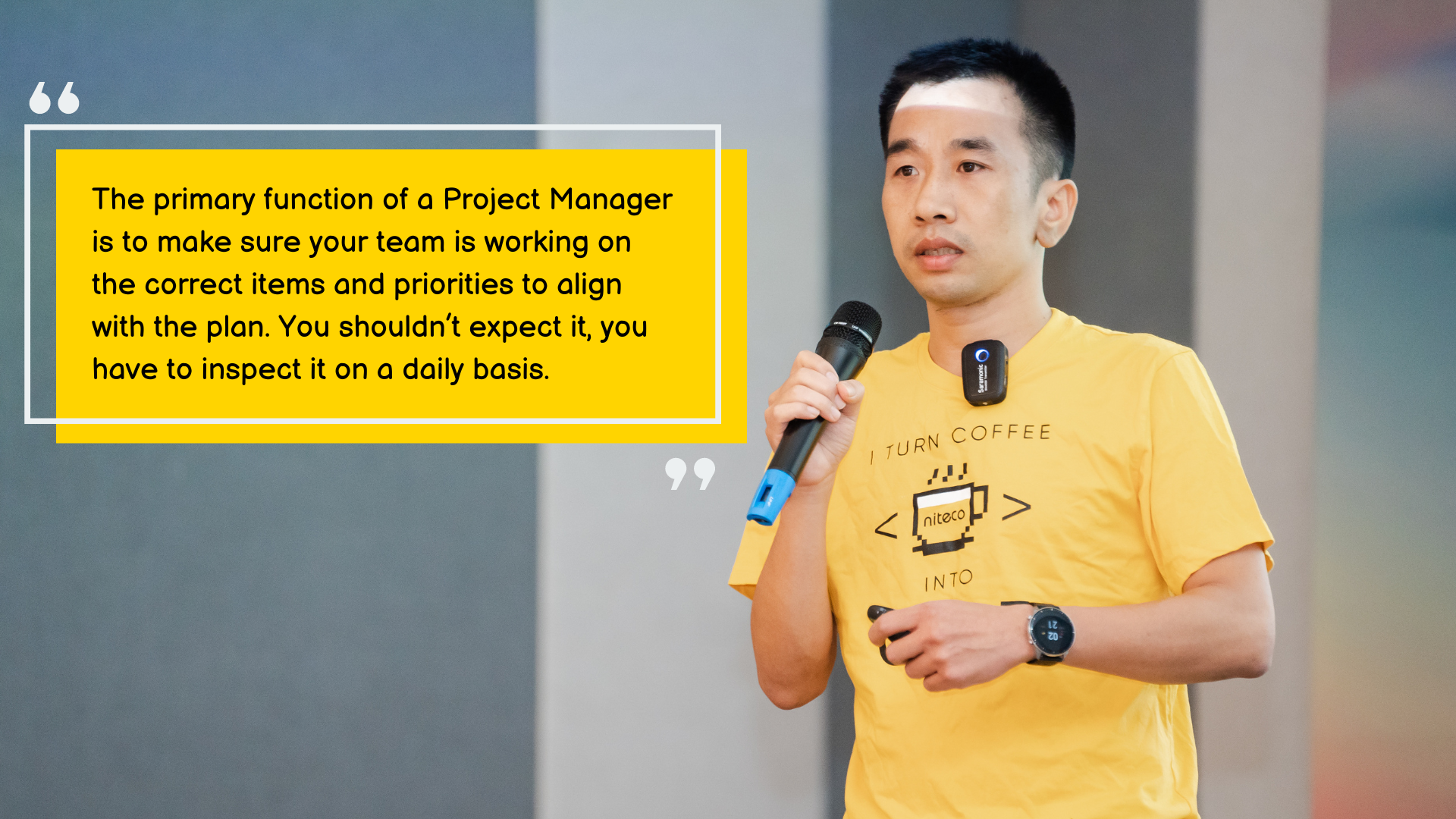 Quan's crucial mission as a team leader
Quan mentioned how important it is to say NO to customers with a GOOD rationale. "It's important to balance out everything. This is something I'm still learning every day because the scenario with each client is different." - Quan said.
Gaining new skills to be a better leader.
"Being a leader is the ability to grow your team in numerous ways" - Quan said. Not only could he triple the number of his members in the last three years, but he also grew quite a few staff to leadership roles such as Tech Leads and Solution Architects.
Quan also shared some new skills he gained to be a better Division Manager:
5 new skills Quan earned to support his role
"Looking back at the transition phase, I received great support from my managers and the CEO. They allowed me to make mistakes, take ownership of the problems, and explain to me what I should do to overcome them. To be honest that saves me from a lot of pressure. I could use my time and energy to improve myself and learn new things."
Odin Division's team-building in Nha Trang 2023
These skills have led him to the proudest project of team Odin: On-boarding Electrolux Europe project successfully.
Niteco is no stranger to Electrolux. Our prolonged alliance started in 2018 when we took over their projects in the APAC region. The collaboration kept blooming as Niteco was then in charge of Electrolux's works in MEA and ANZ regions.
Now thanks to Quan's team, Niteco has won the client's trust once again and started this new exciting mission to innovate Electrolux's digital journey in Europe – a very important area. In 2022, the sales of this region reached 47 billion SEK, equivalent to 34% of total Electrolux's sales.
"That's one of the biggest clients that Niteco has. Within three months, we had to train more than 50 members and receive knowledge transfer from a big giant Cognizant - one of the largest IT-managed services companies in the world. Electrolux said that they were all really anxious about it, but it was seamless, and the quality of the development has been high."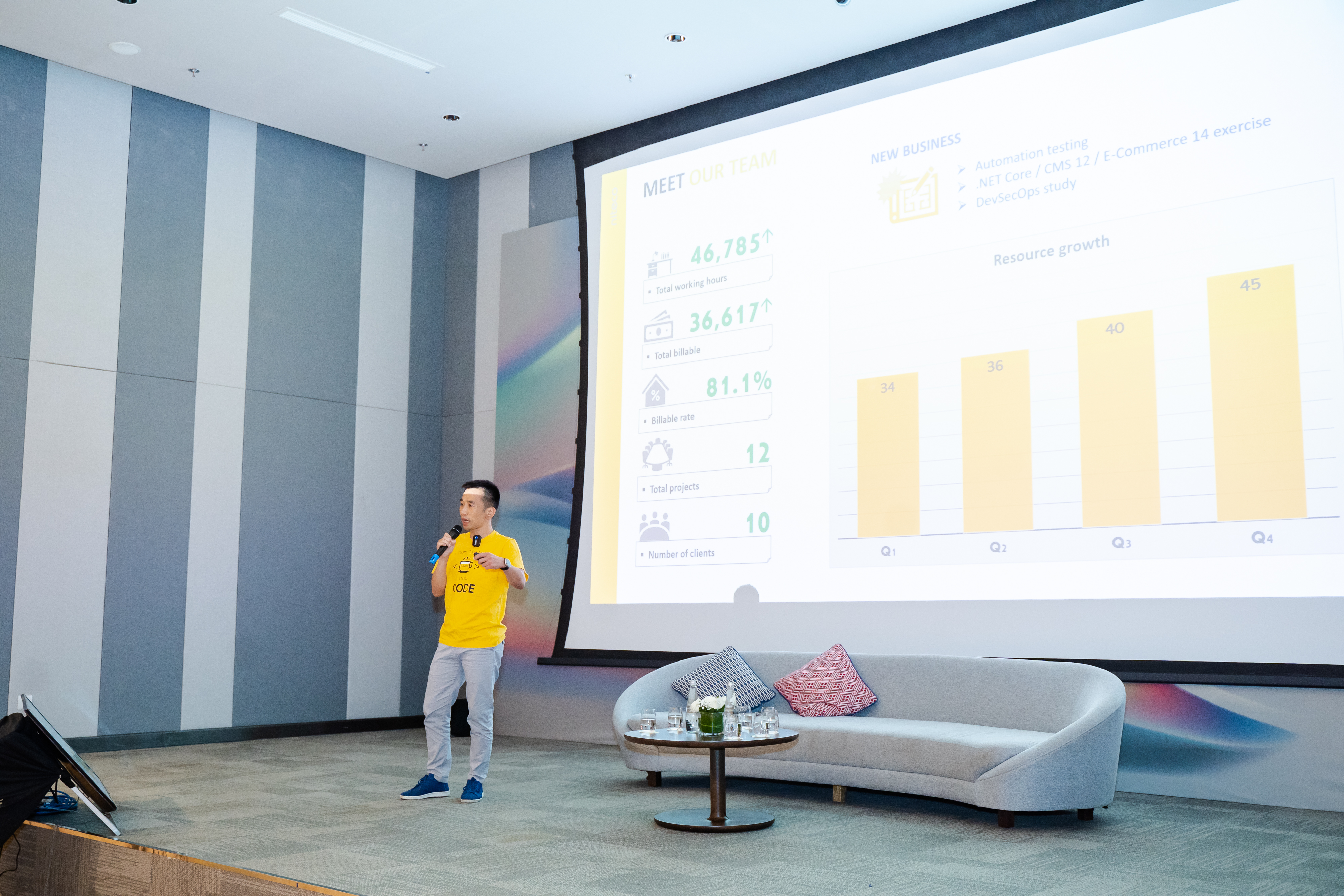 Quan Pham at Niteco's 12th Anniversary sharing his team achievement in 2022
Growing his team from 20 to 60 staff is definitely challenging. However, he is still able to ensure quality by setting a clear goal from the start!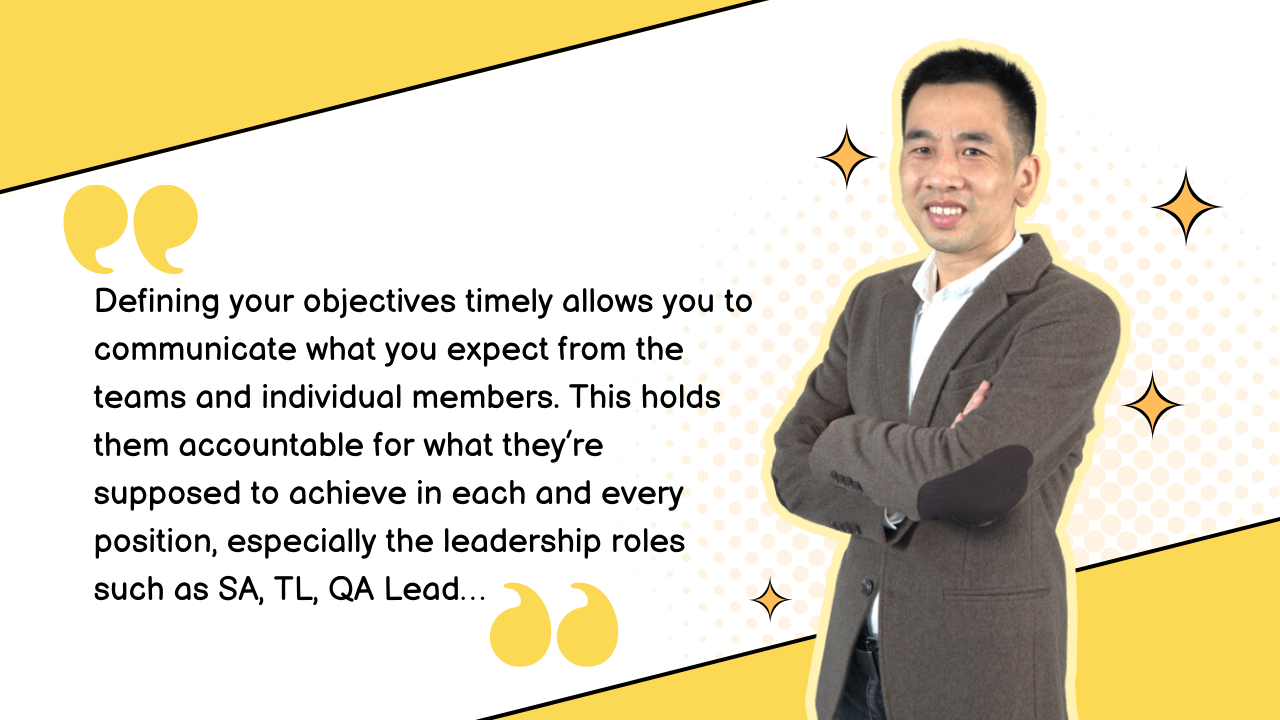 "Defining your objectives is key to success!"
"I always aim to create a non-stress environment for my staff, because how they feel has close contact with the result of the work. Generally, a positive experience leads to productivity and a sense of ownership, and vice versa." - Quan said.
Additionally, he starts measuring everything and sets reasonable KPIs to track the team's progress, performance, and results. This brings Quan clear visibility on areas that need improvement and support while showcasing excellent results and ROIs to clients.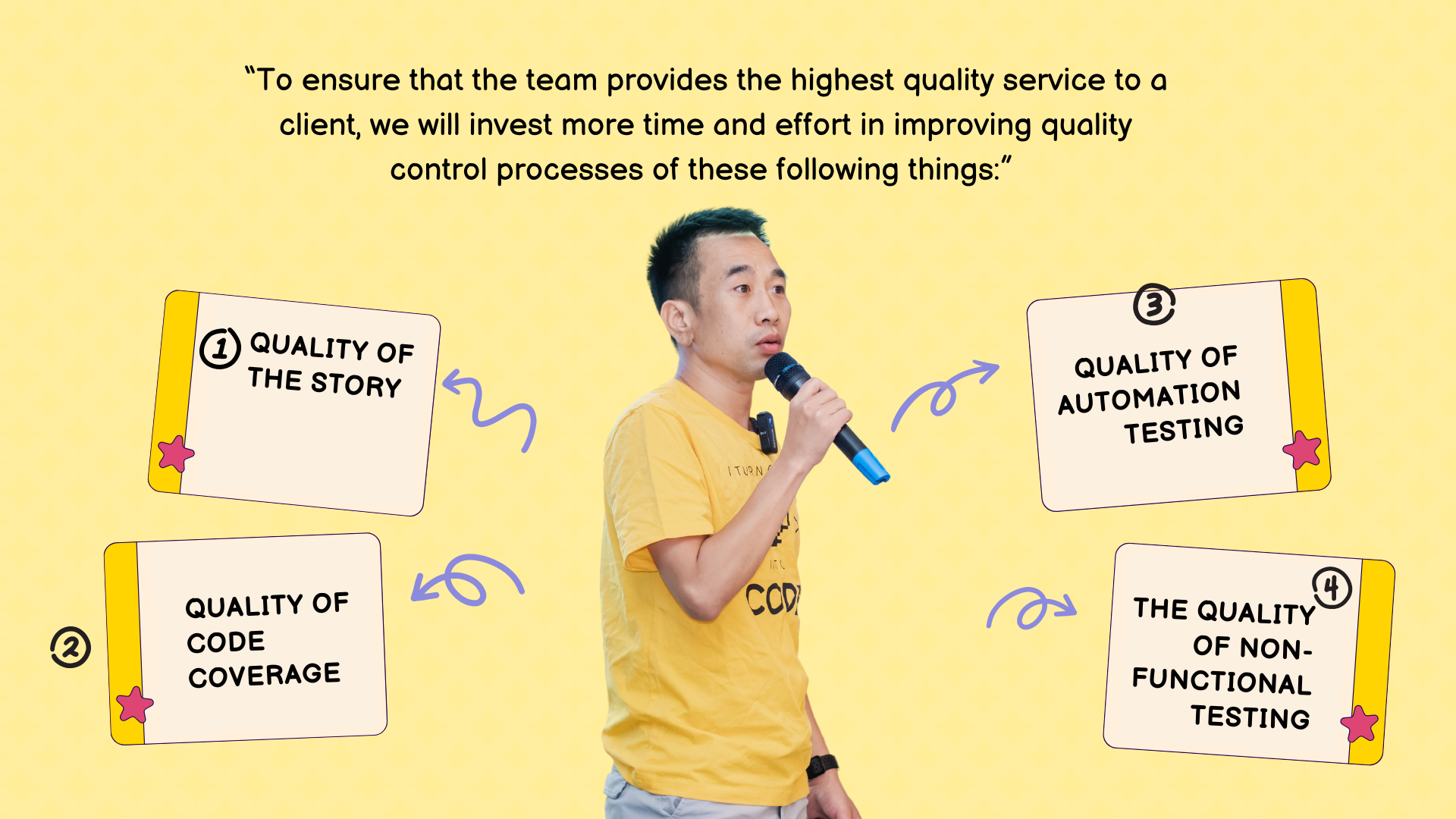 Quan Pham's advice on how to maintain the best outcome for every project
As of today, the Odin division is responsible for 10 different clients in many different industries. Quan has been able to prove the scalability of his team: ensuring high-quality work even when the number of projects grows quickly.
The three most important aspects to focus on as a leader.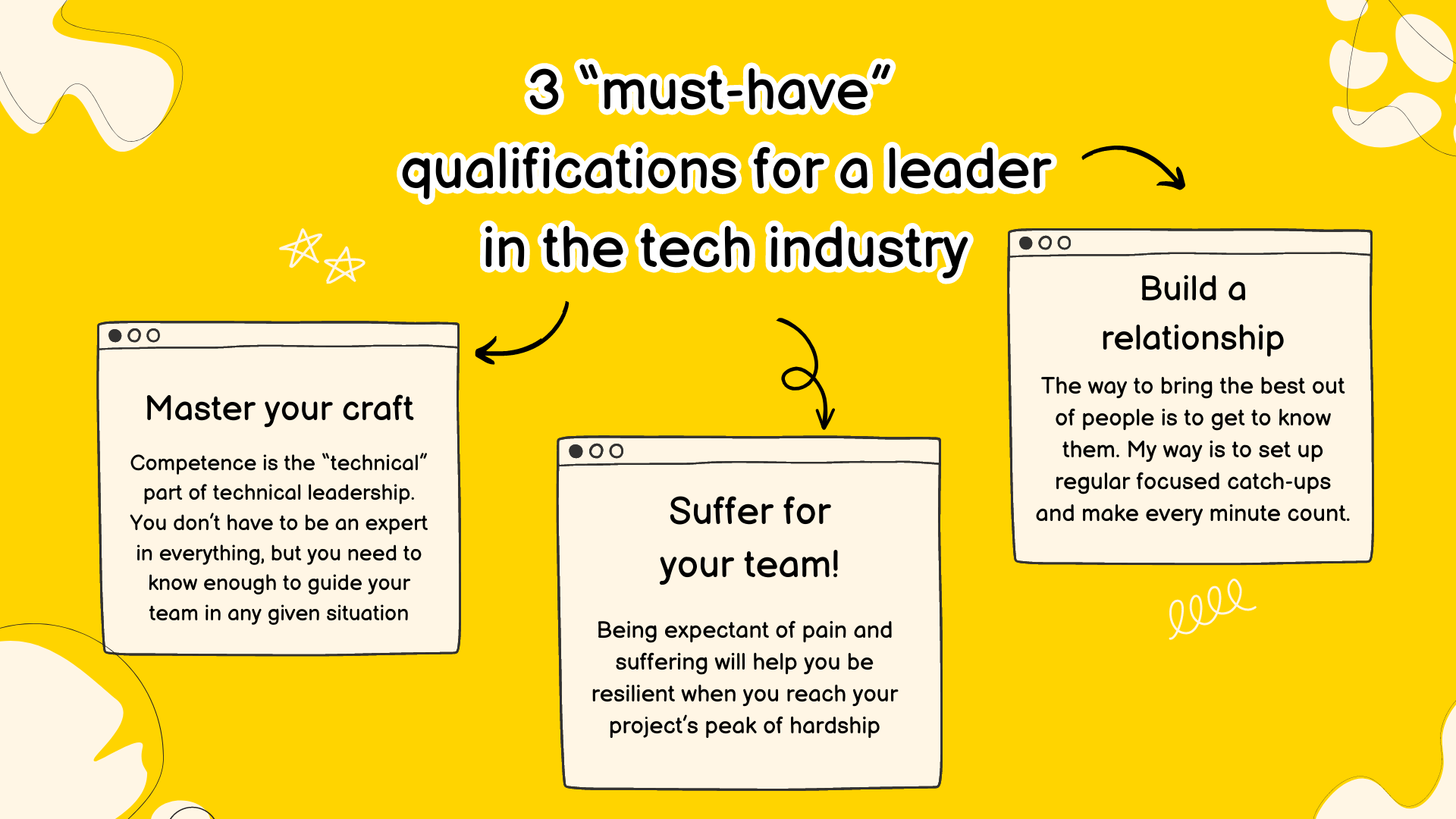 Three must-have qualifications for a team lead role
To wrap up our conversation, Quan emphasizes his perspective on how to master a leadership position with three important focus areas for his team: continuous learning, the mindset to embrace challenges, and the ability to nurture collaboration at work to thrive in the ever-evolving world of software development. Developers tend to work independently, and some may be afraid to ask questions or talk to one another, thus it's important that the leader creates an environment to encourage discussions, brainstorming, and collaboration.
Ready to dive deeper into Niteco's culture? Stay in the loop and follow us on Niteco Careers for more captivating content!