Have you ever heard about the Viking Code Challenge? If you have, you're a true Niteco expert. But if you haven't, that's ok. We're here to help you find out more about this one-of-a-kind campaign!
The Viking Code Challenge is Niteco's trademark minigame. The rules are very simple: answer all the questions given correctly to receive a spot in our lucky draw round for a chance to win the prizes!
The Viking Challenge made its debut in November 2021, with a second season following in February 2022. The challenge reached over 500,000 people and more than 100,000 developers and testers in Hanoi and Ho Chi Minh City engaged with us.
Following its success, the Viking Challenge made another comeback this April.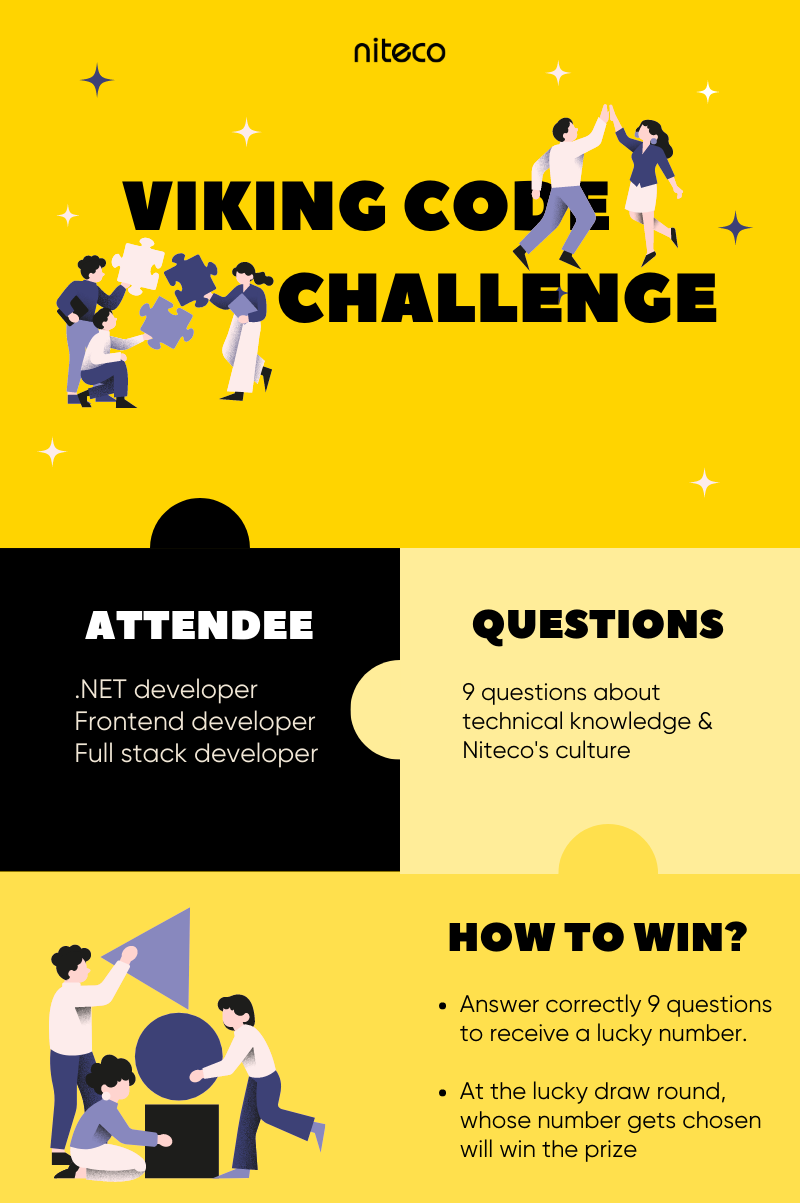 How to play Viking?
Now, the most exciting part about this year's campaign was definitely the prize. For the first time ever in the history of the Viking Challenge, the lucky winner would receive an Apple iPhone 14 128GB! 2 other winners would receive a mechanical keyboard each.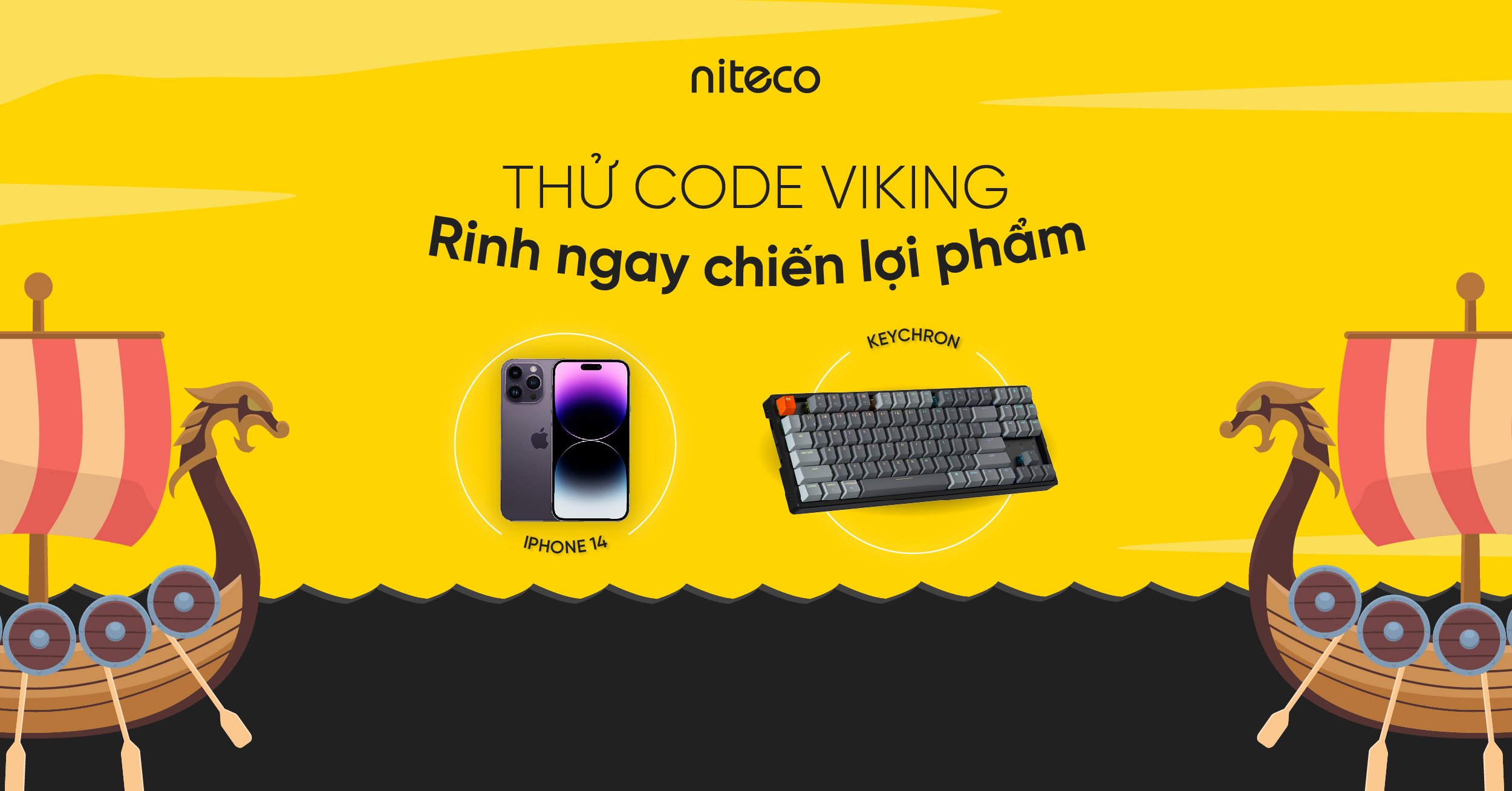 Viking "treasure"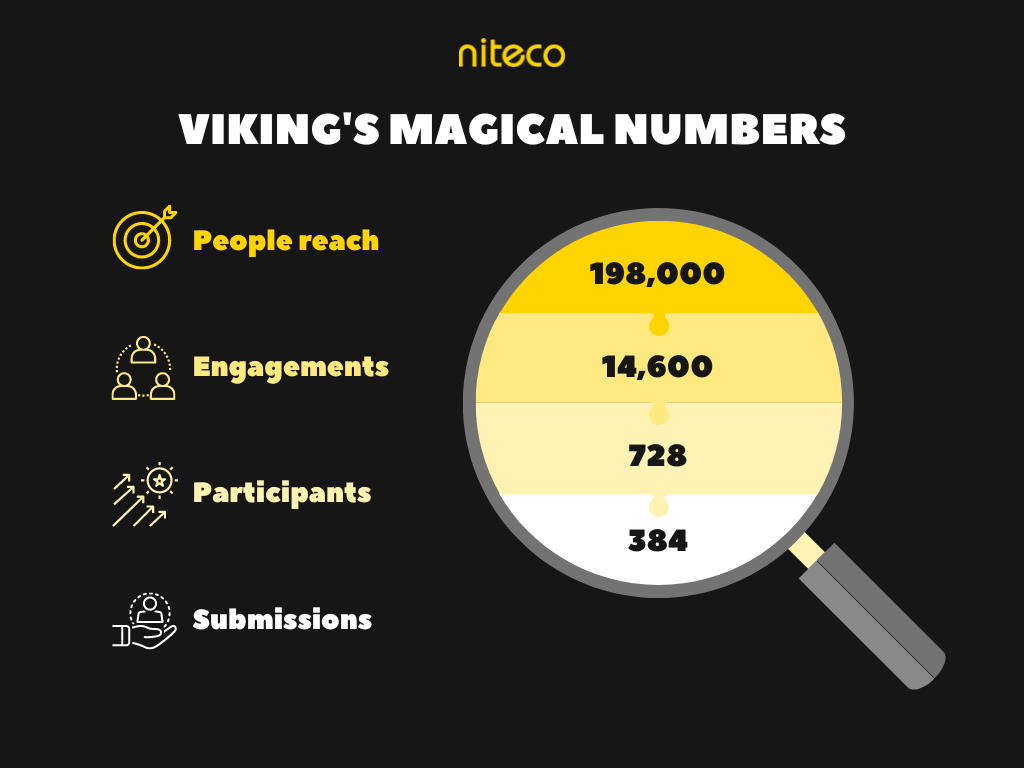 Viking S

eason

3 received lots of love from developers in the industry
Of the 9 questions in the Challenge, 7 are multiple choice questions and 2 are essay questions. The essay questions would act as a tiebreaker between those participants who had answered all 7 multiple choice questions correctly. After 1 week of evaluating and marking, only 18 participants got chosen for the final round – the lucky draw.
Niteco live-streamed the lucky draw on our Facebook fan page: Niteco Careers. After 10 minutes of tension and excitement, the 3 lucky winners were decided!
Xuan Hieu - iPhone 14 winner
Trang Nguyen & Van Vu - keyboard winners
Niteco invited them to our office for a small and cozy ceremony to hear about their journey with Viking Season 3.
Meet Hieu - the luckiest one!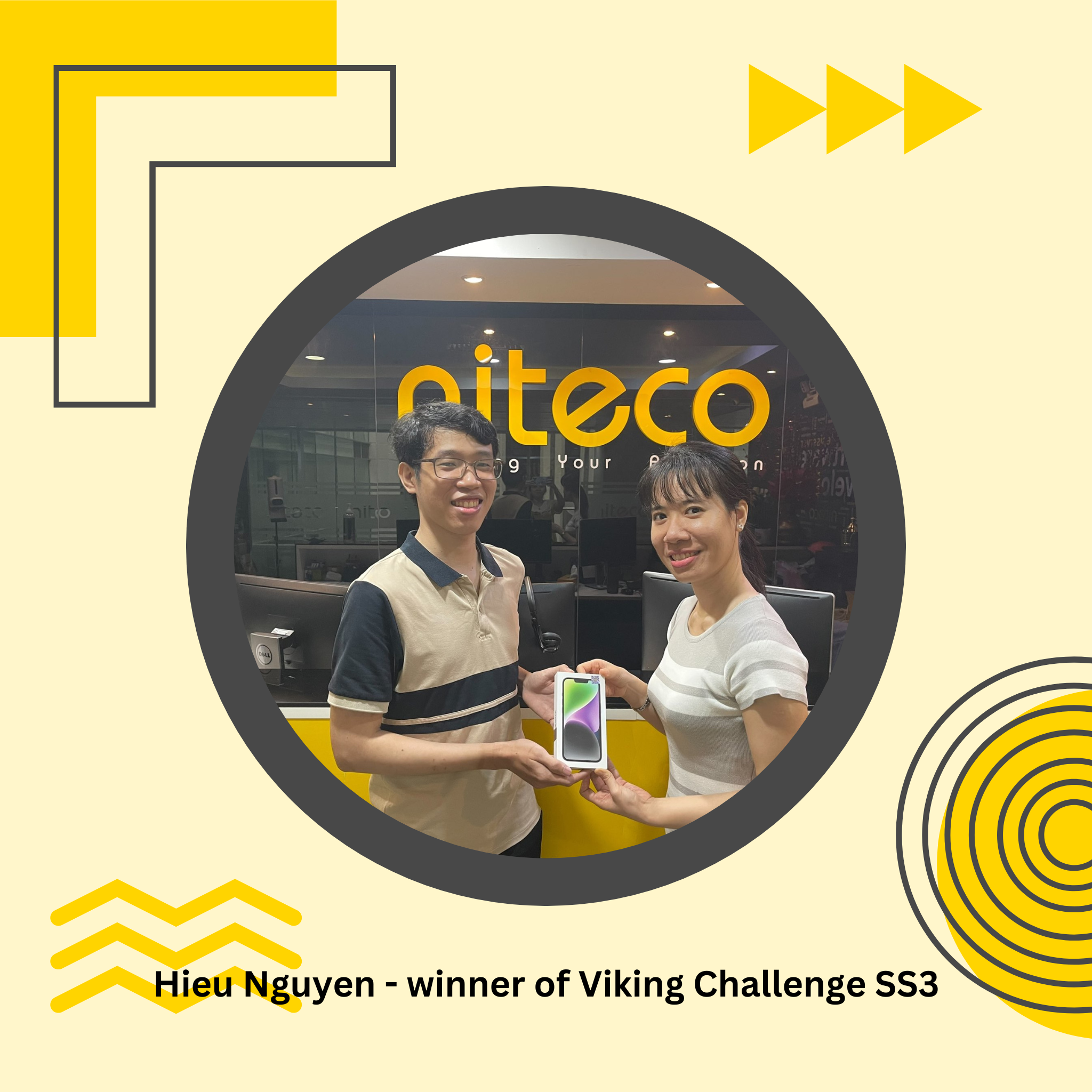 Can you introduce yourself?
Hi, I'm Hieu, born in 1997. I'm currently a web developer, I can do .NET, Frontend, AngularJS, and React, but right now I'm focusing on Frontend.
How did you find out about the Viking Challenge?
I found out through an ad on Facebook. At first, when I saw the title "Viking Code Challenge", I thought I had to code, but it turned out I didn't. For the questions, they were pretty easy when it comes to .NET. It was close to what I do every day, so I did it in no time. But the Frontend part took me an hour to research and go through all of the related documents.
How do you feel about winning such a big prize?
I'm super excited and happy. I feel so lucky. I did a quick math before to determine my chance of winning, and it was less than 10% (laughs). This is the first time I ever won something in my life, I'm over the moon!
So, will we see you the next time we run the Viking Challenge?
I will definitely sign-up next time, I'll even tell my friends to do so as well! The prize is too big to say no.
Had you heard of Niteco before?
Yeah, I did, once when I was scrolling down the Top IT Companies list, Niteco ranked 2nd. I did a quick check to see the company's work and even went on the Electrolux website to see their work, very similar to what I'm doing right now. If I had a chance, I would definitely apply to Niteco and refer my friends to join also. Being placed 2nd in the Top IT Companies list really says a lot about a company's reputation.
Thank you! We hope you'll have a wonderful journey ahead. Once again, thank you for joining the Viking Challenge. We hope to see you next time!
Meet Trang Nguyen - the only

woman to make

it

in

to

the top

18!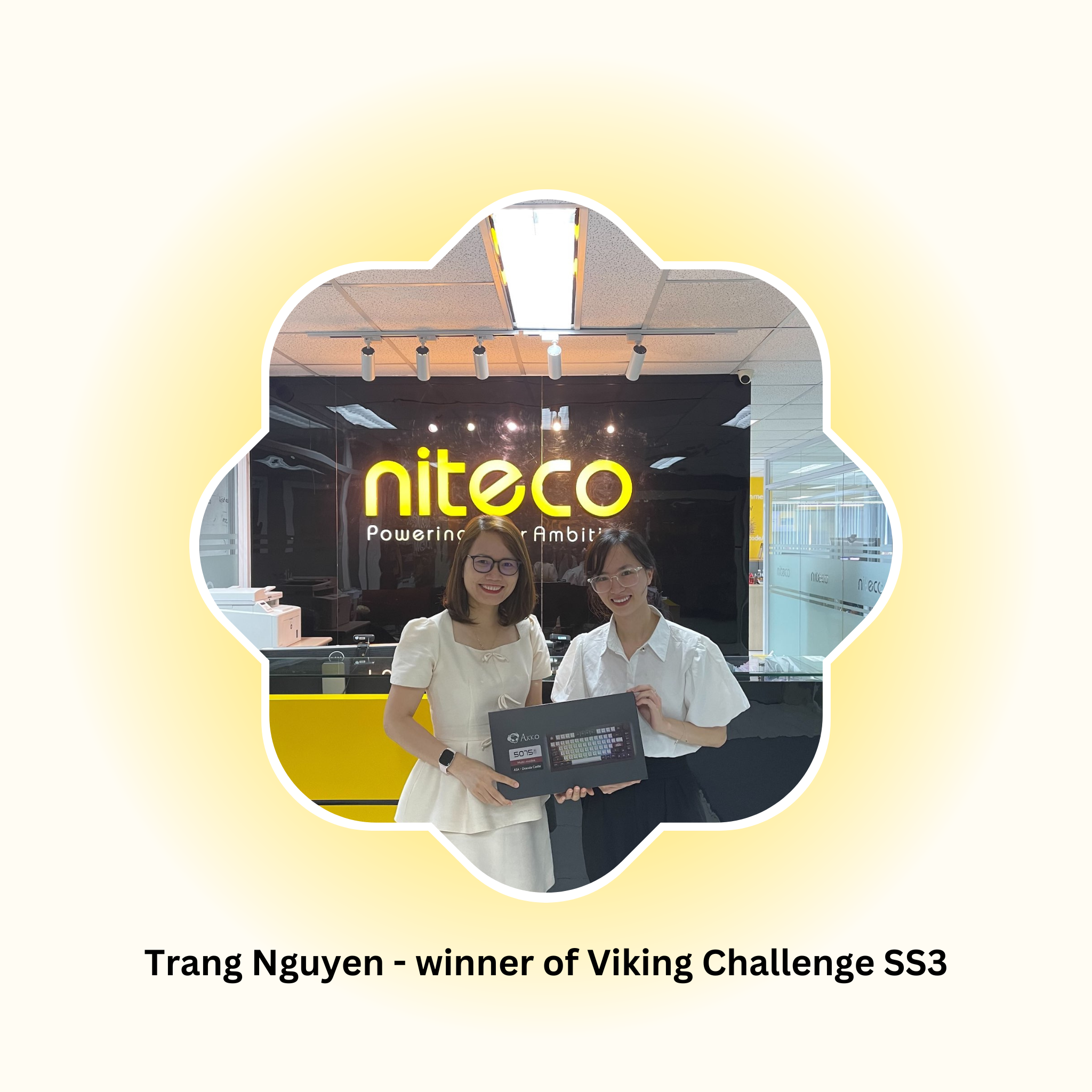 Hi Trang, how did you find out about the Viking Challenge?
I was scrolling on Facebook the other night and saw the Viking ads. I found this minigame interesting and jumped into the test immediately.
What did you think about the questions?
I found the questions interesting. Not too hard but not too easy either. But you definitely need to have some work experience to answer them. I had to research and read my documents while doing it. It took me 15 minutes to finish everything.
Woah! You're very good at it! Where are you currently working and what is your plan for the future?
I studied in Hanoi, but I relocated to Danang for a couple of years. I like changing things a bit. But now I just moved back to Hanoi to be close to my family. I'm a Frontend developer at Sun* Inc, and I like doing my job very much. I want to be a senior Frontend developer.
Had you heard of Niteco before?
I had. I actually have a friend who worked here. We even hung out once at a local coffee shop near Niteco's office.
Seems like it's fate! I hope our paths will cross again soon! Thank you for your love and support!
Meet Van - the one who did 2 tests!

Hi Van, how did you find out about the Viking Challenge?
Through an ad on Facebook. But actually, I heard about the Viking Challenge back when it ran for Season 2. But I missed out at the time. This time, after some consideration, I decided to join. I did both the Frontend test and the .NET test.
What did you think about our questions?
Not easy, I would say. I had to read some documents to get all the answers. I spent half an hour doing the Frontend test and nearly an hour finishing the .NET one.
Did you watch our lucky draw live stream?
Yeah, I did. My number was 15. When I first turned the live stream on, my number was being called out first, so I thought I had won the iPhone, but turned out my number won a keyboard. They "saved the best for last". It's ok, I'll come back stronger next year!
So, I guess we'll see you next year then!
Yes, I'll definitely join if Niteco decides to run another season of the Viking Code Challenge.
It's really good to hear! Thank you once again for participating in the minigame, Van. Hope that we'll have a chance to work together in the future!