1. Buddy Program
We always believe that a fun and energetic working environment is created by close-knit relationships among employees. However, it usually takes some time for new employees to get used to the new job as well as new colleagues. Feeling of awkwardness and strangeness makes it difficult for us to be comfortable with each other from the first encounter. We believe all of us have experienced this way at least once in our lives. In order to help new employees integrate better, Niteco has been implementing a Buddy program so that Nitecans can get easily on well with coworkers.
So what is the Buddy program? We all know a buddy means a close friend. This program has the same meaning. It was created to build close workplace friendship from the first days of work, help Nitecans no longer feel lost in the new working environment. So do these friends need to go through a rigorous qualified process? The answer is no. Buddies will be selected from the same teams that you will work with to increase your understanding of the work, thereby supporting you better. The buddy will be responsible for taking you on a tour of the working area, introducing you to the company, and showing you the team's working style. And another important thing is that if you have any questions or difficulties about the job, you can feel free to share them with your buddy. Nitecans are all very friendly and supportive. When surveying new members of the company about the first impression, one of the responses we get the most is this super cool buddy program. As one of our frontend dev commented: "My buddy always comes to me when I ask him anything, even though there are some things that you just need to send a link". This is one of policies that often sets us apart from other companies.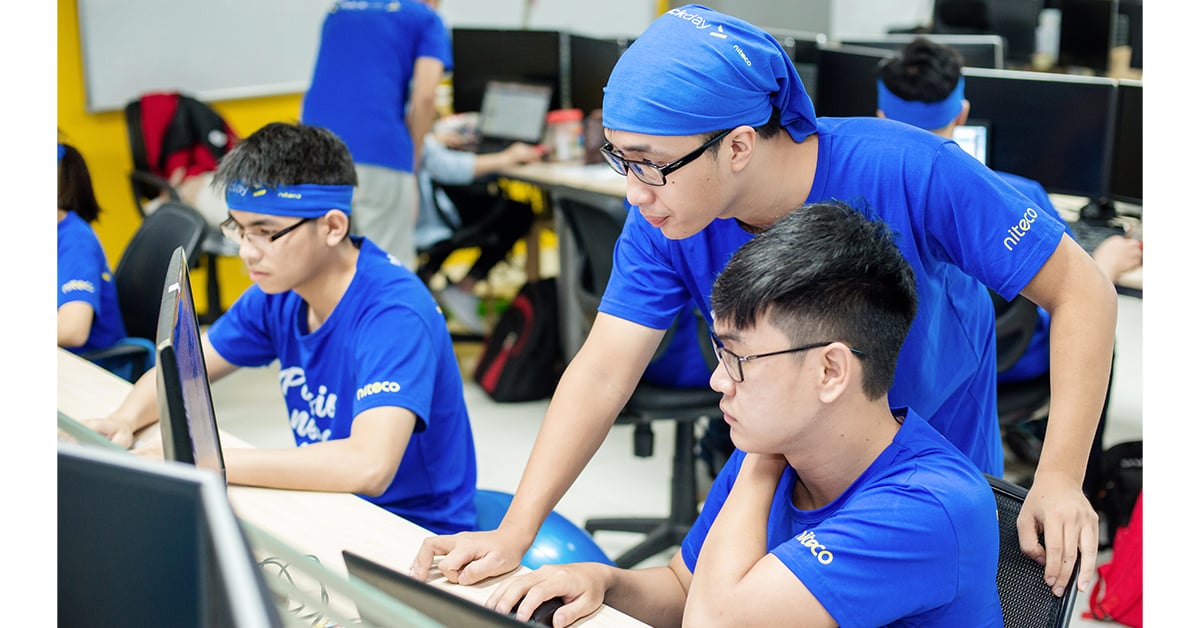 2. Lunch and Learn Program
Have you have ever heard such classes? In essence, these are the internal knowledge-sharing sessions of the company. Sharing sessions will be arranged at lunchtime and supposed to last for one hour. During the session, you can enjoy a free lunch (Unless you want to prepare your lunch, you can register a free lunch with company's admin and you will have a choice of dishes based on the menu provided a day before), while listening and discussing with colleagues about the topic of the sharing session. Here are a few of our recent topics:
Inspired by EPiServer: How I create the Angular CMS
Straight to the point or dinner first: Cultural differences in communication
Using State Machine approach for Order Fulfillment
Are you keen on trying a Lunch and Learn session with us?
3. Our English supplementary class
As a foreign-direct-invested company, our customers are also international clients. Here, we prioritize candidates with good foreign language skills to be able to communicate and work directly with clients. However, do not worry if you're not confident with your English yet. Niteco also organizes English classes taught by native teachers to help employees with weak English background to improve their skills. English classes have been held for many years up to now. This proves that English classes are still being enthusiastically responded by many employees.
4. Policies to support self-study and certification exams
If you have researched Niteco, you will know that we are one of the major partners of Optimizely (formerly known as Episerver). Therefore, the company's support and guidance of courses to take this certification exam is a regular thing at Niteco. During your work here, you can take courses to broaden your knowledge. We also support exam registration and organize exam sessions right at your workplace. It's convenient, isn't it? With a resource of more than 60 developers who have obtained Optimizely / Episerver certification, you can also learn a lot from your colleagues. In addition to this certificate, you further have the opportunity to study and hone more related skills to take the Microsoft certification exam by Niteco.