According to the creators, 'Sitecore 9.0 delivers innovation, enhancements, and time-to-market capabilities with benefits for both IT and digital marketing teams'. Niteco's Sitecore Specialist, Hammad Ahmad has been implementing it on behalf of customers since it was released less than a year ago. Here he gives his verdict.
Eight months since the release of Sitecore 9, and Niteco's customers on Sitecore 9 are reporting a wealth of benefits for their marketing teams. The platform really is delivering on its promise thanks to significant improvements to the experience manager's user interface as well as the increased possibility of marketing automation – and automation that helps to meet EU GDPR edicts for that matter. But there's more. For the benefit of devs, I breakdown the key features that make Sitecore 9 a digital marketer's dream-come-true.
Key Features of Version 9 release:
1. Secure by default: In 8.2 the xDB database began supporting encryption at REST and in Sitecore 9 it supports SSL encryption for data in motion as well. Using xConnect, it's much easier to manage user data including anonymizing data, exporting records and updating preferences. There are a few other GDPR compliance features including the ability to enforce encryption and data across the whole architecture and enforcing the use of HTTPS.
2. New Sitecore xConnect API: XConnect is a new API insight in Sitecore 9, for collection and sharing of all data in Sitecore including Content Users and Analytics data. This is a new feature and replaces the current API that only supports the sharing of core user data and content. It enables bi-directional data transfer to and from leading CRM systems including current support for Microsoft Dynamics 365 CRM and SalesForce CRM. For marketers, this means that information that's locked in the CRM can be used to personalize content campaigns. Also, commerce experiences can be delivered to their customers and prospects and record campaigns and customer interactions can be recorded in the CRM for a more complete picture in both systems. This becomes more powerful when it's blended with all of the other X DB contextual data captured. By this we are basically enabling the 360 degree view of each and every customer.
3. Streamlined Migration and Conversion Tools: Though marketed as 'streamlined' I know fellow devs will agree with me when I say it's not as streamlined as I expected it to be. Nevertheless, it has been improved a lot compared to previous versions of Sitecore.Most of the Analytics data is sitting in MongoDB and for this sole purpose Sitecore has created a tool called the xDB migration tool. It uses the Sitecore Data Exchange Framework 2.0 and provides the ability to read from MongoDB (source system) and write to the xConnect server (target system).
xDB migration Tool will provide a pre-configured mapping of data from the MongoDB database to the xConnect server in the form of a DEF Tenant. The Tool includes two data migration processes.
MongoDB Contacts to xConnect Contacts – Reads contact data and related device and interaction data for each contact – from a MongoDB database and writes it to xConnect.
MongoDB Reference Data to xDB – Reads geo IP and location data from a MongoDB database and writes it to xConnect.
- New Federated Authentication: You can use Sitecore federated authentication with the providers that Owin.Authentication supports. Most of the examples that I have gone through in documentation assume that you use Azure AD, Microsoft's multi-tenant, cloud-based directory and identity management service. Owin.Authentication supports a large array of other providers, including Facebook, Google, and Twitter.
- EXM Installed: Sitecore 9 comes with EXM and is ready to use while in earlier versions you had to go through a lot of pain. With Sitecore 9.0.1 the integration with Sitecore Email Experience Manager (EXM) was added but in my opinion the functionality is still very limited. For example, the ability to send the filled in form to a predefined email address. Currently, it is only possible to send an email to the contact that filled in the form (and even in this case you need to make sure the contact is identified in xDB). Luckily there is enough documentation already available by Sitecore to get things done which is simple to follow.
- New Sitecore Cortex: So with version 9, Sitecore has introduced Sitecore cortex. Sitecore has applied a very distinct machine learning algorithm in combination with a powerful ML engine that operates on XDB data to give businesses huge advantage in automation processing and intelligent insights. The cortex engine is a windows service composed of a series of specialized machine learning processing pipelines. For those that use Sitecore Cloud or Azure for hosting, then you will be able to take advantage of the new cortex functionality. Cortex uses the Microsoft machine learning API which generates insights and opportunities via your platform. For example, using cortex Sitecore suggests audience profiles are more likely to convert on this specific goal or goals and it will also recommend UPS optimization opportunities based on new user behavior so it really is future gazing the opportunity that Sitecore can enable moving forward.
- New Headless and JavaScript Service (JSS): Headless CMS support using the new JSON API and jss supports the exposure of all contents and presentation elements as JSON. This means that you can use Sitecore as a central content API for website and mobile apps. All content is shared by the JSON API and can be personalized and tested, resulting in the collation of analytics data into Sitecore analytics.
- New Purpose Built Forms: Sitecore Forms is an easy-to-use application that enables users to build web forms. You can create Forms by dragging elements, applying any validation on fields or customizing the Forms according to your branding guidelines. In addition, marketers can also break the form into multiple sections / pages, etc or just create a Form template. The Dashboard gives you some common OOTB Forms to get started with and the elements tab on the side is loaded with all possible options like Text Box, Radio Buttons, List box, etc. Sitecore Forms replaces WFFM and is brand new, built from the ground up. It's been specifically built for marketers and there's a vastly improved user interface which includes drag-and-drop functionality, multi-page forms, skinnable forms on front end and the data captured in XDB is in real time as well. Just to give you a quick overview, it was previously a module that needed to be installed and configured so there's a lot of cost involved there and it can get tricky to get the form set up every now and then. With new forms you can easily create more fields and multi-step pages as a drag-and-drop functionality forms. This has a basic style already, thus it's much much easier to start with specific components using forms than it was with WFFM. Do remember that Forms can also enable you to trigger goals, actions, etc as soon as users hit the button and as I said earlier, you can have multi-page forms that you can have next and back buttons which you can track as well. You can also include tick box fields and you can identify whether or not you want to store the details in the database or not.
THE BUILDING BLOCKS OF AUTOMATION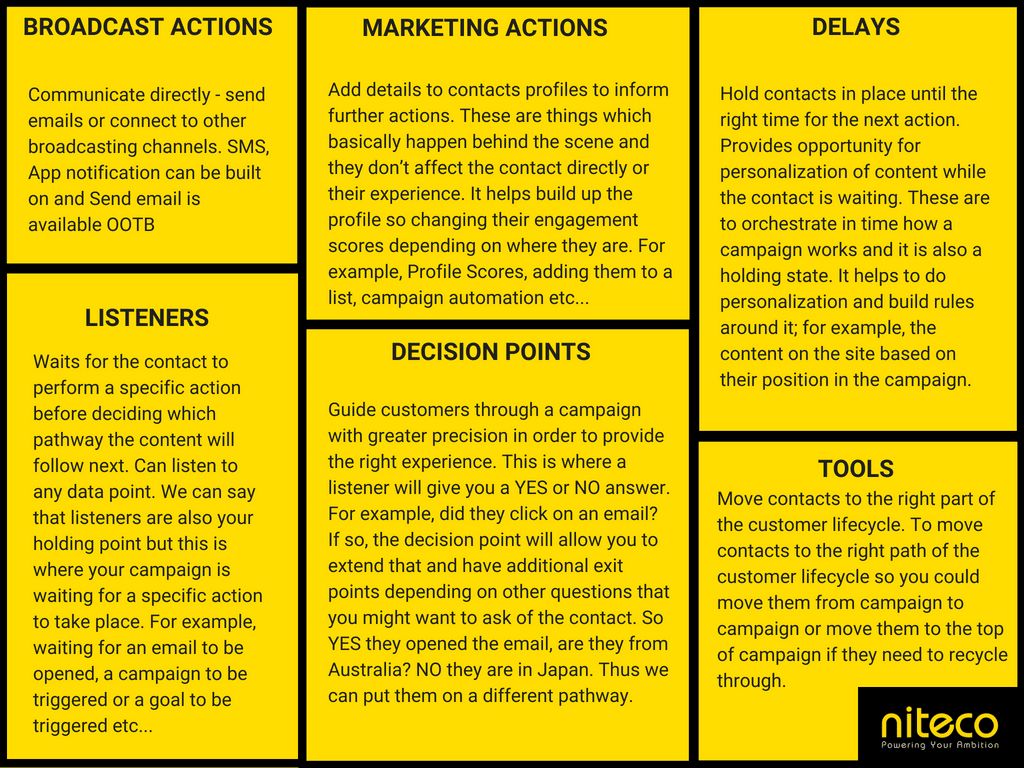 OLD VS NEW AUTOMATION CAMPAIGN
The big difference between the old engagement automation and the new marketing automation is that now we have a defined flow. Just like in waterfall methodology where you start at the top and then work your way down rather than the very freeform approach where you could loop everywhere and mostly end up in a mess.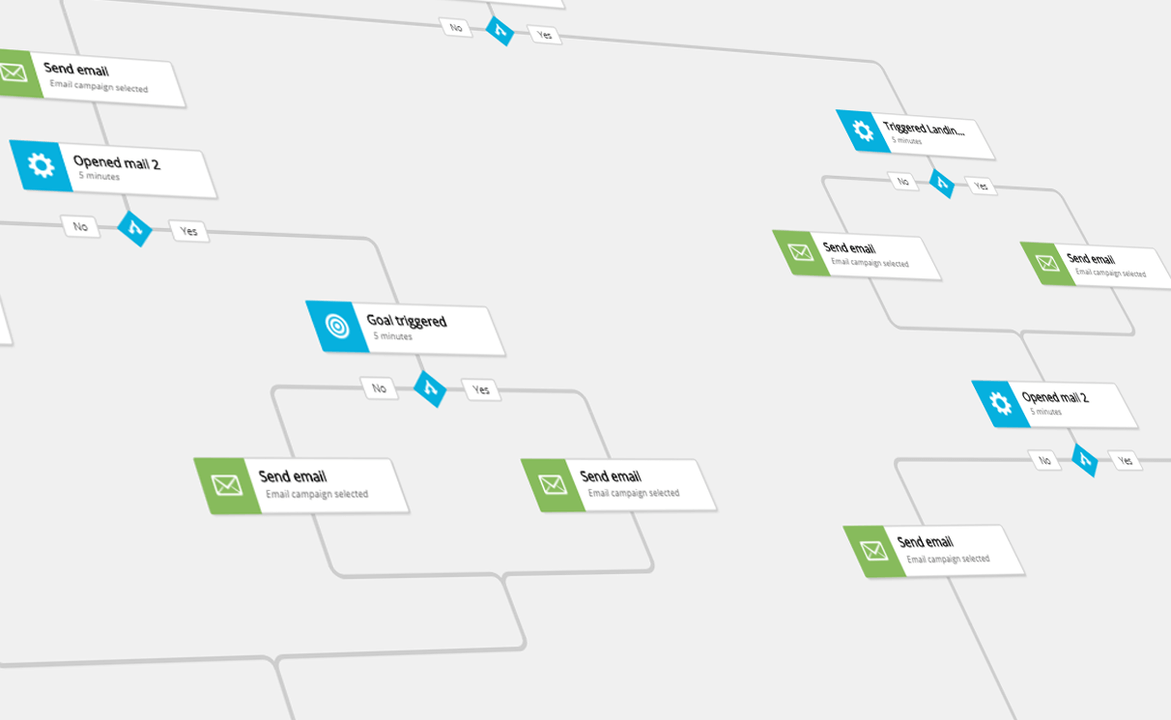 The user conversation is defined through an automation campaign
Think of an automation campaign as a directed graph

Contacts move from activity to activity

Some activities can hold a contact for a period of time (Listeners, timeouts, etc)

Automation campaigns can re-enter as of Sitecore 9.1 update. Users can specify how many times a contact needs to go through a campaign.
My Verdict
It's clear that Sitecore has bolstered their offering to better meet the needs of today's marketers. And with greater reliance on software to achieve marketing ROIs, Sitecore 9 is a firm step in the right direction.
If you want to know more about Sitecore, contact us today!