Have you ever woken up on a Saturday morning, looked out the window and said to yourself, "It's such a waste to not go outside and play"? At Niteco, we don't let such days go to waste. Here, internal sports tournaments are always paid great attention by the company. Nitecans are encouraged to participate in physical activities to exercise and improve health, thereby always keeping bright and excited when working.
1. Why not Niteco Ekiden?
One of the outstanding sports tournaments of Niteco cannot mention the annual Niteco Ekiden running. Until the present, the running race has been organized and responded to the 5th season at the Hanoi branch and the 4th season at the HCM branch.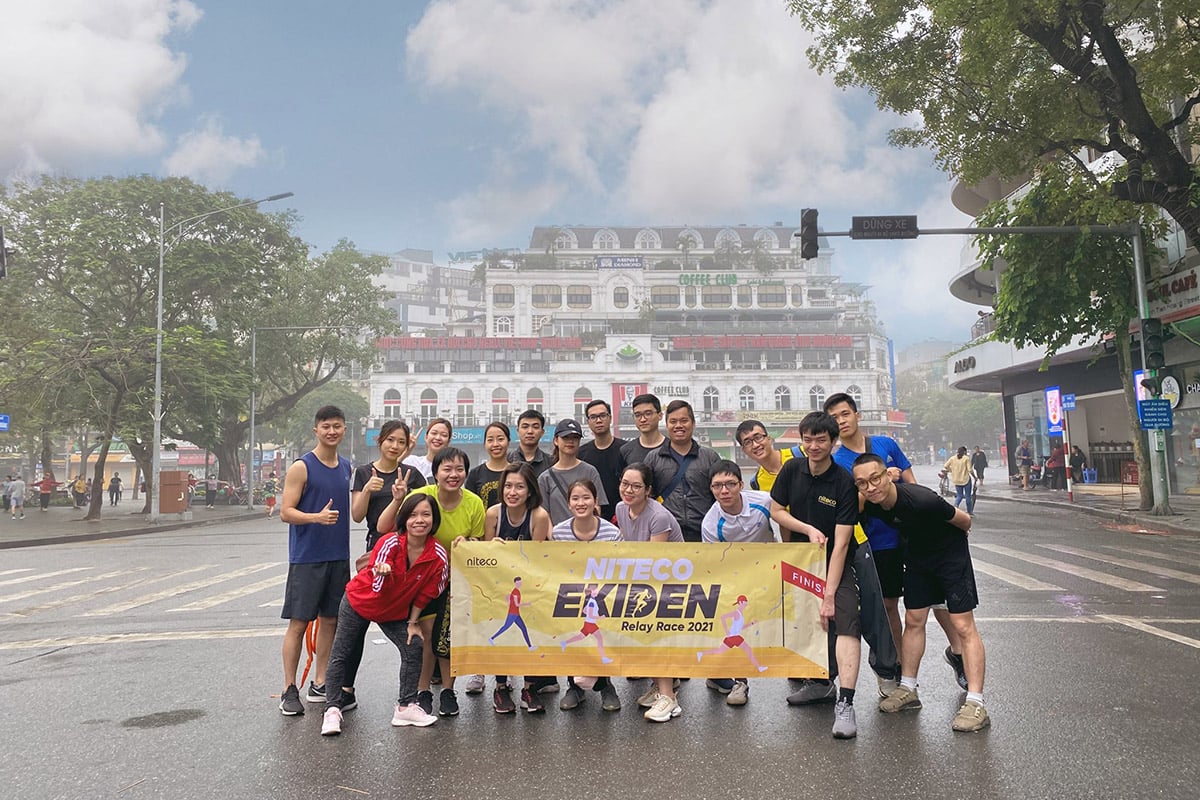 A familiar place of Niteco Ekiden in Hanoi
The rules of the contest are also very simple. After registration, the organizers will be based on individual achievements and a bit of randomness to arrange teams. Each competing team will consist of 3 members and your team only needs to overcome the challenge of 8 rounds running around Hoan Kiem Lake with the fastest time to win. The interesting thing here is that you are free to divide the runs, the number of laps of each individual in the team to build a strategy to be able to win. Normally, the running teams at Niteco will consist of 2 men and 1 woman to ensure health and balance between the teams. However, there have been many cases where the female Nitecans have amazing physical strength and they are the ones who "carry the team".
2. De tour Niteco is also not a bad choice
If you're not a runner, are you a coureur? We know and understand that running is not a hobby for many people. So instead, Niteco also has an annual bicycle race organized by the company's union called De tour Niteco. Sounds like a professional race, doesn't it?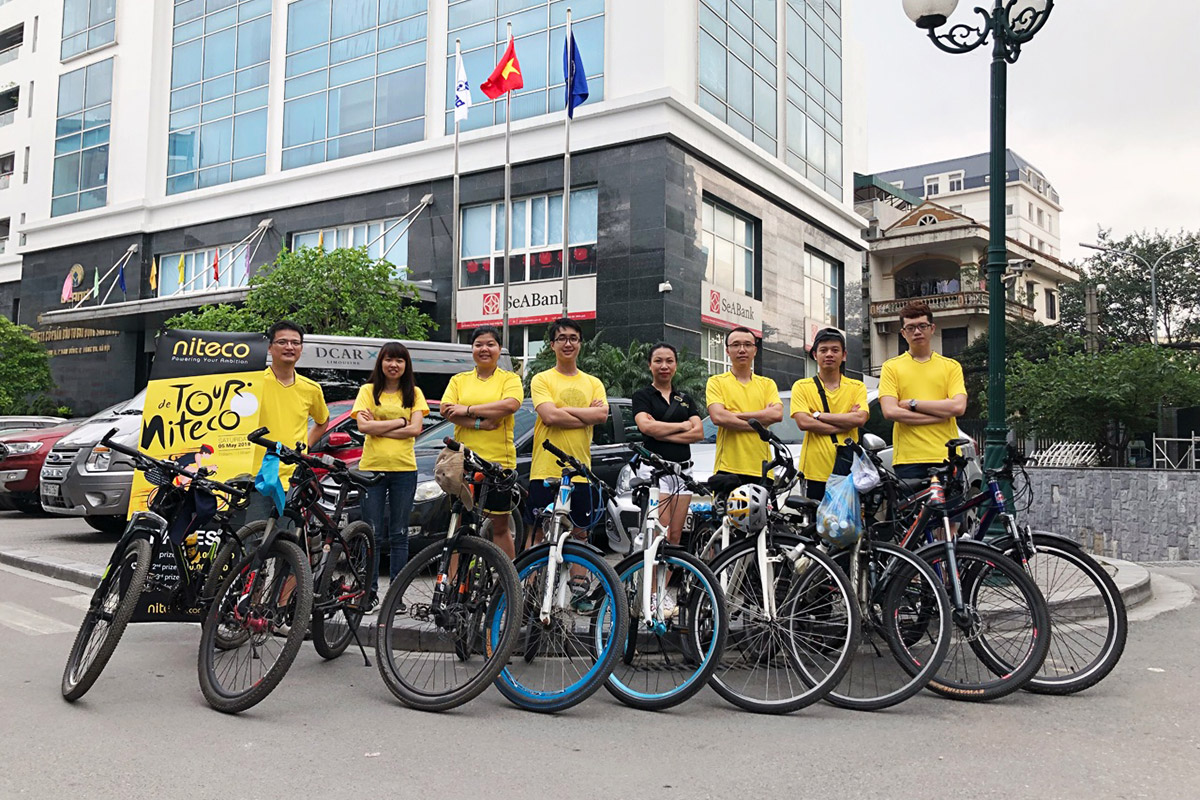 When participating in this professional racing tournament, prepare a wonderful spirit and be ready to face the skillful acceleration from the position of other coureurs. However, the important thing in each competition is always defined by us from the beginning, which is teamwork. De tour Niteco requires the Nitecans to enhance the nature of the team instead of the individual. Therefore, you need to know how to combine with your teammates to be able to finish together. Even if you get to the finish line first, and your teammates are left behind, it's still very hard to win.
3. The Badminton tournament is just as exciting.
Read this far and you are still not very interested because you do not like outdoor sports? Don't worry because Niteco has an indoor sports league too. Does the badminton tournament excite you more?
The confrontations will take place in the form of a knockout. Teams will be divided into groups of 2, which can be men's doubles, women's doubles, or mixed doubles. After many tough rounds, we will find the winning team and get the gold medal of the competition. The volunteers and cheerleaders are also very enthusiastic to support the athletes.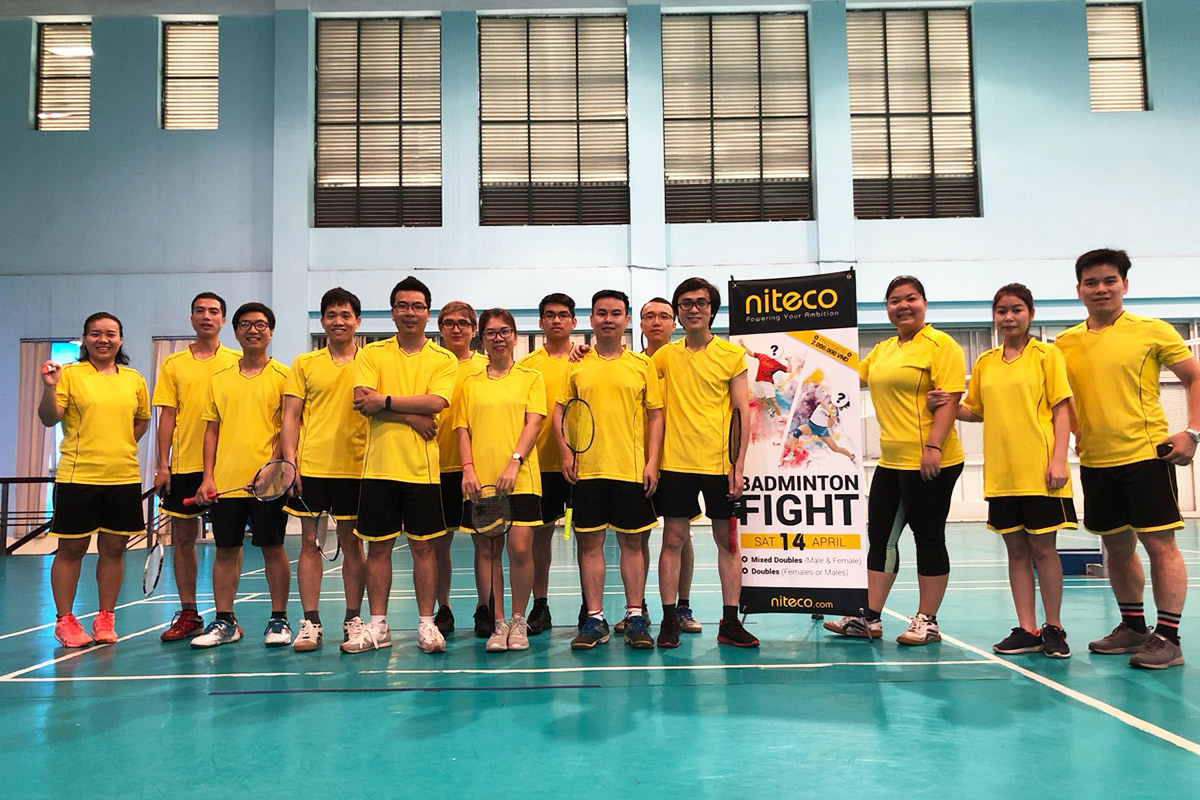 Such a bright gold
4. What about Niteco Football club?
In addition to the above tournaments, Niteco also regularly organizes football matches for men to show their masterly skills.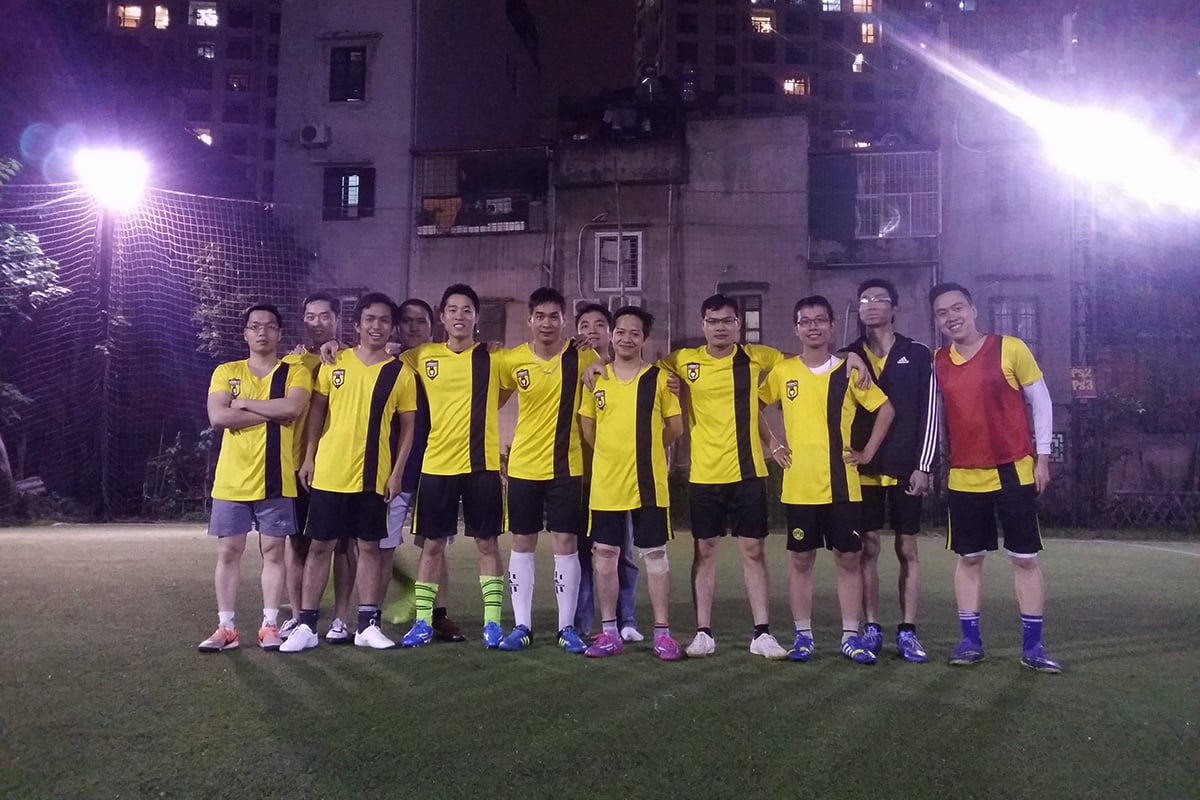 These top football matches are often held after work for the convenience of the Nitecans to participate. Everyone is always free to run and chase with the ball and look for scoring opportunities for their team. After each match, the players will often sit down, sip a few cold beers, enjoy some delicious food and chat about the fiery match.
5. What do you think about ping pong, yoga, or table football?
At Niteco, we also have other small sports activities, including ping pong, table football, and yoga. Have you ever experienced the feeling of practicing yoga on your lunch break, then lying down for a short but very quality nap? You have to try it right away because it's such a wonderful feeling. But if you are not a person who enjoys exercising like that, feel free to join the table football club with other Nitecans. We guarantee that you will often be called to gather and enjoy the excitement of the game. On every afternoon after work, besides the above sports activities, many Nitecans choose ping pong for entertainment and health training because we have a table right at the company. You don't have to go anywhere, just stand up and take a few steps to reach the ring. Are you confident to challenge the Niteco table tennis champions? Please let us know.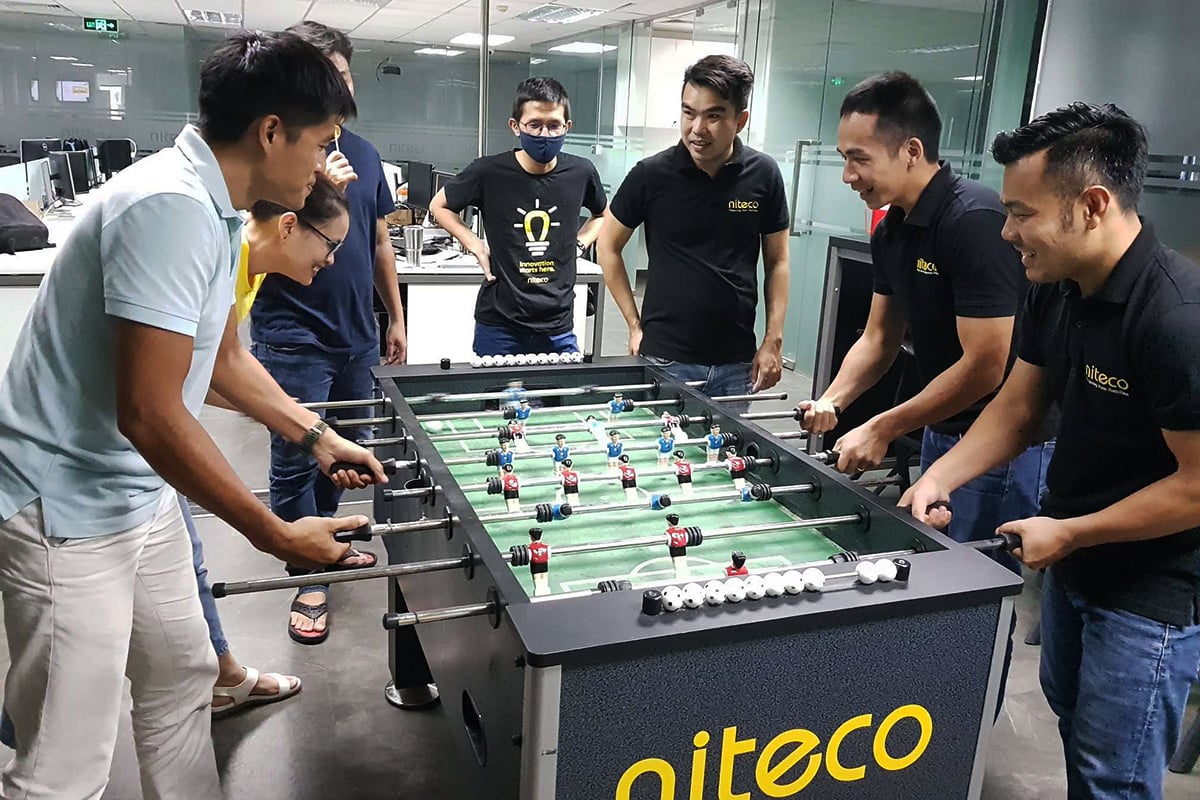 6. Summary
After each sports tournament, what the Nitecans achieved is not only the award, but moreover, the close and closecolleagues. We share the joys and regrets to promise a reunion on other battle fronts. Even,every tournament has always hadspontaneoussports tournaments launched and organized by the Nitecans themselves who have participated in previous competitions to satisfy their passion to have fun with colleagues. Apply to Niteco to have fun with us.