Introduction
Opticon 2023 returned to beautiful San Diego for a second year for the annual round-up of everything in the Optimizely world. This is the time of the year where the world collective of Optimizely Customers, Partners and Optimizely staff join to celebrate the wins and talk about the big picture and new features coming to the Optimizely stack.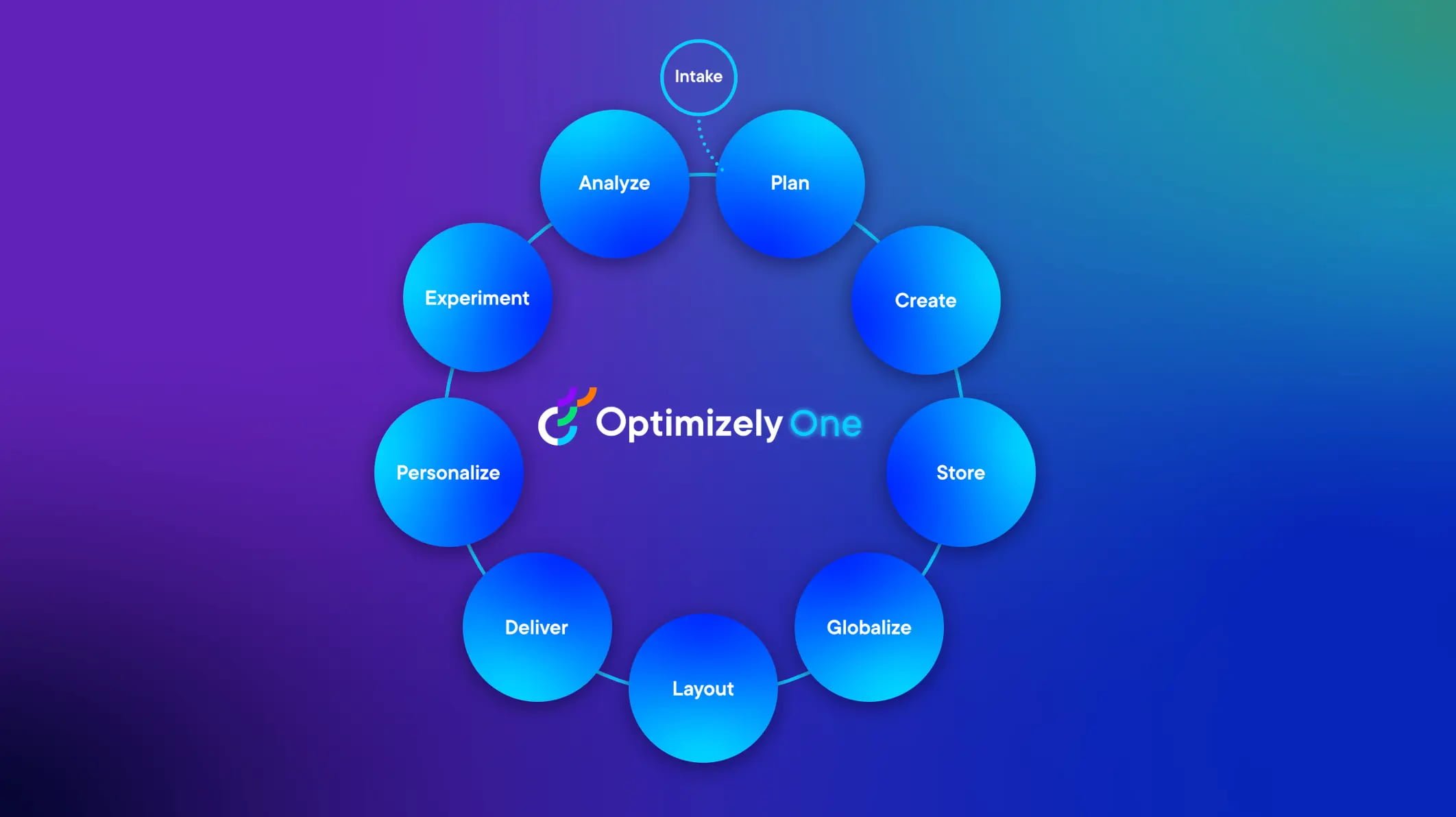 This year's big theme was Optimizely One, a cloud operating system for Marketing. This brings the connected vision of the entire product stack with Orchestration, Monetization and Experimentation under a unified brand. This year also saw several new products added to the stack. My four main takeaways here were:
Opal – The unification of the AI feature set across the connected product suite including some new features.
Collaboration Experimentation – Bringing the power of the Content Marketing Platform's collaborating features to experimentation.
SaaS Core – The power of the refined PaaS CMS product-as-a-service offering allowing customer to have the power of choice for how their platform is used. This comes with a new unified experience builder which will come to both SaaS and PaaS products.
Commerce – Integration of Google Product search features into the platform for Commerce to replace features around search and product recommendations.
On top of all the amazing announcements and features, we also had some great sessions and discussions with Partners along with an amazing meet-up of the Optimizely MVP community.

Opal

Opal is the new identity that brings all of the AI products and features that exist throughout the product stack under one umbrella. Optimizely is also engaging in some key strategic partnerships to focus and build out their AI capabilities with specialized partners who know how to deliver great value in these areas. Currently, the AI stack of Optimizely includes:
AI Content Generation
Content Recommendations
Product Recommendations
Web and Feature Experimentation with Multi-Armed Bandit and Stats Accelerator

There's also a co-pilot which seems very similar to, or in partnership with, Microsoft's own Copilot services that seems like it will offer unified coding support when working with Optimizely, but I have yet to see where that fits in.
Either way, it's clear Optimizely are pushing forward their partnerships with Google and Microsoft to offer the best tools available for the platform to push their innovation forward!
You can find more about the AI changes here.
Collaboration Experimentation
While the experimentation features of Optimizely are a cornerstone of their platform and have grown even more important since the sunset of Google Optimize, one area that needed improvement was the collaboration on and planning of experiments. The Content Marketing Platform was already the best place for ideation and planning, so ExperimentationCollaboration gives us the benefit of these products combined to allow end-to-end planning of experiments and full visibility of goals and stat significance.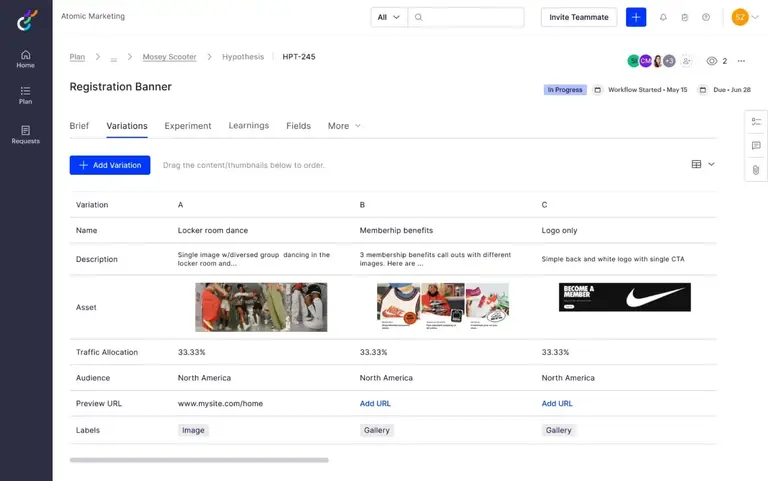 Bringing these features together also further improves the ability to make experimentation the heart of your digital platform and allow teams to fully realize their vision from end to end.
More on Experimentation Collaboration can be found here.
SaaS Core
Optimizely, coming from its Episerver roots, has a long history in the PaaS Content Management and Commerce space and has built a reputation for powerful features delivered via the cloud, but they have been lacking a solution to compete with similar products as a service.
Announced at Opticon as a beta, Optimizely launched their SaaS version of its CMS, giving us the ability to more easily spin up a configurable version of the CMS product using admin, edit and powerful new experience features.
With SaaS features now offered at the core of the CMS platform, coupled with Optimizely Graph (which has new cognitive search features and external data sources) as well as a powerful front end head solution like Vercel, Optimizely is now in a great place to offer customers the choice between a traditional monolith DXP environment and a more composable platform.
Optimizely CPO Rupali Jain covers the new SaaS core more in depth here.
Commerce
Optimizely is pushing commerce forward to make it a fully composable platform. The long-term goal for Optimizely is to unify the B2B and B2C offerings and to separate out core services such as promotions, payment and other areas as a service so that they can easily be implemented in any composable solution.
Optimizely's ongoing partnership with Google to move product recommendations, search and AI features for commerce into their stack also seriously improves the offerings that Optimizely can provide for enterprise-level Commerce customers.
More information can be found at https://www.optimizely.com/product-updates/.
Partners
This year brought together some amazing solution and implementation partners to showcase all the products and services we are collectively offering. There were a number of highlights in this space that I enjoyed.
Niteco - Performance Insight
As part of our Niteco offering, we have developed a feature-rich as-a-service tool which can help with the analysis and development of performance features for your website. A worldwide group of Nitecans from Vietnam, Australia, Sweden and the UK were out in force to demo and discuss the tool and the services that Niteco can offer.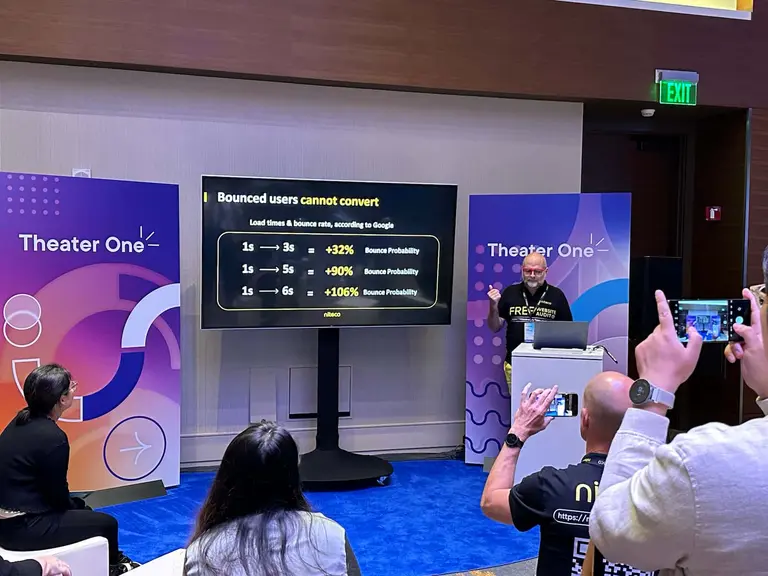 Niteco CEO Pelle Niklasson talked about the importance of performance.
Using our tool, we can perform rich, in-depth analyses and investigations of the performance of your web platform and help improve core path-to-purchase and conversion metrics to provide an uplift to your revenue and core user journeys.
A lot of demos were had with clients and partners alike throughout the event, and our CEO Pelle Niklasson ran a public theater session on Thursday around the importance of performance optimization. You can perform your own audit for free right here.
UNRVLD – What, where and why of testing to help maximize value from Optimizely Experiments
Polly Walton did a great talk discussing the core points of experimentation. This talk expertly explained how to understand what to target around testing both in an Ecommerce or non-Ecommerce space and how to plan out the potential revenue uplift for the experiments, so you know where to focus and how to get buy-in around testing. Presented to the audience were several scenarios on tests and their projected revenue impact for the business.
HawkSearch – A modern search platform for all your commerce needs
As a previous Niteco partner agency with whom we've built complex and powerful search experiences into our customers' websites, we were delighted to get to speak to HawkSearch about the Optimizely roadmap and where it aligns with their vision.
HawkSearch has many powerful features for delivering a cutting-edge search powerhouse which can be read about in detail at https://www.hawksearch.com/ . In summary, some of the features include:
Reports & Analytics on Customer Data
Product Search
Product Display
Integrations
Dashboard
Indexing
Auto Complete
Product Information
Stemming
Recommendations
Conversion
Personalization
On a personal level, I managed to hang out with the guys from HawkSearch and strengthen a partnership that will bring us all a great future! There's nothing I could give but love to these guys and where they are going!
Vercel – A flexible front end cloud platform to power your headless
Vercel is a cloud platform for building, deploying, and scaling web applications. It specializes in providing a seamless experience for front-end developers, making it easy to deploy websites and web applications quickly. Vercel has a number of powerful features for delivering a front end site:
Serverless Functions: Vercel allows you to deploy serverless functions easily, making it simple to create and deploy serverless APIs and backend logic.
Static Site Hosting: It excels in hosting static websites and Single Page Applications (SPAs) with automatic deployment and content delivery.
Continuous Deployment: Vercel provides seamless integration with Git repositories (GitHub, GitLab, Bitbucket) and automates the deployment process whenever you push changes to your repository.
Global Content Delivery: Utilizes a content delivery network (CDN) to serve your content from multiple global edge locations, ensuring fast loading times for users worldwide.
Auto Scaling: Vercel automatically scales your applications to handle traffic spikes, ensuring optimal performance and minimal downtime.
Instant Previews: Preview changes in a production-like environment before merging code, helping catch issues early in the development process.
Analytics and Monitoring: Access analytics and monitoring tools to gain insights into your application's performance and user engagement.
As part of Optimizely's push into the SaaS model, they announced a strategic partnership with Vercel, with their platform to be used as the delivery head of a Graph-powered Optimizely project. Like Vercel, Netlify is expected to become an optional choice as well as self-hosted solution down the line.
As part of the MVP session below, it was our pleasure to demo a seamless integration of CMP, PaaS CMS, Graph and Vercel to show a powerful end-to-end flow! 
Optimizely MVP Day
Around the world, we have a group of Optimizely experts highly skilled in both Strategy and Technology. These individuals have gained MVP status by their continued evangelism of the platform and by providing strategy and technical guidance to the world at large. The MVP program is outlined here if you're interested in joining the ranks.
The Optimizely MVP day was the first day of the conference on Monday and Patrick Lam, who heads up the MVP program for Optimizely, put on an amazing day of talks, drinks and dinner so that we could get early access to the information being presented at Opticon and ask the top brass at Optimizely the hard questions.
It was a great day and we got to talk to Optimizely CEO Alex Atzberger and CPO Rupali Jain about some in-depth points around the new offerings.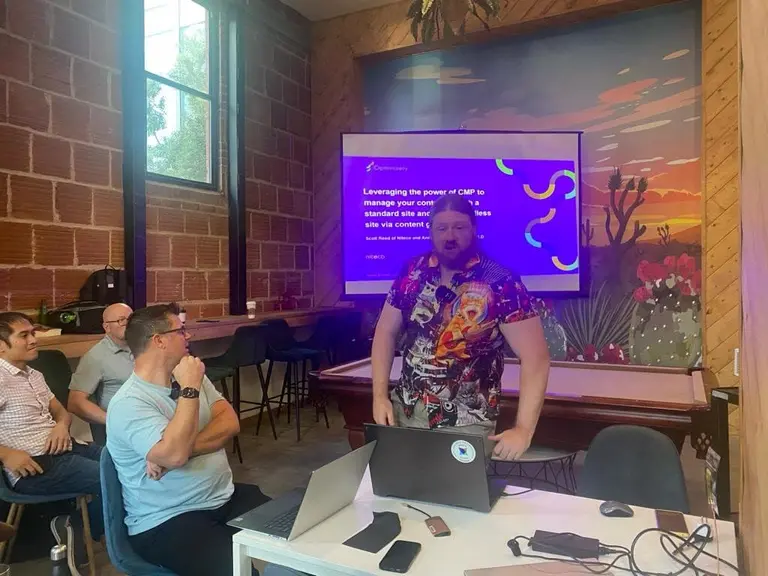 OMVP Scott Reed presenting at MVP Day.
And to end the day, Andrew Markham from UNRVLD and I hosted a session on connecting the CMP, PaaS CMS, Graph and Vercel for an end-to-end demo of content authoring (Blog Post Coming Soon).
Conclusion
As always, it was a fantastic time at Opticon 2023 and Optimizely has announced to the world a slew of new amazing features for Marketing, AI, Experimentation and Commerce, all while unifying their offering.
With products like collaboration experimentation unifying planning, AI moving through the whole product stack and CMS and Commerce going composable with PaaS and Saas offerings and service-driven structures, it's an exciting opportunity for customers to power their CMS and Commerce digital experiences.