Have you ever received an email advertising a product you've just purchased? Or clicked on a link in a promotional email, only to be taken to the company's homepage instead of the product listing page?
Google reports that there can be anywhere between 20 to 500 touchpoints in a customer's path to purchase, which means your marketing efforts can get quite messy if customer data is not organized in a consistent and connected manner. What makes it more complicated is the increasing number of devices one person can be using on their path to purchase. And what you've got to do is to work on the math, sort things out and organize them into cohesive categories to get insights and perform digital experimentation – except you can leave these tasks to a software.
This software is called a digital experience platform, and it evolved to meet the challenges of today. In this blog, we're going to walk through what a digital experience platform (DXP) is and why we think businesses should be using the Optimizely DXP.
What is a digital experience platform?
A DXP contains a wide range of functions. Some of the functional components include content management, Ecommerce, personalization, and experimentation. Let's break them down into smaller bits:
Content management

:

C

ontent is key in digital experience.

H

aving content management system (CMS) capabilities is

a must

for DXPs

,

as

it

serves as a

centralized

hub for an

organization's

content

. W

ith this hub, your

organization

can present your content

on websites

, mobile app

s

, social media and even IoT devices.

Asset management

:

T

his

component

is

related to

the

content management

function

.

As with content, a DXP also serves as a central repository for digital assets such as images, videos

,

audio files

or any multimedia format.

Eco

mmerce

:

An

E

commerce function is a

crucial

component

for any

business

trying to sell online

. And a DXP enables that by

providing

Ecommerce

functionality

that works hand in hand with all its other components

.

Digital experience platforms handle all the backend work such

as

setting up a digital storefront, accepting payments and tracking orders so you

and your team

don't

have to.

Customer relationship management

:

T

his

component

allows you to

manage and

track customer data across

your

customer journey

to garner valuable

insights

and create a

personalized

experience for every customer.

Experimentation

:

W

ith this function,

by using statistical analysis,

users can run A/B tests

easily

to

optimize

experiences and reduce risks

.

It allows

y

ou

to

make data

-

driven

decisions

instead of making guesses

.

Insights,

analytics,

and intelligence

: DXPs can

provide

analytics and insights into user

behavior

workflows. Through extensive data analysis and content intelligence technologies, digital experience platforms can

provide

real-time insights into user

behavior

and make recommendations

to

optimize

the experience.

Personalization

and automation

:

A

s a central hub for user data, a DXP can

analyze

behavioral

data and first

-

party data to create

personalized

experience for each user.

What's

more, these

customized

experiences can be automated, which helps scale marketers' experiences.
While none of these components are groundbreaking on their own, the huge advantage of a DXP is that they can all be controlled from a single place. In short, with a DXP, your business will have a more centralized way of building, managing and optimizing digital journeys for your business and customers while maximizing scale and quality across all your business channels.
What is

the

Optimizely DXP?
The Optimizely Digital Experience Platform is developed by Optimizely, known for its A/B testing and multivariate tools. It is a full-stack, end-to-end digital platform service package including all the basic and advanced components of a DXP such as content management, digital marketing, enterprise search, and Ecommerce in a single cloud service. And don't worry if you're already using a CRM solution such as Salesforce and your own marketing automation tools. Optimizely can integrate with them through multiple APIs and extensions so you can have a central repository for data from all digital channels.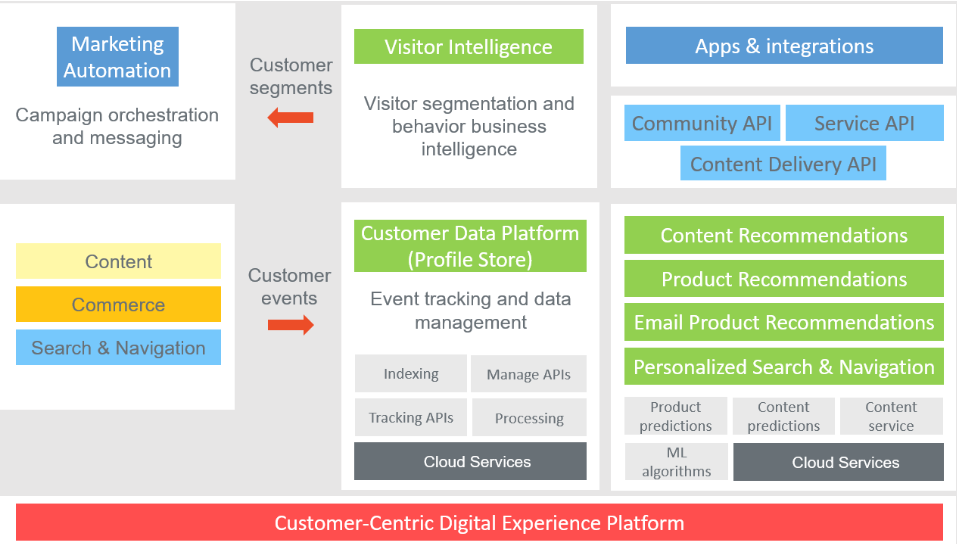 Here are some of the advantages of the Optimizely DXP:
Enhanced customer engagement: With the use of behavioral analysis and machine learning, the Optimizely DXP provides automated recommendations and personalization to enhance customer interactions. What's more, the Optimizely DXP can help your website load more quickly for visitors, which can potentially lead to more conversions. If the DXP integrates with a content delivery network (CDN), you will also be able to deliver content from a nearby server, further improving performance.

Streamlined experiments and analytics: Rather than losing time and energy bt transferring data between different platforms to compare, you can now see all relevant information within a unified platform. And with the Optimizely Experimentation Platform, you can run experiments and gather insights at a fast pace and continuously optimize experiences.

Streamlined digital experience: With the Optimizely DXP, the way your team plans, creates and publishes content will change for the better. You can have a centralized repository for content ideation, authoring, approvals, and scale creation. The same applies to the publishing process – you can just create content on one channel and distribute it to multiple channels. Editors can enjoy ultimate freedom to create captivating experiences with confidence.

Enhanced commerce experiences for your customers: With the Optimizely DXP, you can deliver relevant and modern commerce experiences to your customers. You can focus on building deeper relationships with your customers and increase your bottom line.
Benefits

of

using

Optimizely's

DXP
Recently, Optimizely investigated cloud consumption between March and May 2019 and compared the data to the same timeframe in 2020. They found out that those who used Optimizely's cloud infrastructure for more than one year saw a positive impact from investing in digital, as average engagement was up by 70% and average conversions were up by 43%.
It seems clear that focusing on customer experience is never a wasted effort. With Optimizely's DXP, leveling up your customer experience becomes easier than ever. Now, you can make use of different functionalities the platform provides such as experimentation, automation, and advanced Ecommerce tracking. This function lets marketers easily keep track of important metrics such as bounce rate and conversion rate while making A/B testing and conversion rate optimization easier and more convenient.
To sum up, the Optimizely DXP allows you to get complete control over all touchpoints. For example, if you own an Ecommerce website, with the Optimizely DXP, your site can use abandoned cart follow-up messages and more, built right into the system. You can also provide recommendations for additional products and accessories buyers might like. The Optimizely DXP can manage all of this so you can focus your time on nurturing customer relationships post-purchase for enhanced upselling capabilities.
If you are looking for a way to personalize customer experiences and ultimately level up the digital aspects of your business, Optimizely's DXP is the answer. If you're wondering how to use this platform to your business' advantage, don't hesitate to reach out to us today!