Niteco was proud to be the Platinum sponsor of Episerver Ascend 2019, which saw a change of location and a record-breaking turnout this year. More than 1000 Episerver partners, customers, and prospects congregated at the Fontainebleau Hotel in Miami Beach for a combination of presentations, roadmap updates, workshops, and networking over the three-day event. Luckily, we had prepared for it to be action-packed.
The prelude to Ascend 2019 was a partner event the day before, where Dominic Citino, VP of Worldwide Partnerships, updated us and other partners on the revamped partner program and the scale of the Commerce marketplace being a trillion-dollar space. There are 30 analyst reports supporting and citing Episerver's credentials, with over 1,400 partners active globally in the last 12 months. More insight was gained into Episerver's strategy over the course of the afternoon.
Justin Anovick, Chief Product Officer, kicked off the main event on day one, sporting one of his customary tailored Episerver jackets. He was joined on stage by Chad Wolf, Executive Vice President and Chief Customer and Sales Officer, and then by David Bowen, VP of Product Management, who informed us that there have been no fewer than 41 releases this year, with over 160 features delivered in 2019 to date. Part of the roadmap for the first quarter of 2020 will see cloud self-service and production deployments.
Keynotes made an impact
Content guru and recent addition to the Episerver team Deane Barker, Senior Director of Content Management, followed the opening keynotes. Deane, formerly a presenter for Niteco, is a tremendous public speaker. He spoke with great authority, knowledge, and passion on the subject of content. He told us that content is the currency of human connection: it is universal and enduring, it represents who we are and connects human beings. True content can only be created through a subjective editorial process which is ultimately intended for human consumption, he stressed. It is designed to connect. It is designed to influence. In relation to the technology industry and especially the building of sites meant to hold content, Deane summed it up succinctly with a powerful metaphor, saying, "We're so concerned with building swimming pools we often forget the water". Ultimately, he pointed out, Episerver is a content company.
Day two saw a very different keynote speaker. Amy Purdy, a Paralympic medalist in 2014 and 2018, presented her life story. At the age of 19, with her life before her, she tragically lost both legs to a form of meningitis. In a truly inspirational and tearful story, Amy conquered adversity time and time again. On her journey, she has reached the pinnacle of sporting achievements as a Paralympic snowboarder and finished the runner-up in season 18 of the American TV series 'Dancing with the Stars'. She co-founded Adaptive Action Sports, a non-profit organization that helps people with disabilities get into action sports. Amy asked the audience the question, "If your life were a book and you were the author, how would you want your story to be told?" That's the question that changed her life forever, she said, that gave her the determination and resilience to achieve the amazing things she has done and continues to do.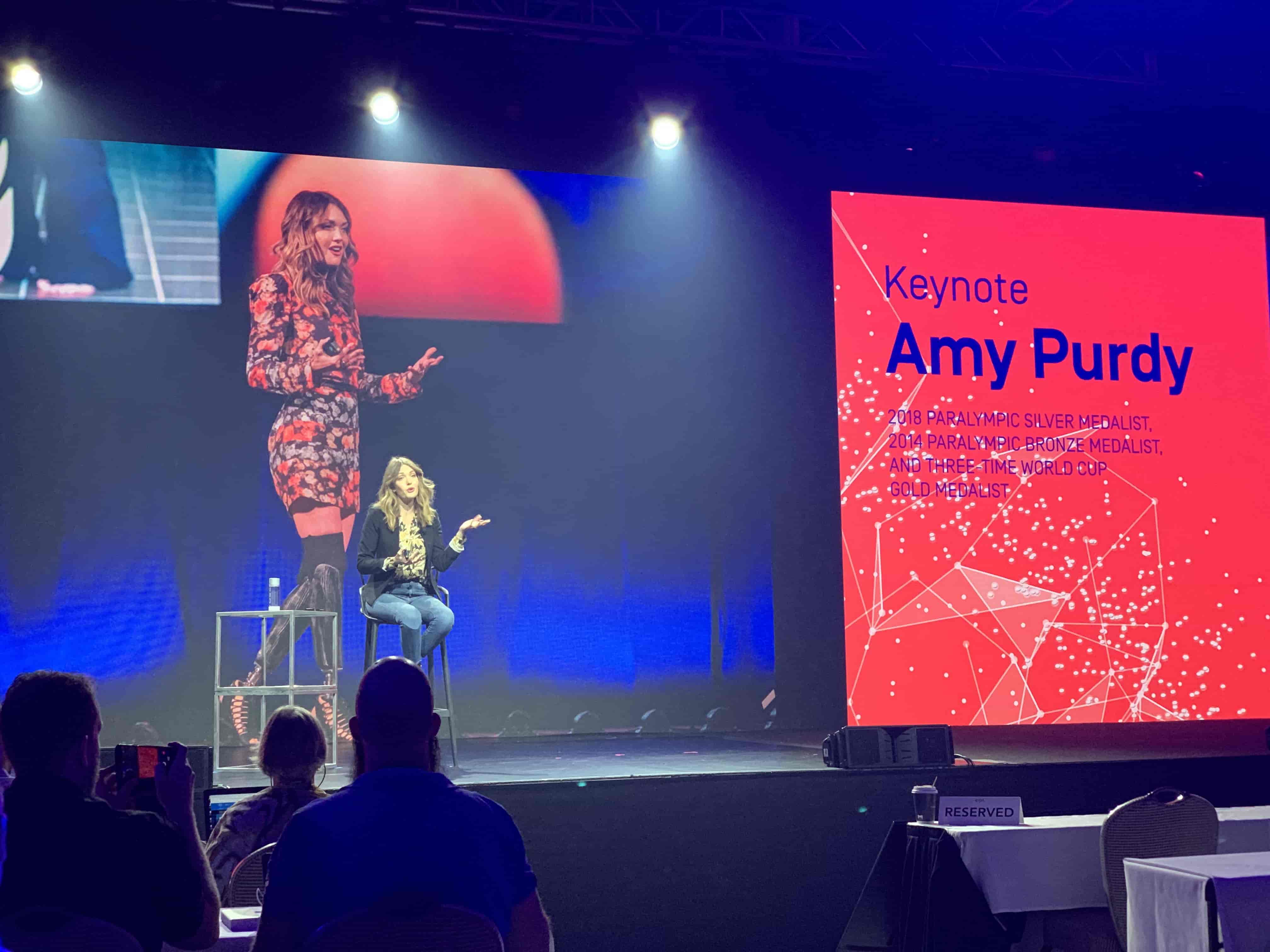 Amy's keynote was followed by another inspiring session, the Women's Panel, chaired by Episerver CMO Jessica Dannemann. Four female leaders in the technology sector spoke about their challenges in a largely male-dominated industry, how they achieved the things they have and what we can do to support diversity and help it to thrive. A very welcome addition to the dialogue and content of the event.
Key topics and takeaways from Ascend 2019
Customer Centricity was at the heart of most of the presentations and prevalent throughout the event. Although we have all long been aware of the importance of customer focus, Episerver was really driving the message that everything we do, from strategy and creation to implementation should start with the customer at the center. Indeed, Episerver's product roadmap is centered around it. Every decision, it was stressed, should be about delivering value for the customer.
Episerver Foundation, a new part of the Episerver platform, was launched at Ascend. It is designed to help support best practices and provide partners and clients with a framework to help start new projects more efficiently, thereby increasing speed-to-market and reducing the overall cost of implementation. Block templates are to follow on the development roadmap soon.
Commerce featured heavily on the agenda this year. Episerver Commerce 13 launched in March of this year and has been a significant focus, with additional features added in the almost weekly releases since. The recent UI updates and Commerce dashboard (with a CMS dashboard to follow soon), analytics updates, and approvals are representative of how the commerce product, both B2C and B2B, is coming of age. With 47 Commerce-certified developers, Niteco is well-positioned to help you with your Commerce project.
Data and Insight - Niteco's very own EMVP Nicola Ayan, a solutions architect, and Michelle Tran, our head of design strategy, held a much-regarded session on data. According to the Economist, 'The world's most valuable resource is no longer oil, but data'. It's no coincidence that Alphabet (Google's parent company), Amazon, Apple, Facebook, and Microsoft are the five most valuable listed firms in the world.
Michelle and Nicola took a deep dive into some of the features of the Episerver platform that are still ignored by many architects and developers. They talked about how to use and get the best out of Episerver Insight (soon to be renamed Episerver Analytics) and Episerver Find, along with a host of other tools (Google Search Console, Google Analytics, and Hotjar, to name a few) to understand more about your audience. Their presentation spoke about using data to personalize content and argued that data can be as important as content when delivering enriched, personalized experiences.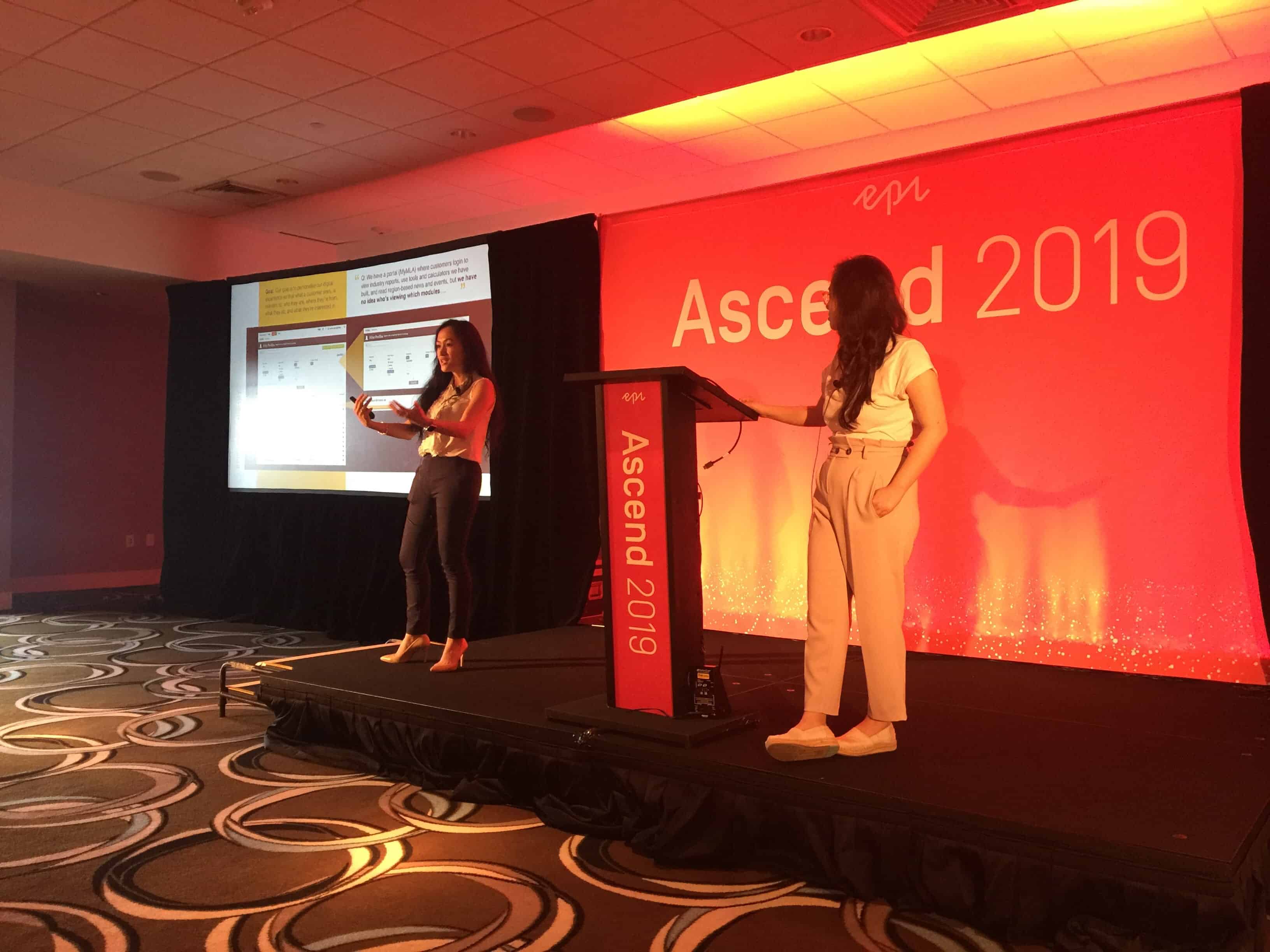 Plenty of news to come
Kudos to Joakim Platborzadis, Senior Product Manager, who, along with David Bowen, VP Product Management, had so much to tell us about the multitude of new features in their 2020 Experience Delivery Roadmap that he had to rattle through 10 minutes of content in a single minute as their session overran. Look out for segmenting in the UI, extending analytics into content and marketing automation endpoints, analytics visualization, showing personalization interactions for each visitor in the analytics UI, NLP (natural language processing), deployment API/self-service API key management for smooth deployment and zero downtime, and simpler upgrades. Also, look out for some forthcoming product name changes – Insight becomes Analytics, for example.
This outstanding event came to a close with an amazing after-party, sponsored by Niteco, taking over the LIV nightclub in Fontainebleau, one of the hottest club destinations in Miami. Nitecans, Episerver staff, and all the partners and clients clearly know how to party and it made for a great finale to the three-day event. We even had a special cocktail created in honor of Ascend 2019, the 'Niteco Rickey', which, although delicious, may have led to a few sore heads the next day.
Be sure to also join us at Episerver Ascend London and see you next year at the big Ascend events around the globe.