With the advent of the advanced AI writing bot ChatGPT, AI content is currently all the rage. It can generate human-like content in seconds, so it begs the question how you can use it in your digital marketing efforts.
Looking at ChatGPT's capabilities and limitations, it can be used in digital marketing in the following four areas:
Content creation

Keyword research

Topic research

Creating chatbots.
What is ChatGPT?
Chances are that you've heard the name ChatGPT a lot in recent months. ChatGPT, which stands for Chat Generative Pre-trained Transformer, is an AI-powered language model that was created by OpenAI and can write text – in reply to a user's prompts – that often reads like a human created it. While chatbots and similar AI-based models have been around for a while, it has recently jumped into the spotlight thanks to ChatGPT's uncannily human-like responses.
The AI bot has gone certifiably viral, with people around the world having conversations with it and posting the results on various social media platforms. However, content professionals around the world quickly realized that ChatGPT and similar AI platforms have use cases that go far beyond playing around for social media clout. ChatGPT's sheer potential for creating informative content that sounds like it was written by a human – in a fraction of the time that an actual human would need to do the same – is incredibly valuable to marketing departments that are light on resources. So, it's no wonder that the idea of using AI to support content marketing efforts has gained traction.
How can you use ChatGPT in your marketing efforts?
What is ChatGPT used for in digital marketing? ChatGPT can be used for a variety of daily tasks in a marketing department, with four of them most prominent: content creation, keyword research, topic research, and chatbots.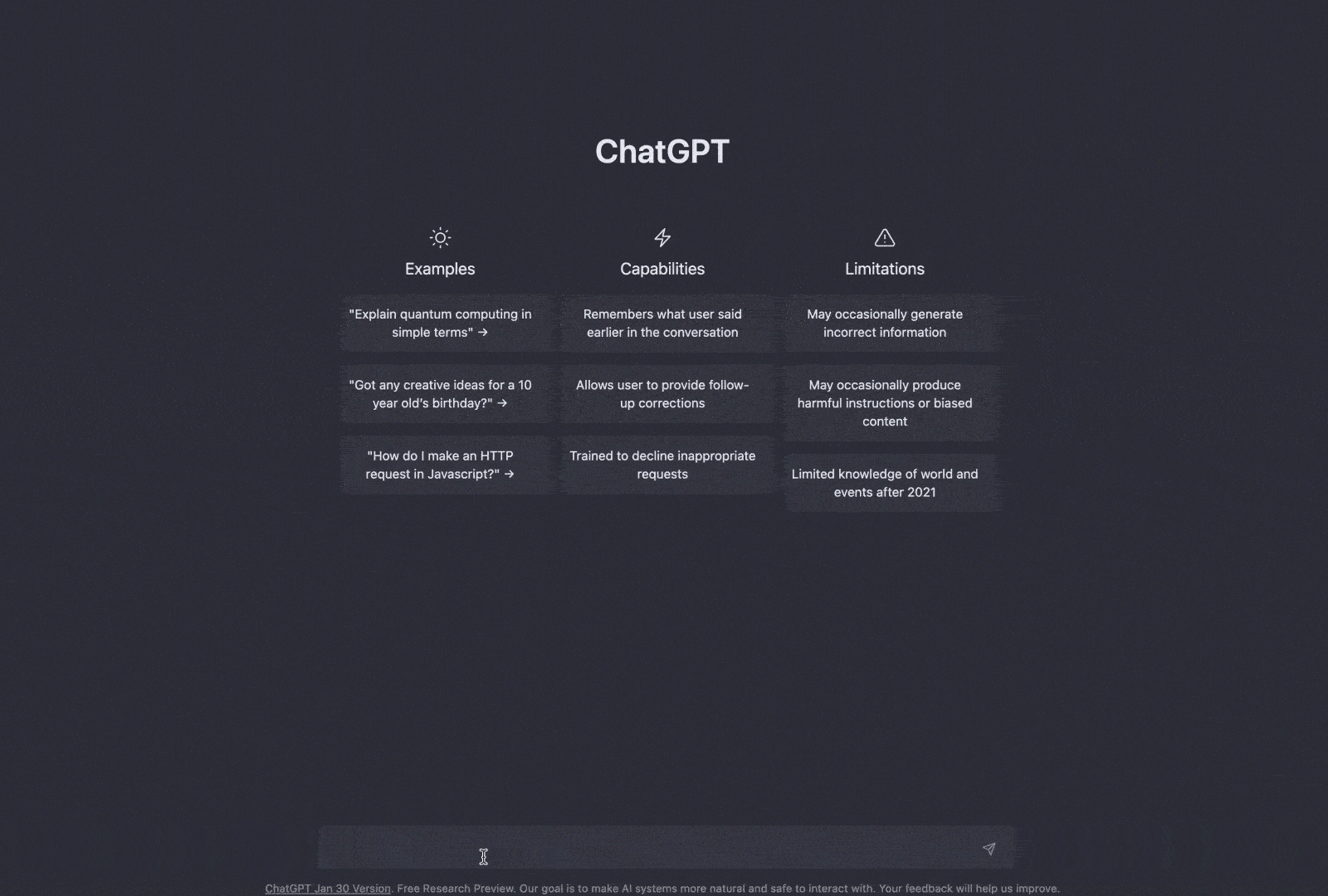 How can ChatGPT help with content creation?
Let's have ChatGPT answer this question in its own words first:

It's clear that creating content is one of ChatGPT's greatest strengths. It does it quickly and uses sources all around the internet to collect the information in the text it generates. For sheer speed of the process, from prompt through research all the way to the finished text, a human simply cannot keep up. That means that marketing departments that are short on resources or time could definitely use ChatGPT to generate at least some of the content they use.
Content that ChatGPT or similar bots can easily handle by themselves is meta text for SEO (Search Engine Optimization) purposes or social media captions. It's short texts like these where ChatGPT's knack for summarizing shines the most. In principle, ChatGPT can also be used to generate longer texts, but the standard length of the bot's output is usually one or two paragraphs. That means that a user would have to use several separate prompts in order to generate a longer-form piece of content. Inevitably, that means that the user would have to edit the output to avoid repetitions or an unnatural flow of language.
If you're going to use ChatGPT to generate content for you, we strongly recommend a human editor being involved in any case. Not only will this help you avoid linguistic issues, there are also other drawbacks to using ChatGPT in content creation that you need to keep in mind – for example, the potential for being penalized by search engines for using AI-generated content. More on that below.
Keyword research with ChatGPT
How can ChatGPT help you with SEO? Using the right keywords is essential for any SEO effort, so keyword research is extremely important. However, it can also be time-consuming. ChatGPT can considerably shorten the time needed for effective keyword research by quickly generating a list of potential keywords.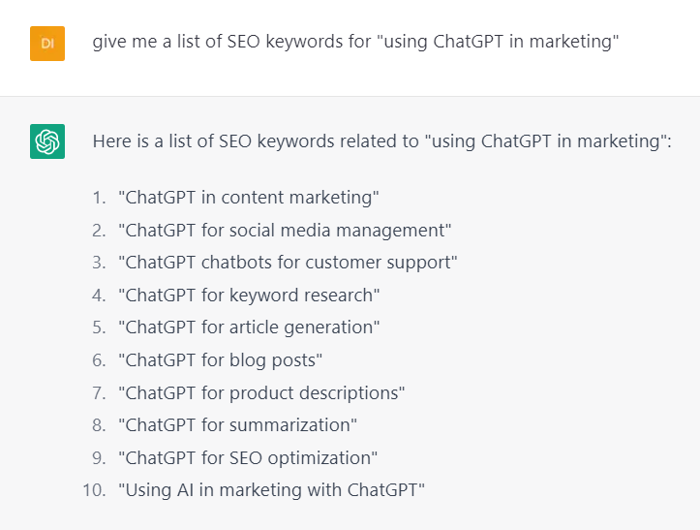 The user simply needs to give the bot a prompt, in this case the general topic for which you want to do the research. You then ask ChatGPT to provide you with a list of SEO keywords for said topic. Within seconds, it will return a list of usually 10 keywords for you to use. What ChatGPT can't do is give you additional information like search volume since it doesn't have access to any real-time sources. That means you still have to do some manual work evaluating the keywords it has given you.
Topic research with ChatGPT
A specific strength of ChatGPT is how it allows you to start off research into a new topic. The bot is exceptionally good at summarizing information, so asking it a few questions about the topic you're interested in will give you highly informative and short briefs you can consume in seconds. While this will not give you the complete picture, it will give you condensed information much quicker than a Google search or a Wikipedia dive can.
For content marketers, a short conversation with ChatGPT can kickstart a content creation process on a new topic and even help in the creation of SEO briefs. While further research always has to occur using other sources, it can be invaluable as a starting-off point. However, you always need to keep in mind that ChatGPT may sometimes refer to information that is out of date or wrong, so always make sure to confirm the information it gives you.
Incidentally, keyword and topic research are some of the 8 most effective ways to drive organic traffic to your website.
Making chatbots with ChatGPT
One of the best use cases for ChatGPT in companies with a customer support focus is the creation of chatbots. These bots simulate conversations with customers to help them with issues they may have without requiring the time and effort of your employees. With ChatGPT's ability to generate human-like responses, its suitability for this specific use case is obvious.
While using ChatGPT as the underlying AI model for your chatbot is a great start, the most important part of setting up a successful chatbot is training. It needs documents specific to your business and the task you want it to perform so it can then generate appropriate responses based on these documents. You also need to keep training it with specific prompts and replies to make it as useful to your users as possible. Also keep in mind that the specific steps and tools you need to use to create a chatbot with ChatGPT may differ depending on the platform you use.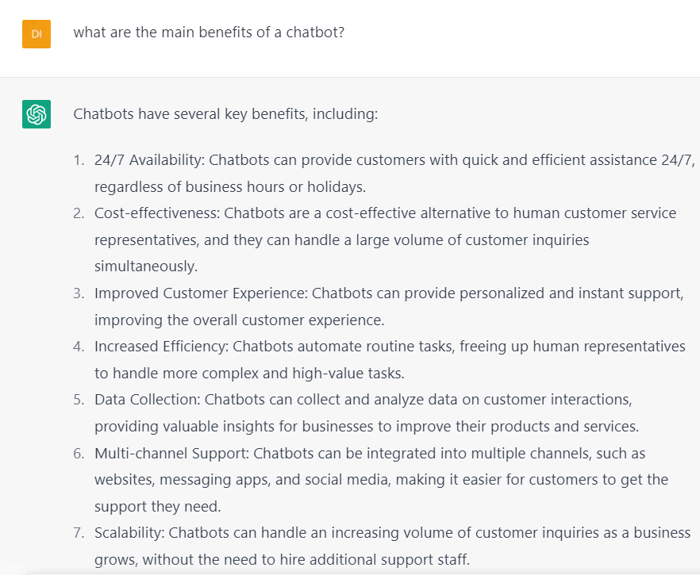 What are the pitfalls of using
ChatGPT
in marketing
Accuracy issues with ChatGPT
The biggest caveat for the use of ChatGPT is that the information it provides is not always correct. There are several reasons for this. For one, the model was trained on data that is not completely up to date, which means that the information it can access concerning newer developments in the world is limited or nonexistent. If you consider how much has happened over the past few years, this is a major drawback for anyone looking for up-to-date information on any given topic.
Another reason is that it's possible to intentionally feed ChatGPT incorrect information. While this is likely quite rare, it's by no means a minor issue. In the end, this means that ChatGPT can't be used as a completely reliable source. You always need to verify the information using additional sources. Since ChatGPT also doesn't tell you where it sourced the information it is presenting you, verification isn't as straightforward as it is in a regular online search.
SEO issues with ChatGPT
While Google said in the past that any AI-generated content would be penalized, this seems to no longer be the case, as SEO.ai writes. In its Search Essentials, Google now says that it is only "spammy" automatically generated content that will be penalized in the search rankings. In essence, it defines such content as having been generated solely for search engines and not for humans. This means that editing AI-generated content has become more important than ever.
When you're working with AI-generated content, it's crucial that you still keep the user experience in mind instead of only focusing on keywords and rankings. With Google now stepping into the AI ring itself with the release of Google Bard, it will also be interesting to see how Google's own guidelines for AI-generated content will evolve in the future.
Creativity and ChatGPT
As ChatGPT itself readily points out when prompted, it's great at quickly creating content of decent quality, but it lacks the creativity and the unique perspective a human writer can bring to a topic. At the end of the day, the AI model can only create content based on the data on which it was trained, so anything it creates is inevitably derivative. And while it isn't always necessary to reinvent the wheel when it comes to engaging users and ranking highly in search results, it's important to be creative in order to stay relevant in a competitive field.

While some users try to coax more creativity out of ChatGPT – with one example drawing scathing criticism from famed musician Nick Cave – this is clearly not what the model was designed to do. It is meant to create content that is informative and condenses information, not words with deeper meaning or artistic merit.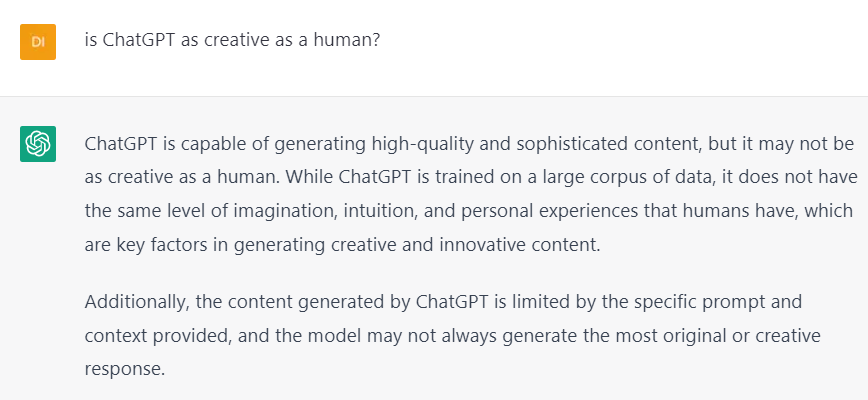 What is the value of ChatGPT in Marketing?
Let's make one thing clear first: AI isn't going anywhere. The cat is out of the box and won't go back in. That being said, it is up to marketers to use ChatGPT and all the other bots that will inevitably follow responsibly. Leveraging these AI capabilities to help with research and SEO as well as for powering chatbots that help users will lead to an increase in efficiency and saved time for marketers that can be invested into other tasks. The most important aspect, however, is the continuous involvement and oversight by actual humans, making sure that the results produced by the AI provide value to the end user.
The same goes for actual content creation. While, as we mentioned, Google and likely other search engines won't rank content lower just for being created by AI, such content should always be edited by human editors to make sure it meets the users' standards.
One thing to keep in mind is that as AI-produced content proliferates, fully human-created content will be able to stand out more to readers thanks to the creativity and viewpoints involved. That means that content creators are not going to go anywhere either. They simply need to adapt and learn how to create content that an AI can't come up with.
Do you want to know more about the use of AI in your digital marketing and how Niteco can help you achieve your business goals? Contact us today!