Niteco has relaunched its round-the-clock management service today as the company sees a spike in the take up of its unique offering.
Now known as 24/7 Proactive Response, the rebrand better reflects the active management team customers can have at their disposal in order to ensure their site is never down.
Explaining the name change, Lotta Widorson Lassfolk said, "More than two years ago, Niteco introduced a comprehensive service that would cater to the needs of global customers. We called it Application Management Service (AMS) at the time, but as we developed the unit more, we realized the name didn't mirror what we now had on offer, which is a dedicated team of specialists that are active in their management of our customers' applications."
The 24/7 Proactive Response team manages a customer's application and integrations round the clock. This service results in dramatically reduced wait times for service requests and a much more responsive support team, which in turn produces vastly improved stability and availability for a customer's application. The service also includes advanced application monitoring and integration monitoring tailored for e-commerce and online transactions. Additionally, there is performance and security monitoring and measures to prevent downtime or breaches.
24/7 Proactive Response is tailored to support both on-premise or cloud solutions such as:
Episerver DXC cloud
Sitecore Experience cloud
Amazon AWS cloud
Microsoft Azure cloud
Rackspace Managed cloud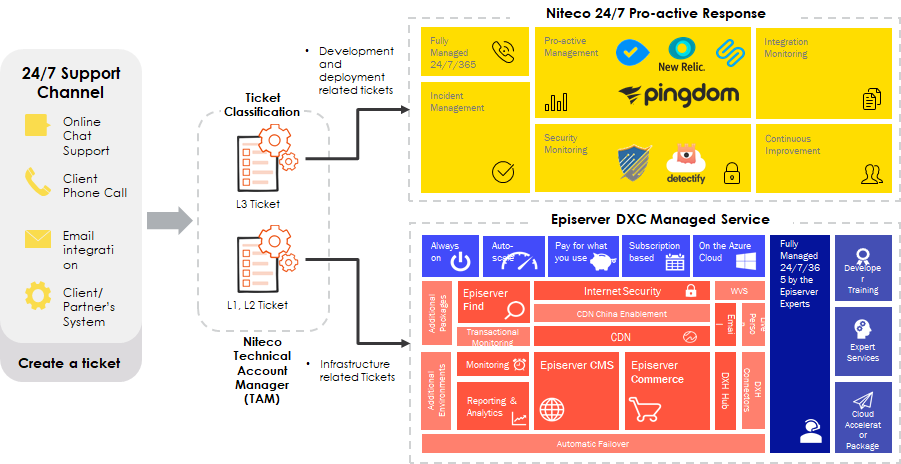 Want to know more?
Discover if the 24/7 Proactive Response service could work for you and your project by getting in touch with us for an in-depth, no-obligation discussion.