Collaboration. It's the lifeblood of any business. It certainly is the lifeblood of ours.
However, online collaboration is never easy. There can be missing emails, scattered communication, and disorganized systems. We've built a list of some easy-to-use collaboration tools that we personally use in our internal teams and clients from around the world.

1. Slack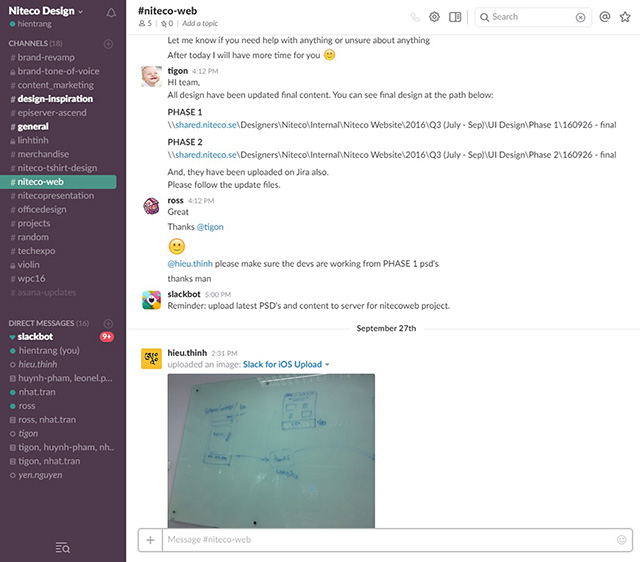 Both Skype and Slack serve team chats. Skype is obviously more popular, as you'll find it already installed on your computer. Compared to Slack, which requires a bit of a learning curve, Skype can seem more intuitive.
So, why should you give Slack a try? First of all, Slack permits integrations for other hundreds of apps including Google Drive, Drop Box, Google+ Hangouts, GitHub, Trello, JIRA, Asana, etc. It also has a search engine with advanced filtering functions. It may occur to you that you don't remember the exact thread where a piece of information was posted. But in Slack, you can look for it with hashtags and search terms.
For a tech business, you'll prefer Slack for its code snippet feature. This feature enables quick sharing and testing codes across your team. The code snippets are kept in Slack portals so you can instantly find it whenever you need.
Slack's free version allows up to 10,000 messages. The old messages will be hidden once your team exceeds that number.
2. Trello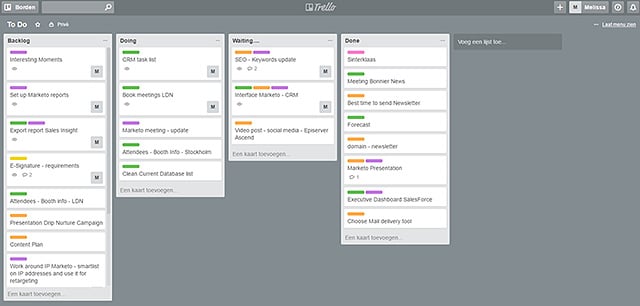 Based on the Kanban method, Trello is extremely useful when it comes to task management.
The main feature of Trello is Trello Board, which represents an ongoing project. Inside the board, you can create several lists standing for different stages of a project. And inside a list, you can add cards, which can be a file, an image, a comment, etc. and assign your team members to each card. Trello also lets you drag and drop a task from one list to another.
We use the following basic lists within one board: Backlog/To-do tasks, In progress, Waiting for approvals, and Final. Therefore, we can have an overall view of the project status and see where we are at the moment. With Trello's clear interface, it's quite easy for you to know at which stage you are stuck.
(By the way, it is also worthwhile to note that the standard free version of Trello allows an unlimited number of users in one team!)

3. Asana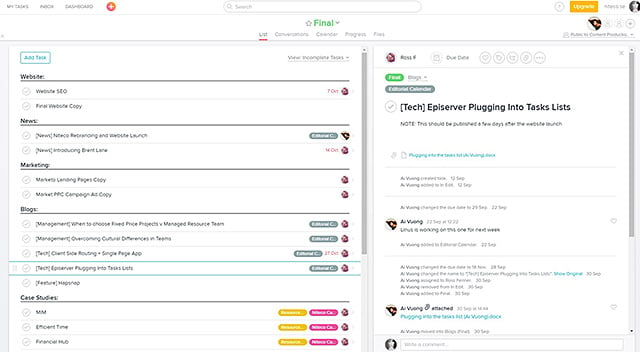 From our experience, Trello excels in simple projects. But for the complicated ones, such as building a website from A to Z, Asana can cope better.
In Asana, you can juggle multiple projects. For every project, you can create as many tasks and sub-tasks as you want, and assign them to your team members. Notably, one task can be added into various projects, and there is workspace in each task for you to exchange files and opinions. You can also set deadline for each task and it will show up in the project's calendar.
The list of Asana's pros is not ending yet. As a task can have more than one tag, you are able to prioritize the task. You won't waste time each morning to see what you have to complete today. So for a leader, Asana is a great tool to manage workflow and save time. Meanwhile, for a team member, Asana helps you consolidate all the tasks assigned to you.

Furthermore, Asana is always free for teams up to 15 people.
4. JIRA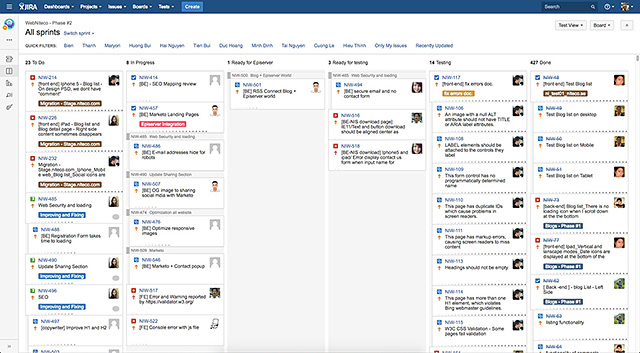 Agile/Scrum lies at the heart of our development team. And Jira plays a crucial part to the application of this methodology. In some cases, we use JIRA in conjunction with our clients.
JIRA surprised us with its capability, from managing tasks to tracking bugs. When utilizing this tool for the first time, you may feel overwhelmed, but as soon as you get everything set up, it will prove to be a top-rate software development tool for agile teams.
To optimize your workflow, you can integrate JIRA with other add-ons and apps. There is a rich ecosystem of add-ons for JIRA, some of the most popular are Github, Bitbucket, Hipchat, Suite Utilities, etc.
When you connect JIRA with Confluence – a tool to centralize all documents and information, you will have a perfect place to nurture lean development delivery.

5. Awesome Screenshot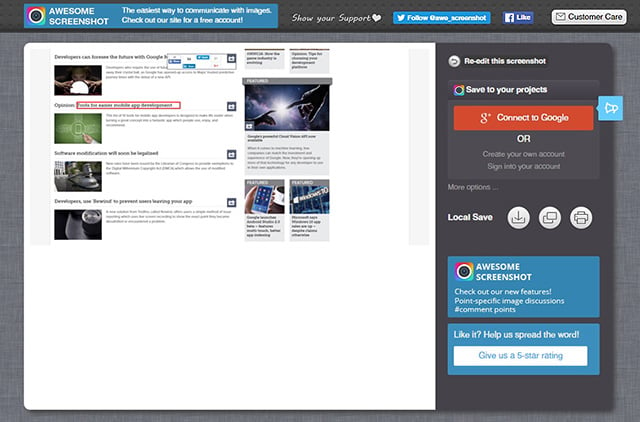 Capturing any part of a website with one click, this tool eliminates any chances of miscommunication.
In some situations, you can find it hard to explain your opinion in words. For instance, when you want to report a bug, or when you want to share with your team some inspiring samples you found on internet. Awesome Screenshot helps you use images for efficient collaboration. Additionally, it enables you to add comments easily, which is what we love most about this app.
Which tool is your company using that you want to share the world? Tell us more!
Read more: Top 10 tools for productivity across global teams (part 2)