Introduction
In the ever-evolving world of digital marketing, staying ahead of the curve is paramount. With consumers' online behaviors becoming increasingly complex, understanding their interactions with your website is no longer a luxury—it's a necessity. This is where heatmaps come into play. Heatmaps have become indispensable tools for marketers, offering valuable insights into user behavior, website performance, and conversion optimization.
In this article, we'll walk you through what heatmaps are and what benefits they have for your digital marketing performance.
Table of contents:
What is heatmap and what is it used for?
How heatmaps help your digital marketing
5 types of heatmaps to boost your conversion
What is a heatmap and what is it used for?
What is a website heatmap?
Website heatmaps may be unfamiliar to you, but they are a common tool in the world of digital marketing. Think of them as the digital equivalent of the spectrum of colors used in weather forecasts. Heatmaps provide a visual representation of how users interact with every element on your website. They use colors, ranging from warm to cool, to depict user activity. Warm colors like red highlight the parts of the page that receive the most user interaction, while cooler shades like blue indicate areas with the least attention.
In marketing, heatmaps play a pivotal role by transforming complex data sets into colorful illustrations. This visualization helps identify potential roadblocks to conversion, allowing organizations to make necessary page adjustments for optimal user engagement. Heatmaps provide a visual layer to the numbers, helping marketers understand not just what is happening on their websites but also why it's happening.
However, note that while heatmaps are an optimal solution for tracking user experience on a separate page, if you want to have an overall assessment of the whole website (multiple pages), you should consider a more comprehensive tracking platform such as Google Analytics 4 (formerly known as Universal Analytics). Implementing GA4 can give you a great holistic overview over your site's traffic and performance.
Read our Ultimate Guide to Events in Google Analytics 4 for more details on what to track and how to set them up.
Why should we include heatmaps in data analysis?
The power of heatmaps becomes evident when they intersect with data analysis. By combining analytics with heatmaps, organizations can significantly increase their chances of successful experimentation and conversion rate optimization (CRO).
Here are 3 tips for a successful experimentation of your business that can increase the chance even more.
When you gain insights from both traditional data analytics and heatmaps, you tap into a richer source of user behavior data resulting in better user understanding. This dual-pronged approach empowers you to make informed decisions, fine-tune your marketing strategies, and ultimately elevate user experiences on your website.
To further enhance the successful experimentation of your business, consider these 3 valuable tips.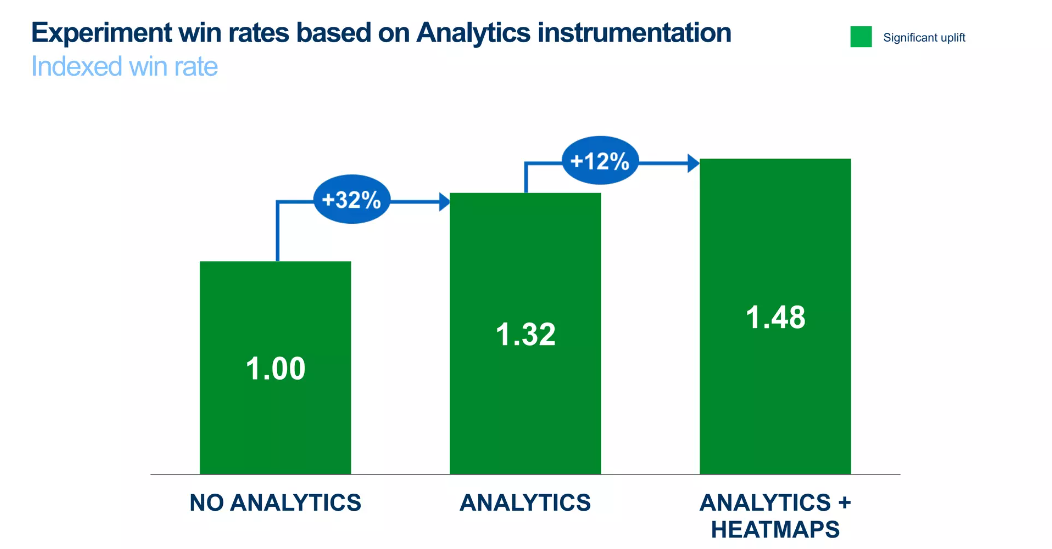 How heatmaps help you in Digital Marketing
Heatmaps provide a clear view of your website's performance, alerting stakeholders to issues right away, and conveying essential information far more quickly than pages of even the most insightful data. Heatmaps can supercharge your digital marketing efforts in 4 key areas: Improving conversion rates, enhancing content writing, analyzing user behavior, and optimizing website design and layout.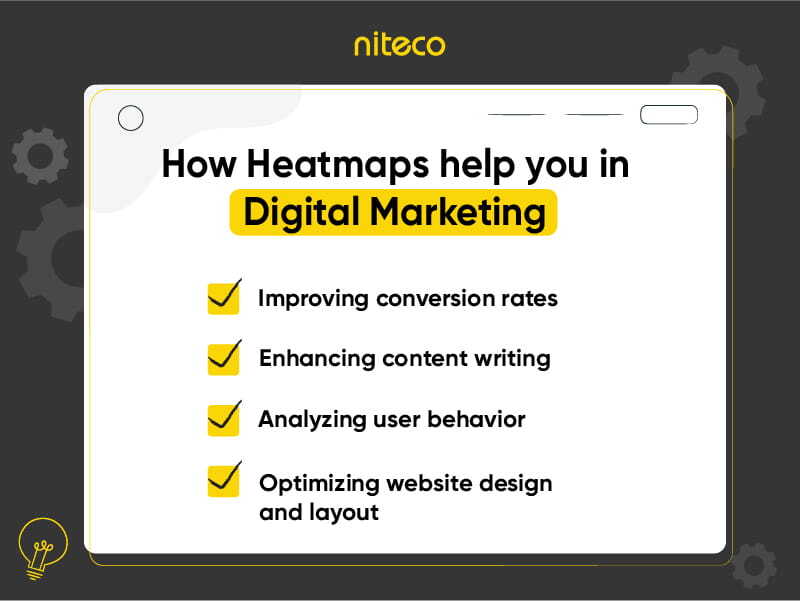 1. Optimizing conversion rates
The conversion rate is the holy grail in the competitive landscape of digital marketing. It's the metric that indicates how effectively your website turns visitors into customers. Heatmaps play a pivotal role in the process of improving this coveted rate by shedding light on critical areas for improvement, such as:
Reducing cart abandonment
One of the most significant challenges in Ecommerce is cart abandonment, where shoppers add products to their carts but then leave the website without completing the purchase. Heatmaps help pinpoint where this abandonment occurs.
By analyzing user interactions on the checkout page, you can identify stumbling blocks. For instance, you might discover that users are repeatedly clicking on the shipping cost field, suggesting that high shipping fees deter them. Armed with this insight, you can make necessary adjustments, such as offering free shipping or displaying shipping costs earlier in the process, to reduce cart abandonment and boost conversions.
Optimizing CTA buttons
Heatmaps offer a close-up view of how users engage with CTA buttons on your website. Are they clicking on them as expected, or do users seem to overlook them? By studying CTA interactions, you can fine-tune button placement, design, and messaging to maximize their effectiveness. For instance, if a heatmap reveals that users rarely click on a "Buy Now" button at the bottom of your product page, moving it higher might result in more conversions.
Removing unnecessary elements
Sometimes, less is more when it comes to website design. Heatmaps can reveal which elements on your landing page are attracting attention and which are ignored. This information is crucial for eliminating unnecessary clutter and ensuring that your page focuses on what matters most to users. In this context, identifying and addressing "dead elements" on your website can significantly improve user experience and ultimately increase conversions.
2. Perfecting content writing
As the saying goes, content is king, especially in digital marketing. Therefore, producing relevant, engaging, and valuable content is essential if you're looking to attract and retain your target audience. Heatmaps can be a game-changer in this regard.
Heatmaps help you gauge how users engage with your content. Are they scrolling through your blog posts and articles, or do they drop off quickly? By tracking user behavior, you can identify the content that resonates most with your audience. If a heatmap shows that users consistently scroll through an entire blog post about "digital marketing strategies," it's a clear indicator that this topic is of interest. Based on this knowledge, you can create more content related to this subject, catering to your audience's preferences and boosting engagement.
If you are looking for ways to better your writing skills, check out our 6 tips to improve your content writing game or follow our guide on how to use ChatGPT in your Digital Marketing efforts.
Additionally, heatmaps can help you find the missing pieces of the content puzzle. Are users clicking on internal links to related articles, or are they bouncing from your site? By studying these interactions, you can identify content gaps and create a more cohesive content strategy that keeps users engaged and coming back for more. In the longer term, this can help increase your website's organic traffic significantly.
3. Analyzing user behavior
Understanding user behavior is at the core of effective digital marketing. Heatmaps provide invaluable insights into how people click and navigate through your website.
By tracking user behavior with heatmaps, you can identify patterns and preferences. For instance, do users tend to click on images or text links? Are they drawn to specific sections of your page, such as the product descriptions or customer reviews? This information can inform your content placement and layout decisions, ensuring that you provide what your audience seeks.
Heatmaps also shed light on user behavior in response to specific elements, such as buttons or forms. If users frequently click on an "Explore Our Services" button, it indicates a strong interest in learning more about your offerings. Leveraging this data, you can tailor your marketing campaigns to emphasize these high-interest areas and guide users toward the actions you want them to take.
4. Optimizing website design and layout
User experience (UX) and user interface (UI) design are critical components of successful digital marketing. Your website's design and layout directly impact how users interact with your brand and content. Heatmaps play a vital role in optimizing these aspects.
When examining heatmaps, pay attention to user engagement with different elements of your site's design. Are users drawn to eye-catching graphics or videos, or do they prefer straightforward text? Do they scroll all the way through long product listings or quickly scan for specific details? Insights from heatmaps can guide your design choices, helping you create a visually appealing and user-friendly website that aligns with your audience's preferences.
5 types of heatmaps to boost your conversion
It's clear, then, that heatmaps provide profound insights into user behavior and website performance. They also come in various flavors, each with its own unique capabilities. Let's dive into 5 distinct types of heatmaps and explore their definitions and benefits as well as some examples, shedding light on how they can help you boost conversion rates and refine your digital marketing strategies.
| | | |
| --- | --- | --- |
| Type | Definition | Benefits |
| Click maps | To show where users click on your web pages. | Help optimize page layout and designs. |
| Scroll maps | To visualize how far users scroll down a webpage. | Help adjust content placement and length. |
| Mouse movement maps | To track users' mouse cursor movements. | Help understand user attention and intent. |
| Engagement zone maps | To highlight interactions on specific elements like videos, images, etc. | Help evaluate the performance of critical components. |
| Rage click maps | To capture moments of user frustration, where users repeatedly click on a specific element, expecting a response that doesn't occur. | Help highlight elements that may confuse or frustrate and lead to dissatisfaction. |
1. Click maps
Click maps, as the name suggests, visualize where users click on your website. This type of heatmap is invaluable for understanding user engagement with your site's elements as it reveals which links, buttons, or images capture the most attention and interaction. This information, after all, can help you optimize your website's layout, design, and CTA button placement.
As an example, click maps can be extremely handy if you run an eCommerce website selling clothing. A click map might reveal that users frequently click on the "Sale" banner at the top of your homepage. Knowing this, you might choose to feature sales prominently, leading to increased click-through rates and, ultimately, more conversions.
2. Scroll maps
Another type of heatmaps is the scroll map. This specific type provides a visual representation of how far users scroll down a webpage, showing you where they lose interest and abandon your page. By identifying drop-off points, you can optimize content placement and length to ensure your most critical information is seen by as many visitors as possible.
Let's assume you're a blog manager and your a scroll map indicates that most users only read 30% of your articles before leaving. It might mean that your articles are too wordy and don't provide users with the necessary information when they land on your blog. A possible solution would be to deploy shorter and more straightforward blog posts to engage visitors more effectively and potentially boost conversion through CTA buttons on the page.
3. Mouse movement maps
Mouse movement maps (or move heatmaps) track the movements of users' mouse cursors. These heatmaps show areas of high mouse activity and can reveal where users hover or linger. Mouse movement maps help you understand user attention and intent.
Imagine you operate a software product website. A mouse movement map might reveal that users often hover over the "Features" section but rarely click through. This insight could prompt you to create a more compelling call to action in that area or provide additional information to address user questions, potentially increasing conversions.
4. Engagement zone maps
Engagement zone maps focus on highlighting interactions with specific elements or sections of your website, such as forms, videos, or product descriptions. By concentrating on user interactions within defined zones, you can evaluate the performance of critical components.
Suppose you run a lead generation campaign and have a contact form on your landing page. An engagement zone map would pinpoint user interactions with that form. If it shows that users frequently start filling out the form but abandon it midway, you might revise the form's layout or simplify the submission process to boost conversion.
5. Rage click maps
Rage click maps capture moments of user frustration, where users repeatedly click on a specific element, expecting a response that doesn't occur. In other words, this type of heatmap helps identify pain points and bottlenecks in the user experience. They highlight elements that may confuse or frustrate users and can lead to premature exits or dissatisfaction.
Take an online booking site as an example. A rage click map might show users furiously clicking a "Book Now" button that isn't responding. This signals a technical issue that needs immediate attention to prevent potential customers from abandoning the booking process. Fixing such issues can lead to a smoother user experience and increased conversions.
Conclusion
In a digital landscape where all clicks and interactions count, heatmaps have proven themselves to be indispensable allies. They transform complex data sets into easy to understand and actionable insights and pave the way for continuous improvement. By embracing heatmaps as a cornerstone of their digital strategy, marketers can navigate the ever-changing digital field with confidence, delivering exceptional user experiences and achieving unparalleled success in the world of digital marketing.
Want to learn more about digital marketing and how to improve your website performance? Don't hesitate and reach out to us today!