To kick off the first episode of a special series exploring people and culture at Niteco, we would love to tell you the stories from the HR Team – a small but important piece of the puzzle that serves as a link between the company and its employees. Let's listen to their experiences with us😊 .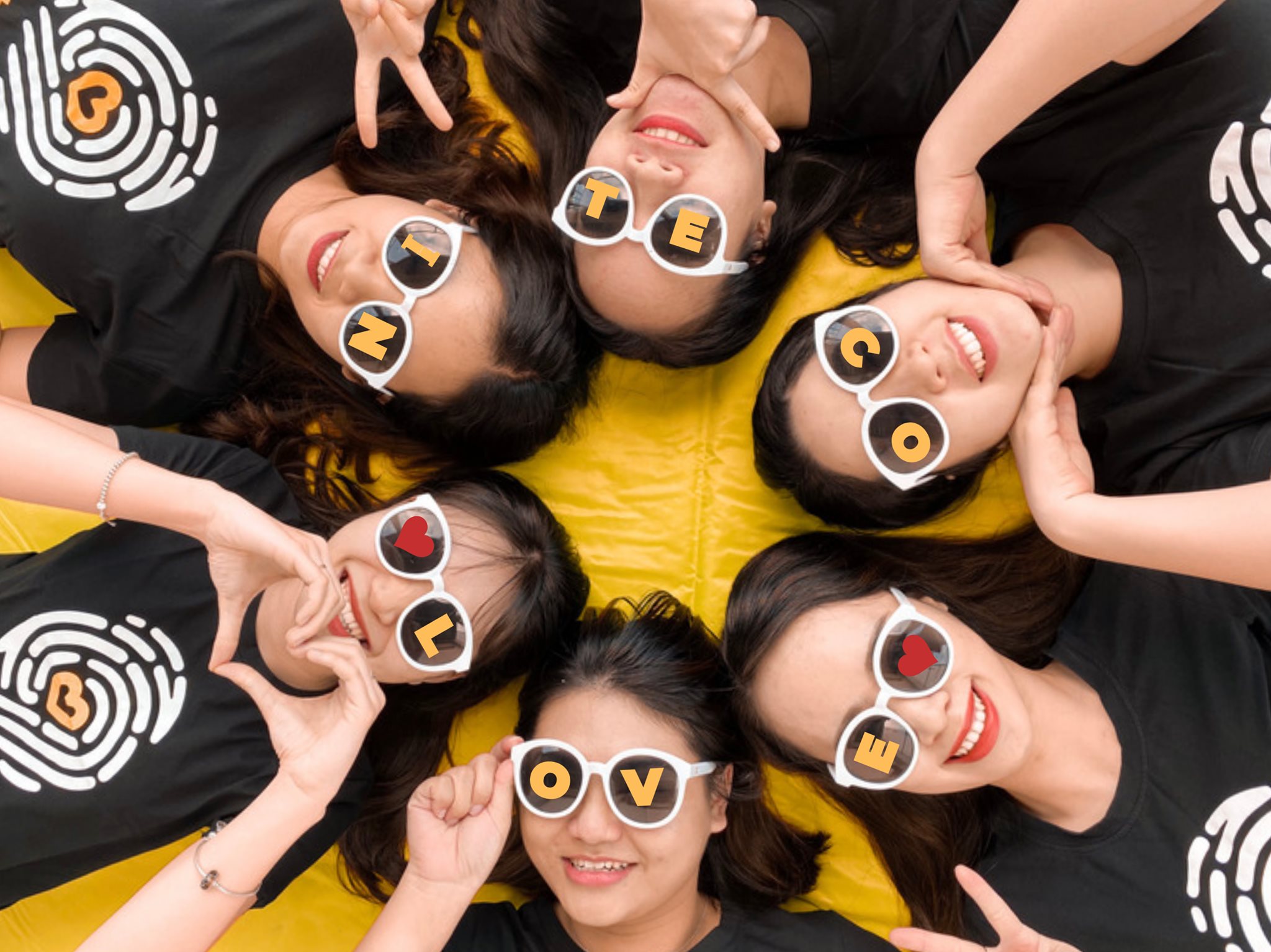 Niteco HR Team
The beginning
Thu Trang – a tenured employee of the HR Team has shared:
"Back when I was in college, I chose banking as a major because the idea of working in the bank wearing a beautiful uniform sounds like a dream to me. But fate stepped in as my friend suggested that I give it a go in the recruitment field. Since then, with the help and guidance from fellow seniors, I have grown into an IT Recruiter like now. I knew Niteco Company for quite some time before, but I could not bring myself to apply because people said that Niteco's requirements are extremely high. It's near my house, however, then I made up my mind to try and got accepted. Now I am in my 6th year as a Senior IT Recruiter at Niteco 😊."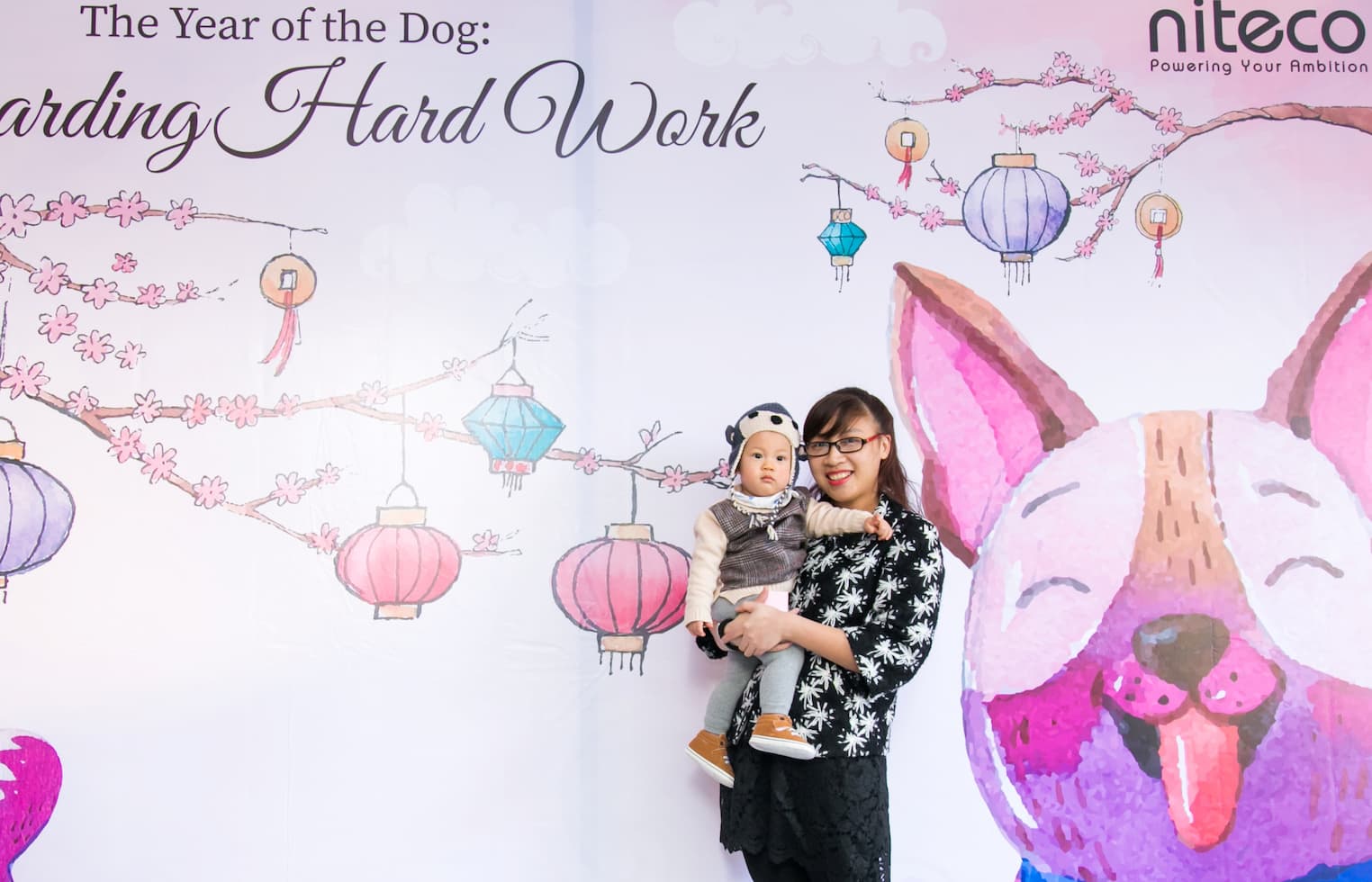 "I'm very satisfied with this job. The greatest thing is that I get to meet many people and use my ability to connect them with decent jobs, help the company hire suitable people to accompany each other at the same time. Besides, I also gain knowledge about technology" - Thu Trang
As for Trang Dương, the word "destiny" does not come naturally, but also requires a lot of determination and perseverance:
"A few years ago, with only a few months of experience in IT Recruitment, I applied to Niteco - one of the most well-known tech companies. The rejection was a predictable outcome but since then, I have been determined to make it someday. After a few years of accumulating experience, I applied again and successfully joined Niteco as Senior Recruiter. Know yourself and figure out where you belong is a prolonged process but victory will be for those who never give up."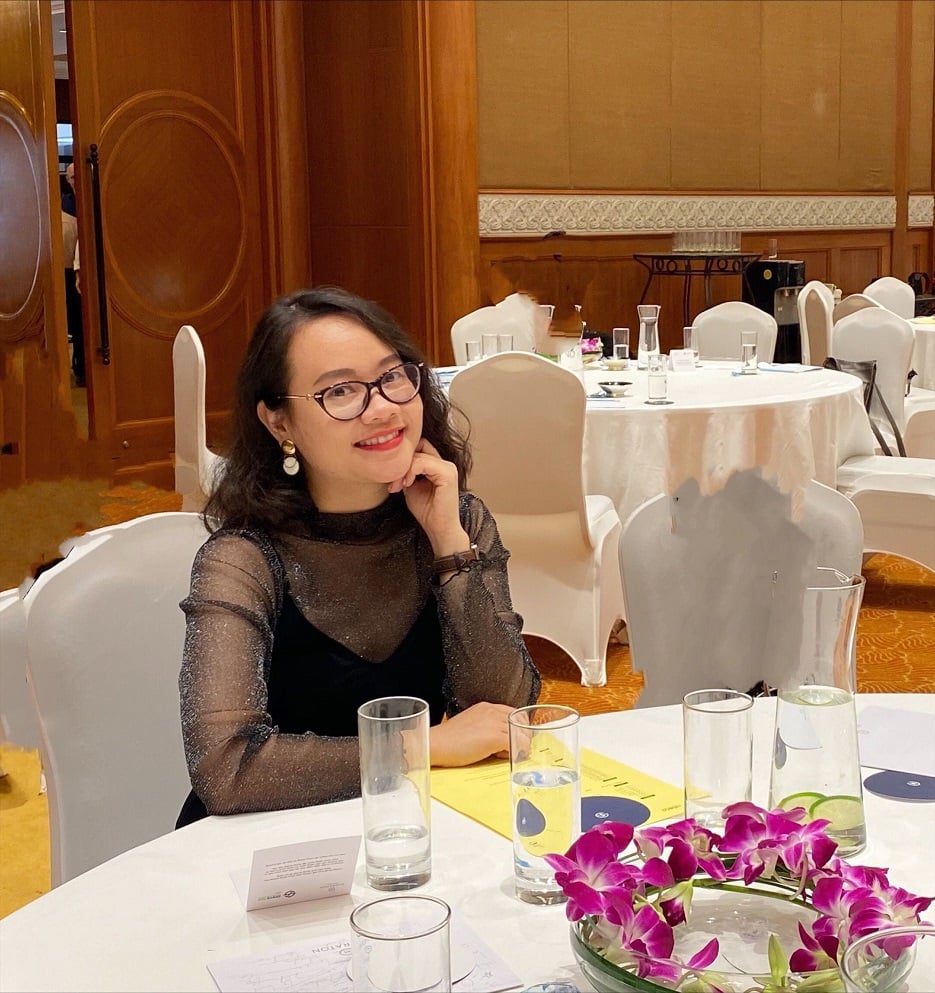 3 years + working at Niteco, I am proud and honored to be a small part contributing to the Company's development" - Trang Duong.
The untold story
Trang laughed with joy in her eyes when talking about a memorable memory during her time working at Niteco:
"There is a candidate I have followed for more than 2 years. I offered him the position twice, but he rejected it each time for personal reasons. But you know what they said, third times' a charm! It was not until the third time that I successfully brought him to Niteco. Currently, he is still working at Niteco as a Senior Project Manager with an excellent vision. He often connects me with prospects in his network. The experience helped me utterly understand: One door may close, but many more will open. As long as I persevere and work hard, luck will definitely find its way to me."
"Booking an interview with Senior PMs is not an easy lemon squeezy task due to the busy schedule of interviewers. But in the "hunting season" they always put an extra effort into helping us with potential candidates so that we could close the deal on time. In this competitive field, timing is everything and luckily, we get all the support we need to get the job done." Trang also shared.
Memorable memories at Niteco
Ngọc Anh & Khánh An in Niteco employee appreciation party
"2017, as a fresh graduate, I was having a tough time looking for a stable job. One time when I was scrolling through the internet, I saw a recruitment post from Niteco, so I applied. I did not have a tech-based background, but my best friend, who also learned about programming, encouraged me by saying that technology companies always have quite a few reputations in their professional working environment. I feel inspired and tried to prepare well for the interview. And here I am, being a Nitecan for almost 5 years now 😊" Ngoc Anh happily shared.
She also talked about memorable memories at Niteco:
"First time when on a summer vacation with Niteco was a massive surprise for me: the cost was fully covered at a luxurious 5 * resort in Phu Quoc. I am not joking when I said I could leave my purse at home and still have no worries.
The most rewarding part of the trip was the team building and the gala dinner. Niteco has two offices in Hanoi and Ho Chi Minh, so colleagues from the north and south must wait until summer vacation to have the opportunity to meet and interact with each other. I like this one-of-a-kind opportunity. It is very precious. My colleagues and I have built stronger bonds through these bonding sessions, and the work between the two offices has become smoother as well. Thank you Niteco for being so thoughtful."
"Niteco is my first company, and I would say I am a lucky girl to receive tons of help and guidance from my senior colleagues. Working here has given me a chance to put the old me – the shy girl who was afraid of everything in the past. Now I am an intermediate Nitecan who is confident and not afraid to fail. I genuinely believe that the first company in anyone's life is very meaningful and plays a vital part in shaping one person's future working style. With Niteco, I am in the right place at the right time." - Khánh An confessed.
Trang Dương's story is also revealed for the first time with Humans of Niteco:
"I have arranged an interview with this one candidate but right before D-day, he turned the offer down because he wanted to focus on working for a bigger brand company. But after successfully persuading him to continue his appointment, his impression was nowhere near the assumption he had made earlier. Niteco met all his expectations even though it is a medium-sized enterprise. During his time with Niteco as an FE Developer, he finds joy in the job, and his ability and attitude are getting praised by colleagues. Niteco has made an amazing entrance that he has been actively referring his friends to me. Even though Niteco has hardly participated in working environment awards, all the candidates I have recruited are saying that they won't hesitate to invite their friends and relatives to the company."
It is not a goodbye.

It is

a start!
HR team would like to send a heartful message to those who are looking to develop their careers in recruitment, especially technology recruitment:
An excellent IT recruiter requires having both knowledge in professional terms of the industry and effective communication skills. IT recruiters play the part of a communicator between the company and candidates so that the two can utterly understand each other's aspirations, then use our magic to find the intersection point where both parties are satisfied. Other skills are also a need such as the ability to work extensively, research market trends, and build relationships with candidates. Especially with a skyrocket growth rate in this field at the current time, you need to be equipped with the ability to withstand pressure and self-renovated to stay on top of the game.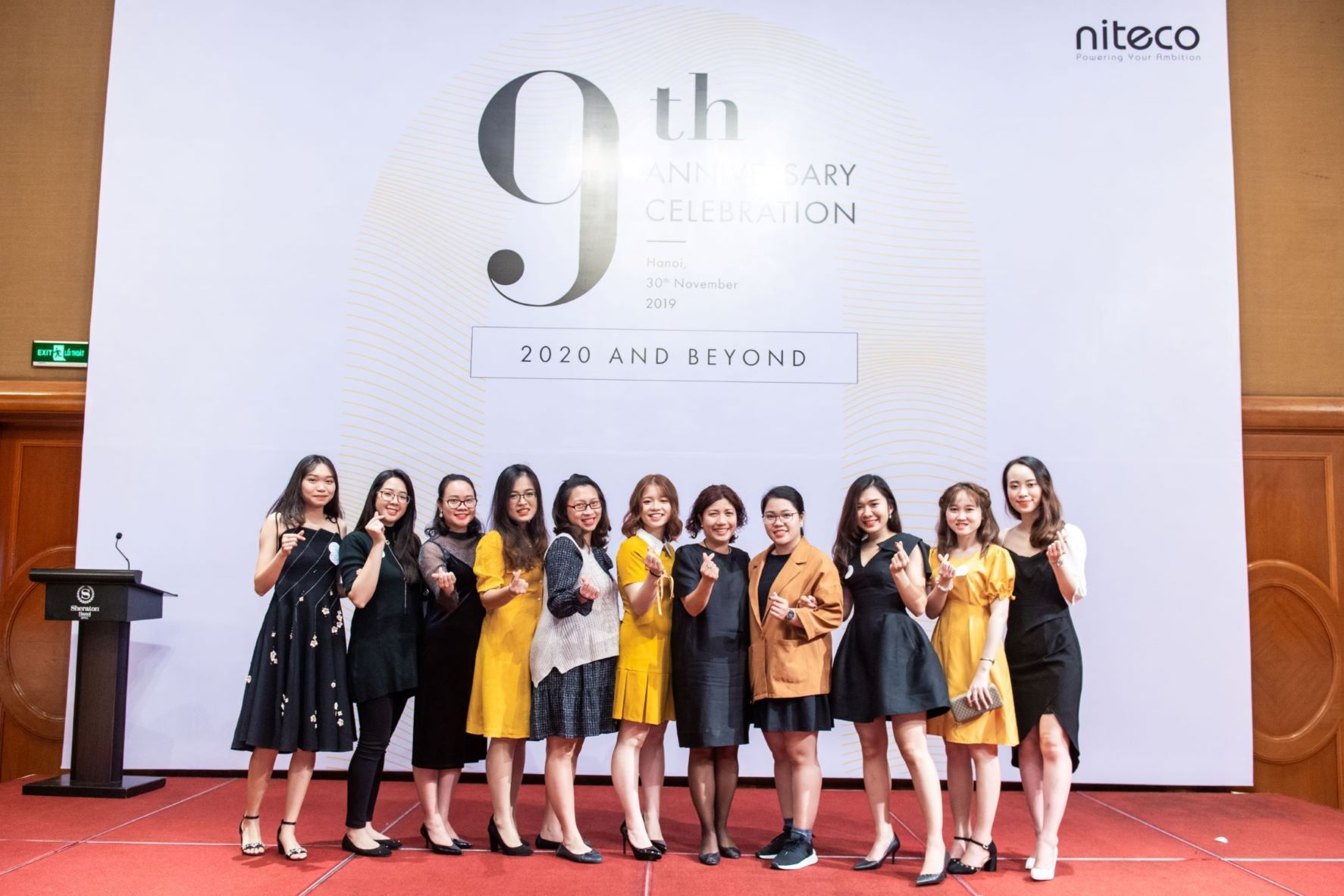 Niteco 9th birthday party – Niteco HR Team
There is a quote saying: When you put your heart and soul into your work, you cannot help but create beautiful things. Nowadays, there are many channels and platforms to help you find and develop your inner self, many doors lead to infinite possibilities. But to be excellent at something, you must first have a passion for it and acknowledge the meaning of your job. With IT recruiters, the value of the profession lies in helping both parties to achieve their life's goals, to connect those needed with those wanted, in time.
To wrap up the very first page of the Humans of Niteco series, the recruiting team has a few tips for "wannabe Nitecan" developers and testers for a blast interview 😊
- Knowledge and experience might take you far, but what's eye-catching in the first place and will leave a long impression on the interviewer is your CV! A clear, well-oriented CV with your strength written in detail will be much appreciated.
- You should prepare a computer with a camera, and a stable network connection, dress politely, and arrive 5-10 minutes early before entering the interview. Answer briefly, do not ramble, creating a comfortable atmosphere will give you an extra point.
Our series "Humans of Niteco" will return with more interesting conversations. The next issue's coming your way! Stay tuned!