For their outstanding work on the newly relaunched AEG Australia site, Niteco and its partner AEG have been awarded Optimizely's Most Customer Centric Digital Experience across APAC and Japan for 2021. This prestigious Optimizer Award recognises the solution that most successfully puts the customer at the centre of its entire experience.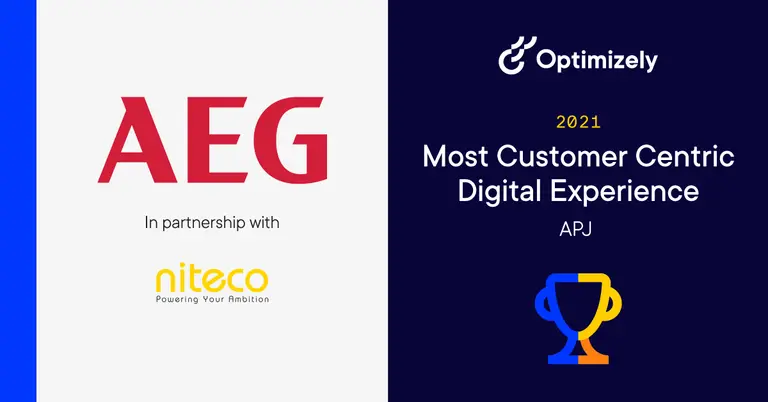 "This award is a testament to the hard work our team put into this and every solution, and to our commitment to creating digital experiences that truly put the customer first," said Niteco founder and CEO Pelle Niklasson. "I'm extremely proud of the effort our team has gone to as part of this project, and it's wonderful to see it recognized by Optimizely as well."
"Niteco has been a great partner in the successful launching of this site," said Sujeeta Dangol, Digital Project Manager responsible for the AEG brand at Electrolux. "It has been a fantastic journey. I want to thank my team and Niteco for making this project so successful."
"Winning this award illustrates the great collaboration Niteco enjoys with AEG and the entire Electrolux Group' added Paul Tannock, Head of ANZ and Emerging Markets at Niteco. 'The journey from the strategy sessions, design workshops through to the final site which is achieving incredible customer engagement and performance is something we are all very proud of."
The Optimizer Awards recognize forward-thinking organizations that are leveraging Optimizely's tools in exciting ways to go beyond the conventional, unlocking digital potential and inspiring others to follow suit. Niteco additionally received the award for Best B2B Buying Experience for its work with Electrolux Australia.
Niteco was previously awarded Optimizely Commerce Partner of the Year for two years running, 2020 and 2021.
You can read more about Niteco's work with AEG Australia here.