The Oktoberfest night at Niteco was an absolute blast! Colleagues gathered together to celebrate this traditional European festival in style. The event kicked off with everyone raising their beer mugs and toasting to a night filled with camaraderie and fun.
Fueled by the spirit of Oktoberfest, employees engaged in various games that brought out their witty sides. It was a great opportunity for everyone to bond and let loose.
The highlight of the night was the dance show, where talented performers took the stage and wowed the crowd with their energetic and captivating routines. The music filled the room, creating an electric atmosphere that had everyone tapping their feet and joining in the festivities.
The "cherry on top" of the Oktoberfest was definitely the trumpet-blowing performance, adding a unique and entertaining element to the night.
Throughout the night, beer flowed freely, and conversations buzzed with excitement. Colleagues had the chance to unwind, socialize, and forge new connections. The Oktoberfest night at Niteco was a perfect blend of traditional festivities and modern fun, bringing everyone together for an unforgettable evening.
Niteco Oktoberfest proved to be a fantastic way to celebrate and appreciate the hard work and dedication of the entire team. Let's take a look at some highlight moments of the night and cheers to many more memorable celebrations and events at Niteco in the future!

Back office ladies!

It's soooo good to see familiar faces having fun together

A toast from our CEO

Cheers!

1, 2, 3 zô!

It's game time ~

Faster faster!!!

It's selfie time!!!

Sexy dancers wowed everyone in the room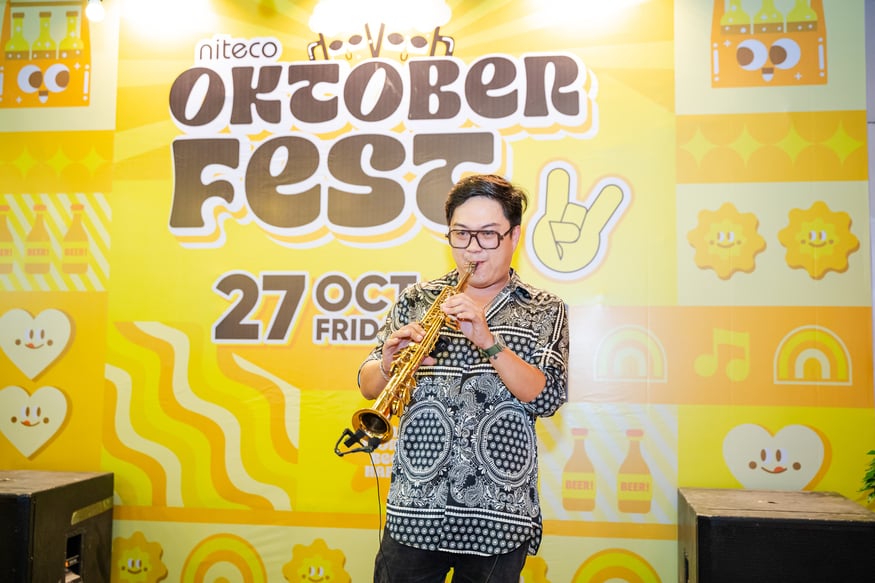 Wrap up the night with a trumpet performance

Thank you to everyone who joined and here's to more parties in the future!