Designing & building an adaptable eCommerce website for Electrolux's APAC and MEA markets
To support a shift toward direct-to-consumer sales in the APAC and MEA regions, Niteco created an Ecommerce website template that could be used for a number of different markets, covering everything from discovery and design to implementation, SEO and analytics.
Visit Website
Project info
October 2020
Strategy & Consulting , Optimizely , Episerver , eCommerce Solutions
Google Page Speed Insight
Increase in Add to Cart actions
The Challenge
With the Covid-19 pandemic showing no sign of slowing down, 2020 and 2021 saw Electrolux taking on its greatest challenge in its Asian and African markets: starting to sell its products directly to customers. Until then, the Swedish appliance giant's strategy for selling its products had been exclusively B2B. While the company had and has websites in all its most important markets across the region like Vietnam, Japan, Malaysia, Egypt, Singapore, Korea, Taiwan and others – with development and, in many cases, content, analytics and SEO work for 90 Electrolux sites already being handled by Niteco – those sites could only provide information and forward customers to local retailers' websites to actually purchase the products.
Electrolux needed an Ecommerce website that not only allowed for proper showcasing of the products and their benefits, but also ensured smooth transactions and secure payments. In addition, the company needed support concerning the unique characteristics of the various Ecommerce markets as well as available options for shipping and payments. The site also needed to be flexible enough to be used for Electrolux's various brands, like AEG, Westinghouse, Vintec, Beefeater and more.
Electrolux came to its trusted Optimizely partner Niteco to get the job done.
The Solution
Owing to the large scope of the project, Niteco and Electrolux kicked off with a one-month discovery phase, bringing together a multitude of stakeholders and determining the must-have requirements. Due to Covid, over 50 hours of workshops were conducted virtually. Niteco's team then designed the new Ecommerce site, creating visually appealing designs and efficient user flows, and assisted in setting up the logistics and payment aspects. Niteco's development experts built the site on Optimizely (formerly Episerver) and Optimizely Commerce, integrating it with Electrolux's existing PIM and ERP systems and heavily emphasizing web performance and speed.
Niteco also took on the task of filling the new site with Electrolux's content, using the aforementioned PIM system and following Best Practices for web content. The Niteco SEO team ensured that all SEO requirements, be they technical or content-related, were met, making it possible for the site to rank highly in search engine results right from the start.
The new Ecommerce website, which first went live in the crucial Ecommerce market Vietnam, was designed following Niteco's mobile-first approach, since the vast majority of Electrolux's traffic in the targeted markets comes from mobile devices. It can be customized to support all major local payment options, including cash on delivery and payment in installments. The site can also offer next-day delivery and a 90-day free trial for all products bought directly on the site. For the currently planned rollout, the site will use one platform to support 8 markets, integration with 4 separate ERP systems, 8 payment gateways, and 8 distinct checkout and fulfillment flows.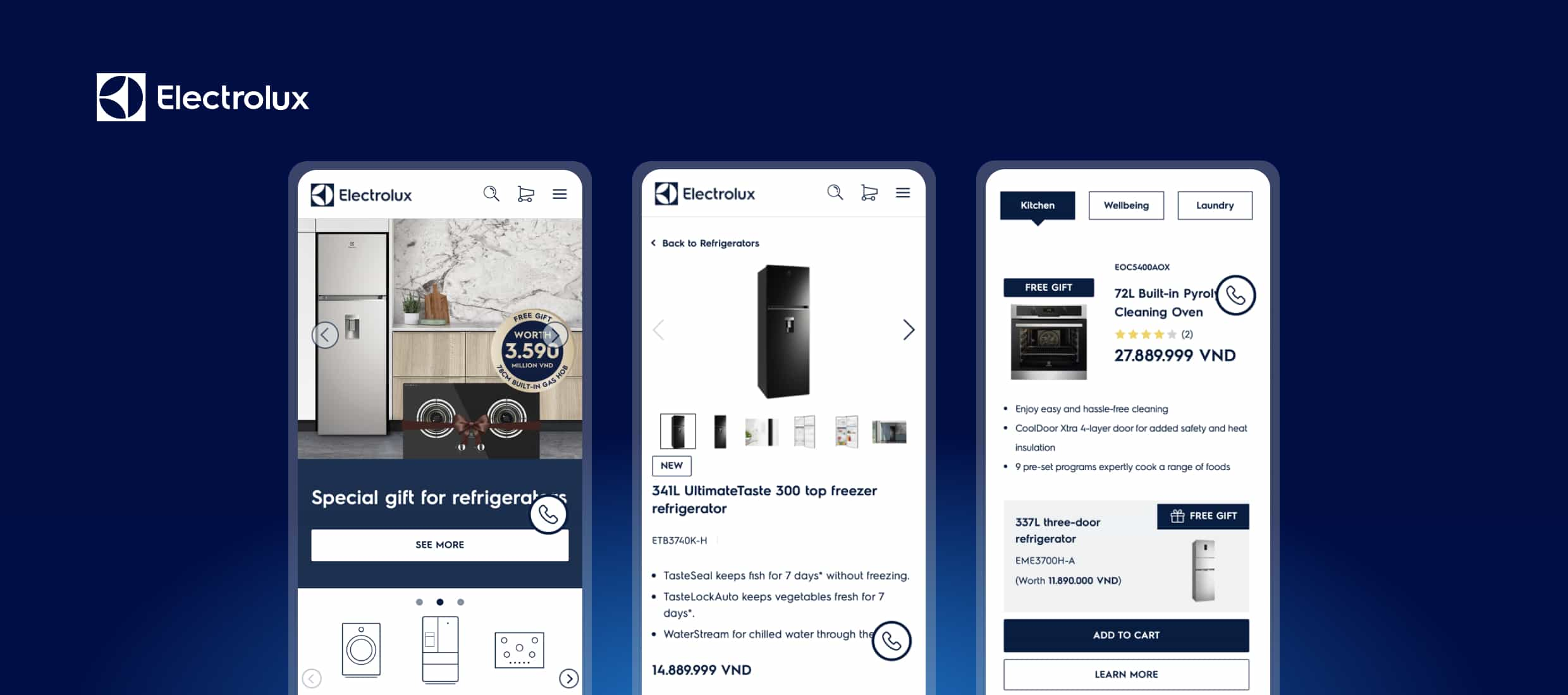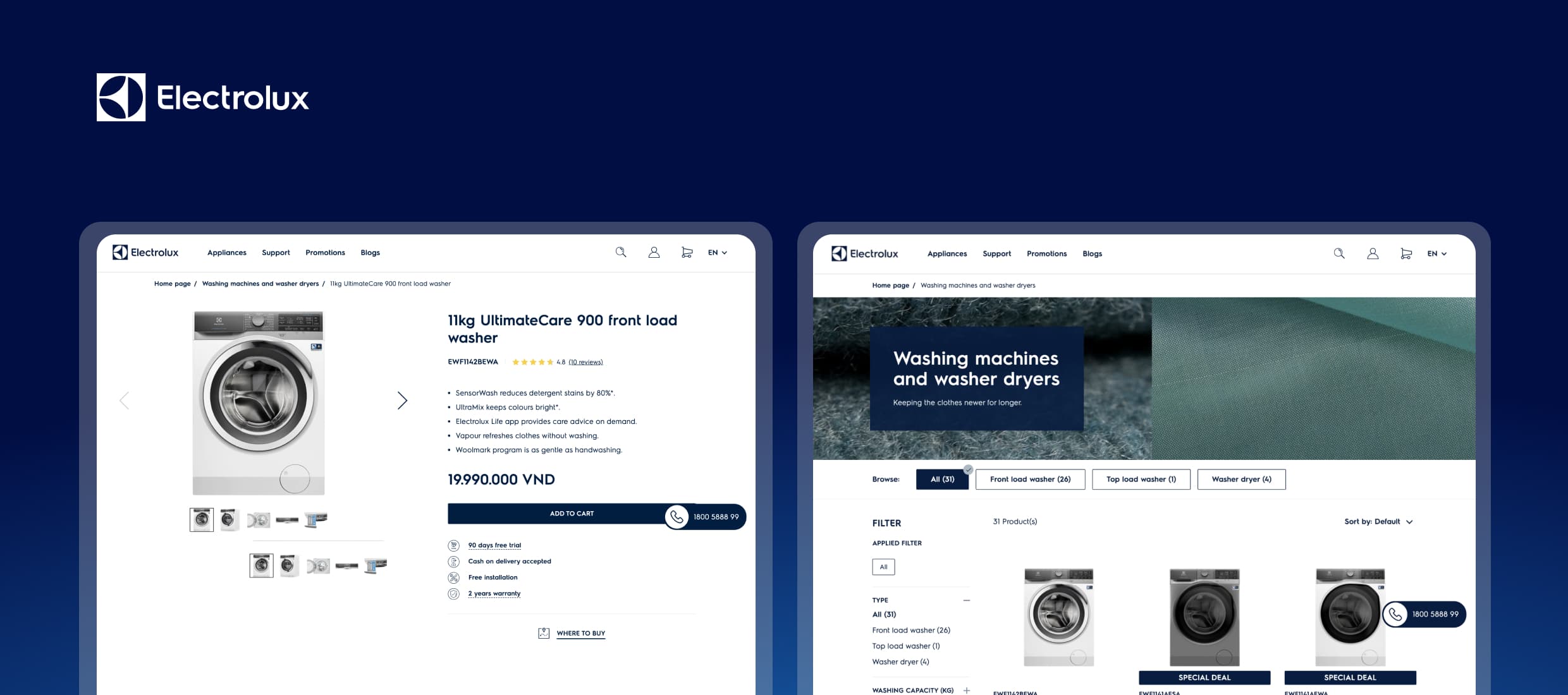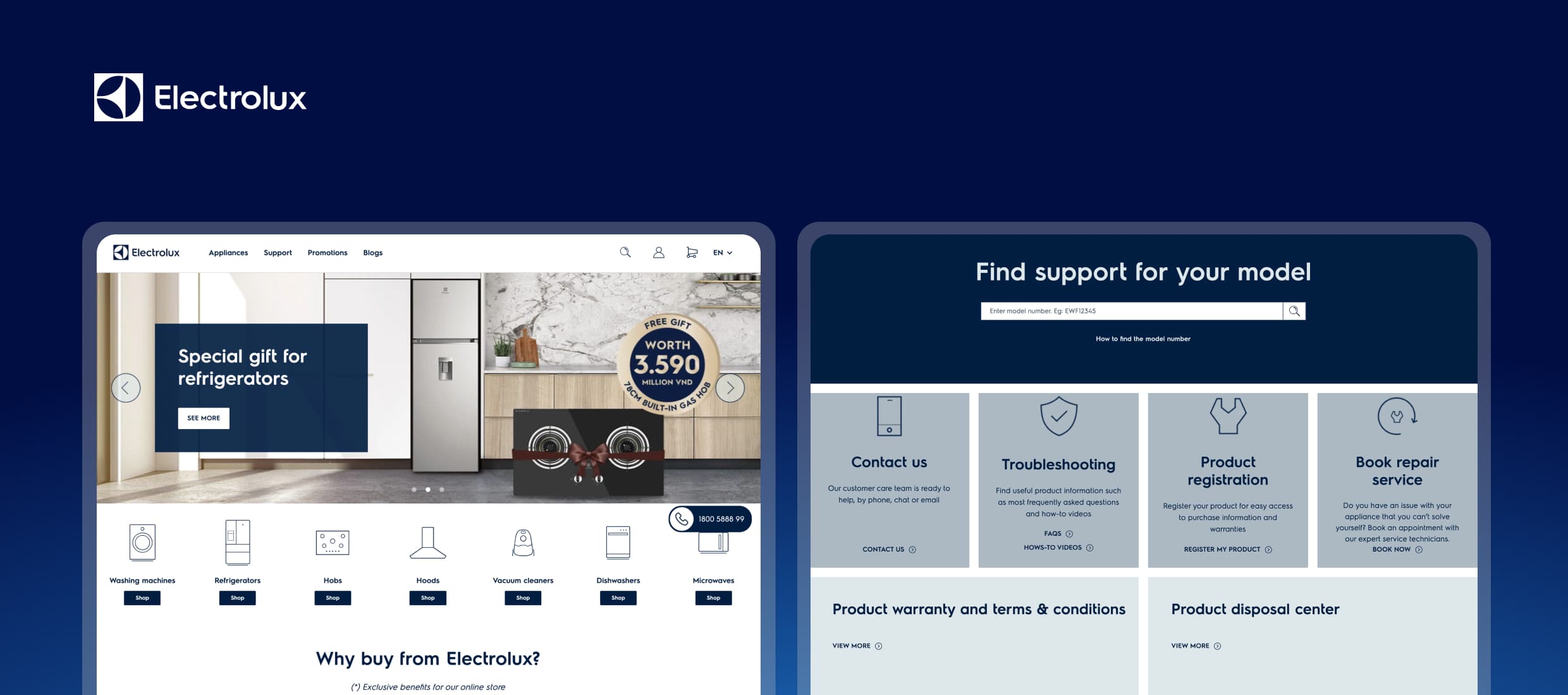 The Result
Niteco's template project first went live to the general public in Vietnam in December 2020. In the first full month alone, the site saw more than one million pageviews and a healthy conversion rate for finished goods. The combined efforts of Niteco's content and SEO teams also ensured an SEO score of 97/100. In PageSpeed Insights, the new site achieved a score of 91/100. From buyers, the website has received feedback like "Very friendly interface and easy to navigate" and "Great delivery service". Following the strong performance, Electrolux and Niteco agreed on a staggered rollout in further markets, namely Egypt, Japan, Korea, Taiwan, Thailand, Singapore, and Malaysia.
With the new site, marketers get complete control over all touchpoints, with automated transaction emails, abandoned cart follow-ups and more built right into the system. For improved upselling capabilities, the sites also recommend additional products and accessories the buyer might like while nurturing customer relationships post-purchase. In addition, advanced Ecommerce tracking lets marketers easily keep an eye on the most important metrics like bounce rate and conversion rate while making A/B Testing and CRO super-easy. For instance, Niteco and Electrolux implemented a CRO project shortly after the launch that led to an increase of 26.7% in Add to Cart actions. To optimize conversion rates further, Niteco designed smooth user checkout flows that eliminate any obstacles keeping users from buying.
The project was nominated for an internal Electrolux award for the successful implementation of the project despite Covid-19 restrictions and the distribution of team members across five countries. Sales for the new Ecommerce site in Vietnam are estimated to reach more than 1.1 million USD per year. The low cost and quick implementation for other markets are the major benefits of the Niteco solution's scalability and adaptability.
"Niteco has been, and continues to be, a great partner, for the launch of our multiple direct to consumer e-commerce platforms across APAC & MEA.
Their team's expertise with Optimizely has been undeniably essential for our projects and they have gone above and beyond to support us with all other system integrations we needed. The team knows our business processes well enough to advise us on the best technical solutions and delivers on tight schedules."

Karen El Khoury
D2C Program Manager – APAC & MEA