After its rebranding in 2021, the Optimizely platform is more streamlined than ever. With a renewed focus on experimentation and optimization, Optimizely now divides its offerings into three distinct service groups – Content Cloud, Commerce Cloud and Intelligence Cloud. In this overview, we explain which features and services make up these three groups and give Optimizely the all-around capabilities your business needs.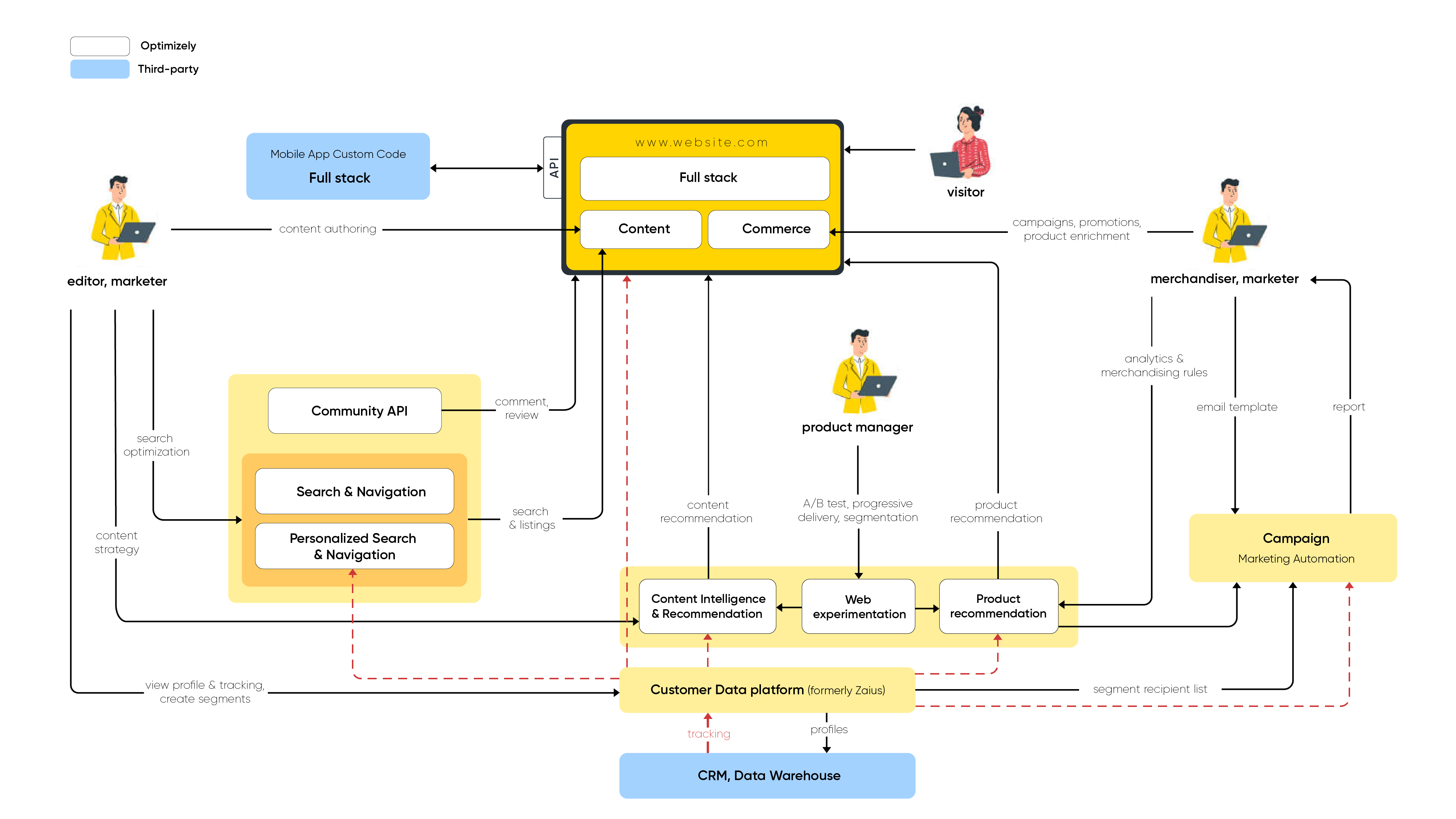 Optimizely Content Cloud
For several years now, Optimizely has been a leader in the Web Content Management space with the CMS named Content Cloud, consistently ranking highly in reports by Forrester and Gartner's Magic Quadrant. Its powerful content management capabilities empower editors to take full control of the website's content and support them in their day-to-day marketing activities. This includes on-page editing, scheduling of content publishing, bulk content authoring, approval workflows, multi-step web forms, A/B testing and CRO, SEO, social media integration and personalization, all via a user-friendly, intuitive UI. Optimizely also supports headless CMS options for businesses with multiple touchpoints.
Optimizely Commerce Cloud
Not only does it have a powerful web content management, Optimizely also has very strong e-commerce capabilities (check Gartner's Magic Quadrant for Digital Commerce). It has a very easy to use UI to manage markets, products, pricing, inventory, carts and orders, as well as setting up discounts and promotions. It can easily integrate with the usual E-Commerce support systems such as an ERP, PIM, OMS, DAM, payment gateways, marketing automation and so on. And it blends well with the CMS capabilities, providing marketers on-page editing abilities for product listing and detail pages and letting them easily manage campaigns, banners and landing pages, even across multiple markets and languages.
Commerce Cloud is split into B2B Commerce Cloud and B2C Commerce Cloud, with features that specifically target both of these market approaches. While B2B Commerce Cloud emphasizes flexibility, management of complex business rules and integrations, B2C Commerce Cloud focuses on using artificial intelligence to deliver personalized commerce experiences.
Optimizely Data Platform
Optimizely's customer data platform (CDP) is at the heart of Optimizely's delivery of experiences. It works behind the scenes to collect and centralize customer data from different touchpoints and make it available to the website so it can provide a unified and personalized experience to the customer. Based on the Zaius platform, which Optimizely took over in early 2021, the CDP utilizes a personalized data science model based on your specific customer data to provide intelligent segmenting and campaign targeting. And with real-time insights powered by data science, the Optimizely Data Platform gives you a holistic view of your customers and users.
Data Core Service
Optimizely's Data Core Service is, in essence, an underpinning layer for the storage of all customer and engagement data across all products on the Optimizely platform. It also allows you to report on this data. You can use the additional context you receive from this service to underpin your data-driven decision making. You can even make use of unknown sessions by turning them into individual customers, gaining insights even from interactions that previously gave you little data to work with.
Content Recommendations
Optimizely's AI-powered recommendation engine allows you to personalize user experiences with minimal manual effort. The Content Intelligence feature can analyze all your content in real-time with big data analysis and AI-enabled tagging using natural language processing, enabling you to make informed decisions on what needs to be created next – without having to tag every piece of content yourself. Easily find out exactly which topics drive conversions and revenue so you can focus on creating content that converts.
The recommendation engine provides you with a deep understanding of the interests of any given user profile in your CDP, allowing you to target users effectively with content that will be engaging to them.
Product Recommendations
Instantly boost conversions, cross-sells, upsells and order value by leveraging personalized product recommendations based on each visitor's current journey and actions of similar visitors. Out-of-the-box dashboards highlight actionable feedback on how to tailor your merchandising and recommendation strategies so you can maximize revenue even further.
There's no need for you to set up every recommendation rule manually, Product Recommendations takes care of everything using machine learning. Optimizely Product Recommendations can also provide a unified experience, being able to recommend products not just based on website behavior, but also on other touchpoints (i.e. offline or in-store experiences).
Email Product Recommendations
Individualized experiences should extend beyond just the website and into email communications. Optimizely Email Product Recommendations provides just that, personalized product recommendations inserted into your email campaigns. Marketers can construct emails around individualized customer product suggestions to provide that unique 1-to-1 messaging which has been proven to significantly increase click-through rates, driving more traffic to the website via email. Outside of marketing campaigns, this can also be used in transactional emails as well as triggered messages, covering abandoned basket emails, welcome messages, order confirmation and so on.
Web experimentation
With optimization and experimentation being a major focus of the entire Optimizely offering, the Web Experimentation platform takes a central role. It allows you to use A/B or multi-variant testing on any channel or device with an internet connection.
Powerful testing and experimentation capabilities take the guesswork out of deciding what converts and what doesn't. You can optimize at scale without having to sacrifice performance or speed. And with features like exclusion groups – a first in the industry -, you can even run multiple experiments on the same page at the same time.
Full Stack
Full Stack takes Optimizely's focus on experimentation and optimization into the development and release process. It enables experimentation for each new feature that product teams add to their applications, so you can measure the impact of every release to customers. You can experiment on everything from content to search results and algorithms. And thanks to real-time experiment results powered by Optimizely's industry-leading stats engine co-developed with Stanford, your teams can get insights and make decisions at scale.
Use free feature flagging to separate code deployment from feature releases and easily turn features on or off with feature toggles. That means you can choose who gets access to new features and roll out features gradually to mitigate risk.
The goal is to create a culture of experimentation in businesses, not only for content and marketing purposes, but also for feature deployment and coding. Based on the exact effects your feature releases have for your users, you can make the important decisions with confidence.
Optimizely Visitor Intelligence
A lot of businesses have abandoned traditional product-driven and business-driven methodologies for a more customer-centric strategy. We are in the midst of a revolution where the customer is in the driver's seat, willing to pay for a better customer experience and abandoning businesses with which they've had a poor experience. To provide a great experience to the customer, understanding them is key.
Optimizely Visitor Intelligence allows you to track, analyze and identify your customers. It gives you the ability to segment your customers based on several themes, including demographics, E-Commerce behavior, as well as omnichannel behavior (i.e. customers who purchased online and offline/in-store). Part of Episerver Visitor Intelligence is the Optimizely Data Platform, as explained above.
Marketing Automation
This can be an addition to your Episerver platform or be used as a standalone marketing automation tool, integrating easily into most CMS, E-Commerce and CRM systems. It provides marketers with a powerful editor to create anything from one-shot smart campaigns all the way to complex multi-step campaigns. It allows the use of several channels, including email communications, print, mobile push and SMS. It also seamlessly integrates into Optimizely Visitor Intelligence, allowing you to use and target your already created user segments as recipient lists to your campaigns. In addition, it also provides some performance analysis to your campaigns, with reports including KPIs, post-click tracking and visual link analysis.
Search and Navigation
Optimizely also offers an Enterprise search service that's hosted in the cloud. It can power the website's search results and autocomplete, as well as be the engine to your product listing pages and news listing pages. It has built-in tracking abilities to help content marketers analyze the search performance of the website and optimize these with features like Best Bets, Related Queries, Synonyms, and customized weight boosting.
Personalized Search and Navigation
Optimizely Personalized Search and Navigation takes search even further, allowing you to personalize search results for individual users based on their previous behavior and interests. Using guided search options and consistently improving search results powered by machine learning, it takes your user where they want to go more smoothly, reducing the necessary clicks and actions between the start of a user's visit and conversion.
Tell us what you want the Optimizely Platform to do for you. Contact us today and find out how we can help you reach your business goals.