Viking Code Challenge, held by the Niteco Kingdom, is a super easy and fun game for IT warriors, particularly .Net & front-end developers, and QAs, testers. Many attractive gifts have been given to lucky players.
Viking Code Challenge has quickly attracted a large number of players across Vietnam to participate. Although it has only been shaped since November 2021, this minigame quickly drew a lot of attention. Therefore, season 2 was arranged right at the beginning of 2022 and is expected to launch season 3 in the summer of 2022.
1. General Rules
1.1. How to join
The rules are quite easy, including 2 steps:
Step 1: Fill in the necessary information
Step 2: After completing step 1, you will get 7 challenge questions. These are all questions specifically related to .Net, Front End, QA, and Niteco company.
The player's task is to give the most correct and complete answers to these questions.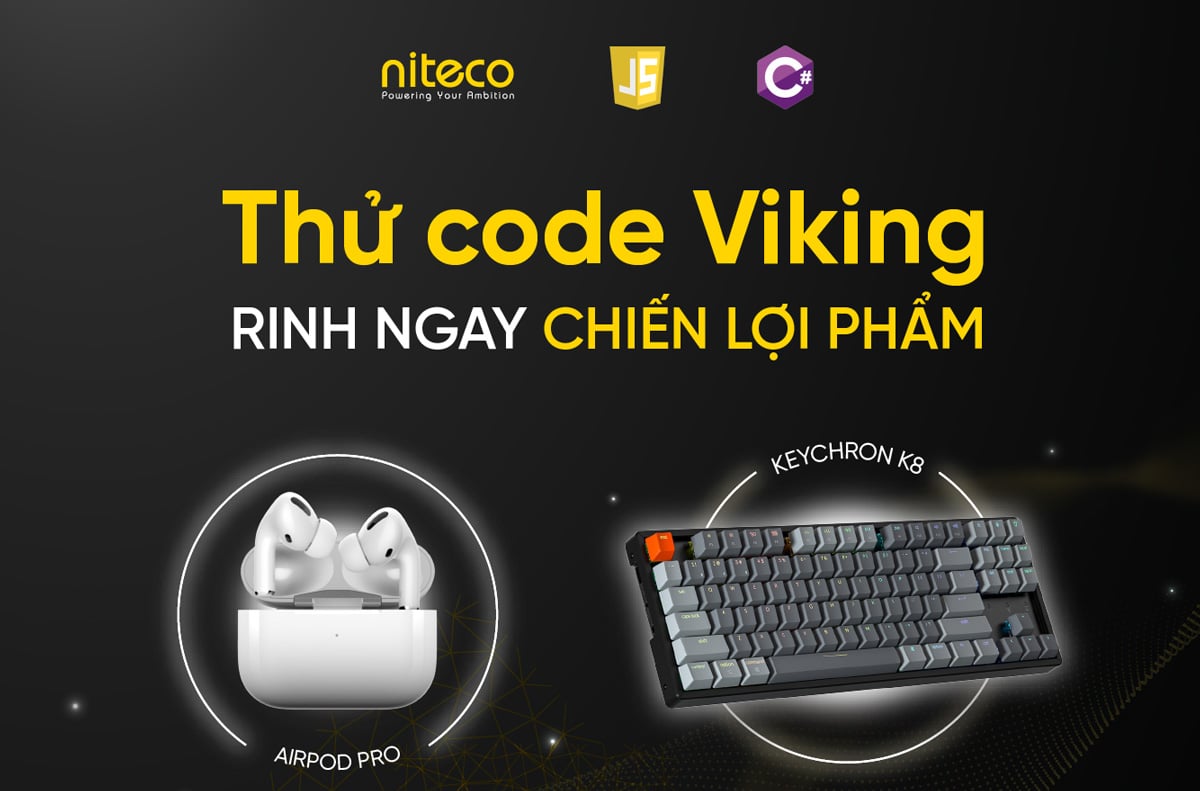 Extremely valuable gifts of Minigame Try Code Viking
However, there are a few small notes for participants:
Only applicable to those who live and work in Hanoi and Ho Chi Minh City.
Niteco employees are not part of the awardees, as the event is for external participants.
1.2. How to win prizes
After finishing the Code Viking challenge, the admin team will label the players as numbers, and draw the number at random to find out the lucky winners. Prizes will be announced on Facebook Fanpage "Niteco Careers" and via phone number & email of the winners.
2. Final results
2.1. Viking season 1
The Viking Code challenge was opened for the first time on November 1, 2021 and lasted until November 30, 2021.
Prizes include:
- 1 Admiral Prize: 1 Keychron K8 mechanical keyboard worth VND 2,290,000
- 2 General Prizes: Each prize is 1 Sony XB13 portable wireless speaker worth VND 1,290,000
- 10 Knight Prizes: 1 Vinmart voucher worth 100,000 VND for each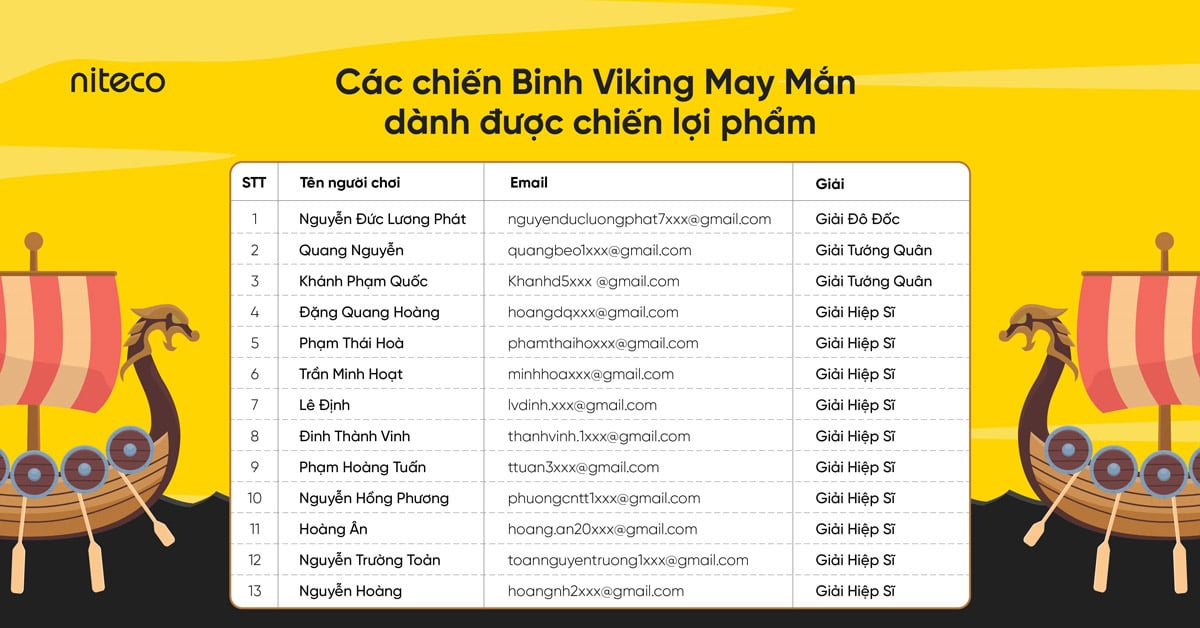 List of lucky winners in Viking season 1
Although it just appeared for the first time ever, Viking Code Challenge by Niteco season 1 has stirred up programmers from all over the country. As it's a fun minigame, the questions are rated quite easily by players. Thus, there were a lot of people who answered all correctly and waited for luck to knock on their door.
2.2. Viking season 2
With the heat from the first season, Niteco continued to host the next season of the Viking Code challenge from January 20 to March 20, 2022. In particular, because that time coincides with the Lunar New Year, the organizer has conducted a random draw to give away lucky money, before the main prizes are drawn.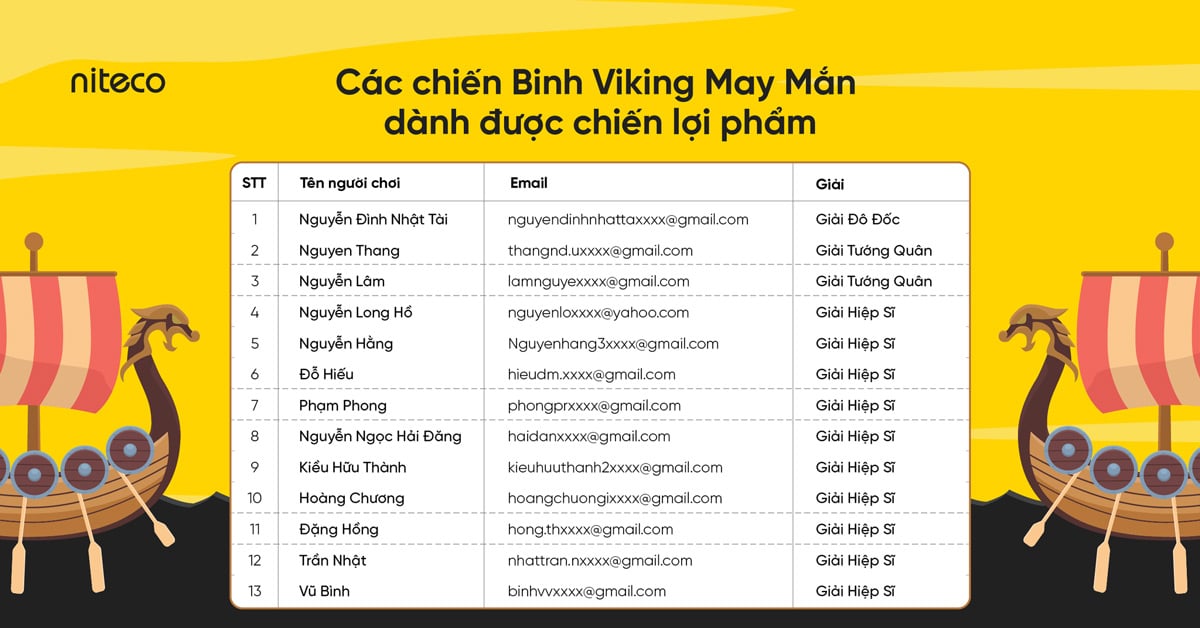 List of players who successfully received awards in season 2
Awards in the 2nd season have been upgraded compared to those of season 1. Specifically:
- 01 Admiral Prize: Each prize is 01 Apple Airpod Pro headset worth 5,000,000 VND.
- 02 General Prizes: Each prize is 01 Keychron K3V2 mechanical keyboard worth 2,190,000 VND.
- 10 Knight Prizes: 01 Vinmart voucher worth 300,000 VND each - Referral Prize: The referrer will receive the same gift as above when the referred person wins.
- 10 Red envelopes: 01 Vinmart voucher worth 200,000 VND each.
Here are portraits of three participants winning the 3 top prizes of Viking Challenge 2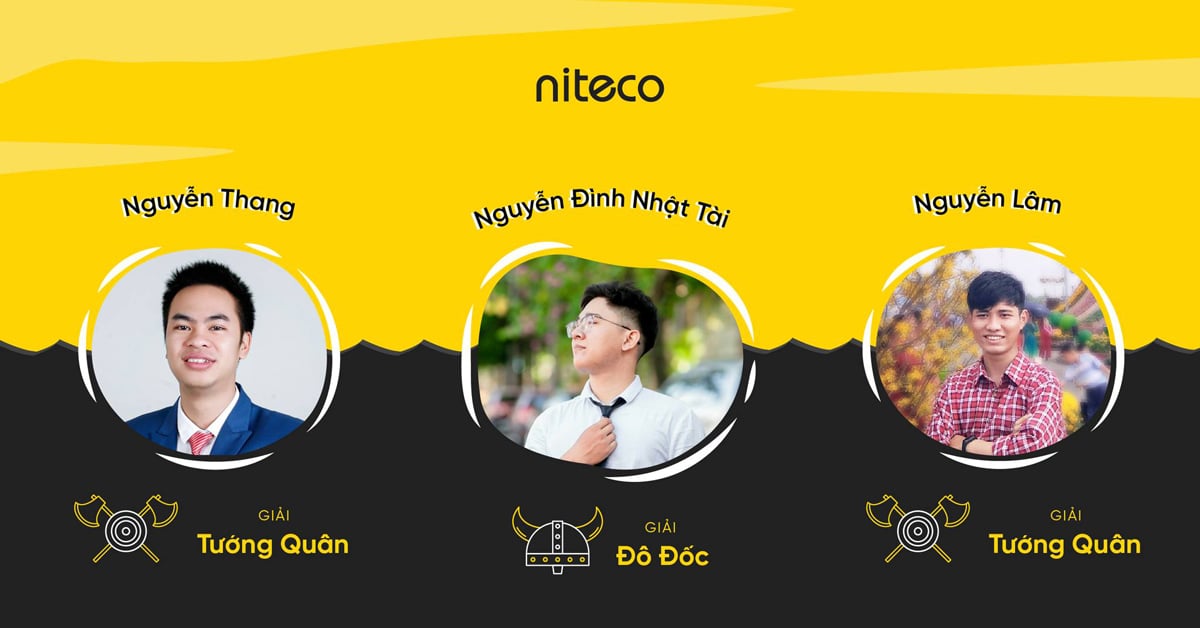 Let's listen to some more sharing of those 3 golden boys below
(Link video embed)
In all, the two seasons of the Viking Code challenge went very well. In addition to having fun and getting valuable gifts, all warriors joining are also open to being offered jobs from Niteco - a leading technology company originating from Sweden. Through more than 11 years of establishment and development, co has offices around the world, including Hanoi and Ho Chi Minh City in Vietnam. Thus, stay tuned and join the next Viking Code challenge of Niteco!