Year-end party, also known as Employee Appreciation Party (EAP) and Annual Company Anniversary (AP) are always two events that show their own colors for any organization. At Niteco, these two events, despite being organized separately, are relatively close to each other in terms of time. If the company's anniversary party takes place in December, just a few months later, the year-end party will be held on the eve of the new year according to the lunar calendar.
1. Year end party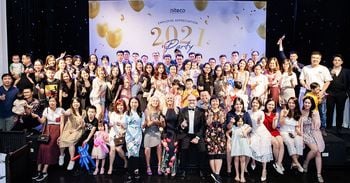 Talking about EAP, Nitecans will not be able to resist the excitement and joy that this celebration brings about. This is an opportunity where every family members of Nitecans can attend together, share moments of reunion at the luxurious buffet with a menu of up to hundreds of dishes, ranging from Asian to European cuisine of Sen Tay Ho restaurant.
Participating in this party, everyone is pleased with musical performances prepared by the Nitecans themselves for a whole month, which is as nearly great as professional artists. Next is the magic show - a show from a professional magician, to help people have moments of entertainment while still savoring a delicious meal.
And perhaps the most expected part from this party is the "Lucky draw" section. There are many prizes awarded with extremely valuable gifts, from hair dryers, microwave ovens, coffee machines or smart mops, etc. And these items all belong to household brands which are our big clients at the same time as Electrolux, AEG, Delonghi, etc.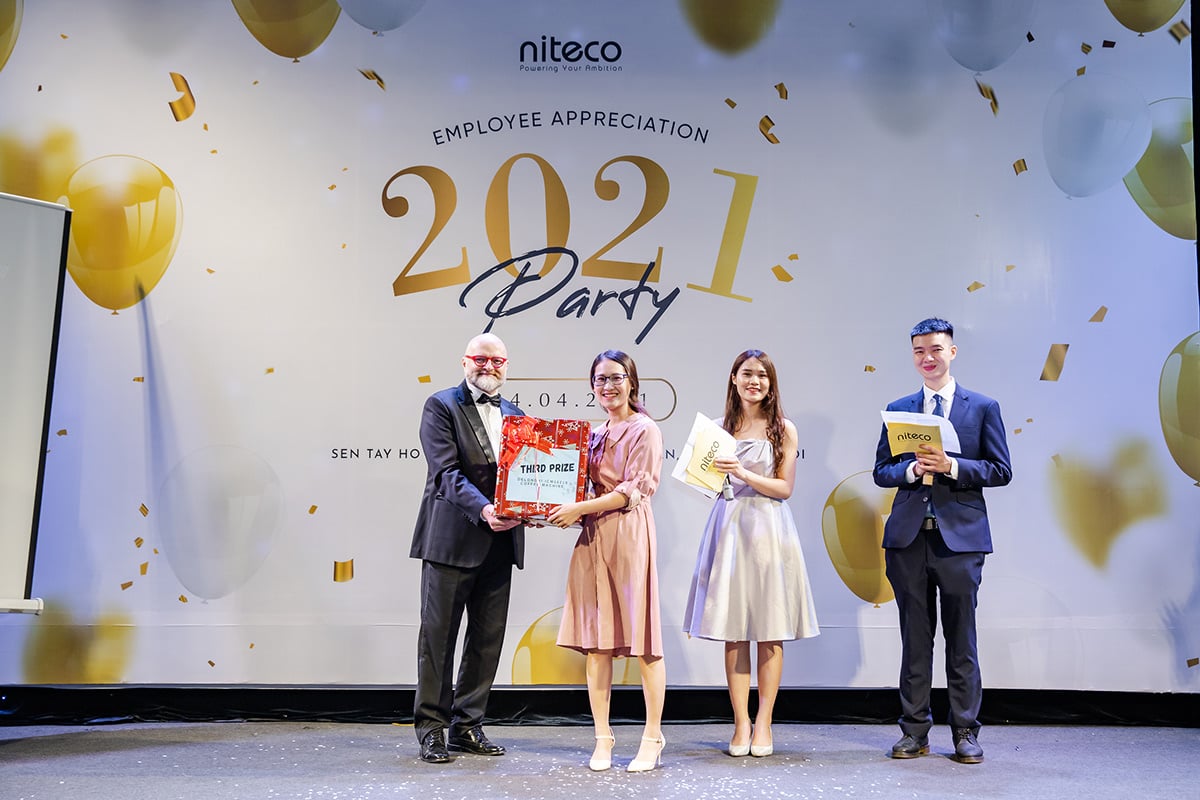 As the name suggests, Employee Appreciation Party- EAP, is an event which the company's management pays tribute to all employees who have contributed to the company during the past year. Therefore, in the joyful atmosphere of spring, everyone feels grateful and excited to continue accompanying Niteco in the upcoming years.
2. Anniversary party
EAP is already so epic. However, when it comes to the company's anniversary party, the Nitecans will be definitely wowed more. Considered as the most important event of the company, there are many attractive and elaborate things waiting for the Nitecans in this party. This event is held for a whole day with the participation of both Hanoi and Ho Chi Minh City branches. This is a rare convergence of branches of the two regions (besides summer vacation), so the venue is also carefully selected. To reveal a bit, the selection will be one of the most splendid five-star hotels in Hanoi, such as InterContinental Hotel, Sheraton Hanoi Hotel, to name just a few.
General agenda:
Morning: The company's management reports on the company's business situation and important indicators for the year.
Noon: Everyone rest and have lunch at the hotel.
Afternoon: Representatives of the divisions make a report summarizing the projects they have done. Here, everyone will have the opportunity to vote for the representative with the most impressive presentation to award.
Evening: The whole company move to Sen Tay Ho restaurant to savor a luxurious buffet and watch the talent performances among the divisions.
3. Octoberfest Beer Festival
For beer lovers, Oktoberfest is definitely a paradise. Inspired by the Octoberfest from beautiful Sweden, every year in October, Niteco offers a fun gathering opportunity for all employees.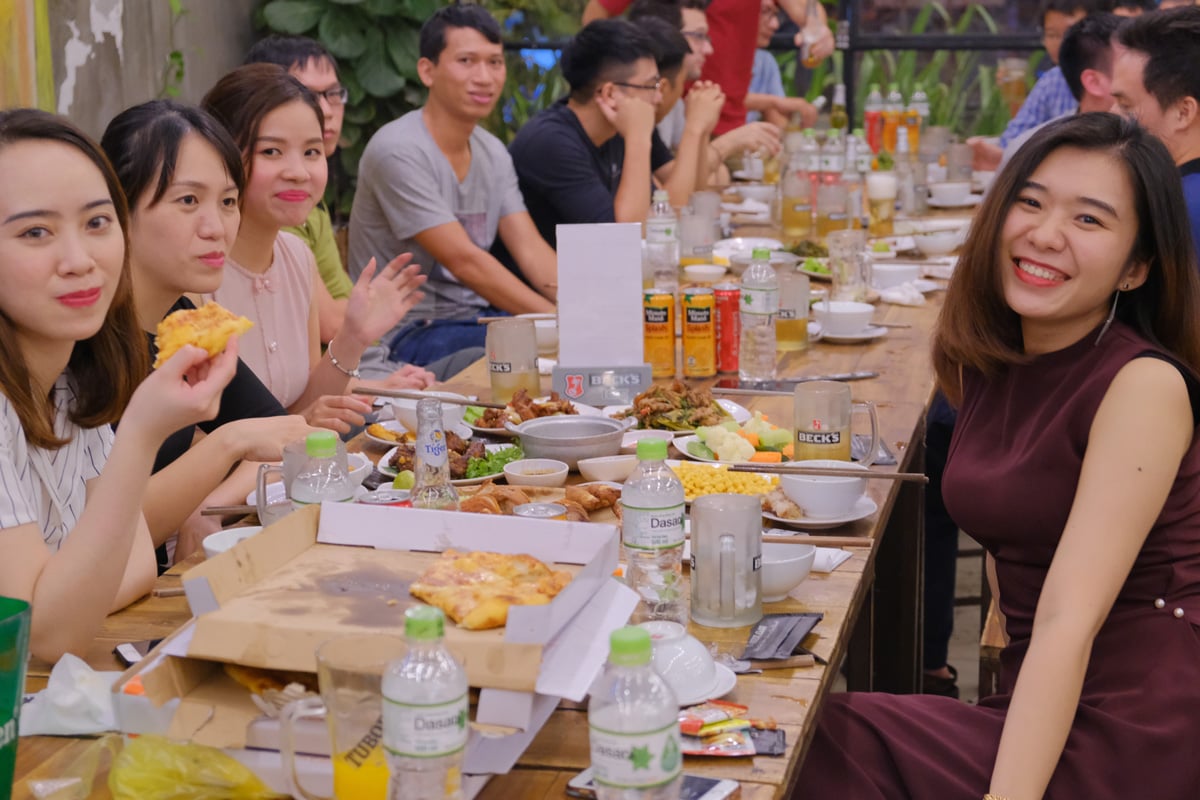 All beautiful nitecans gather at the Octoberfest party each year
After work on a random Friday afternoon in October, the entire Niteco's employees will meet and enjoy cold beers and delicious food at the restaurant, alongside special performances and games, which brings full of fun.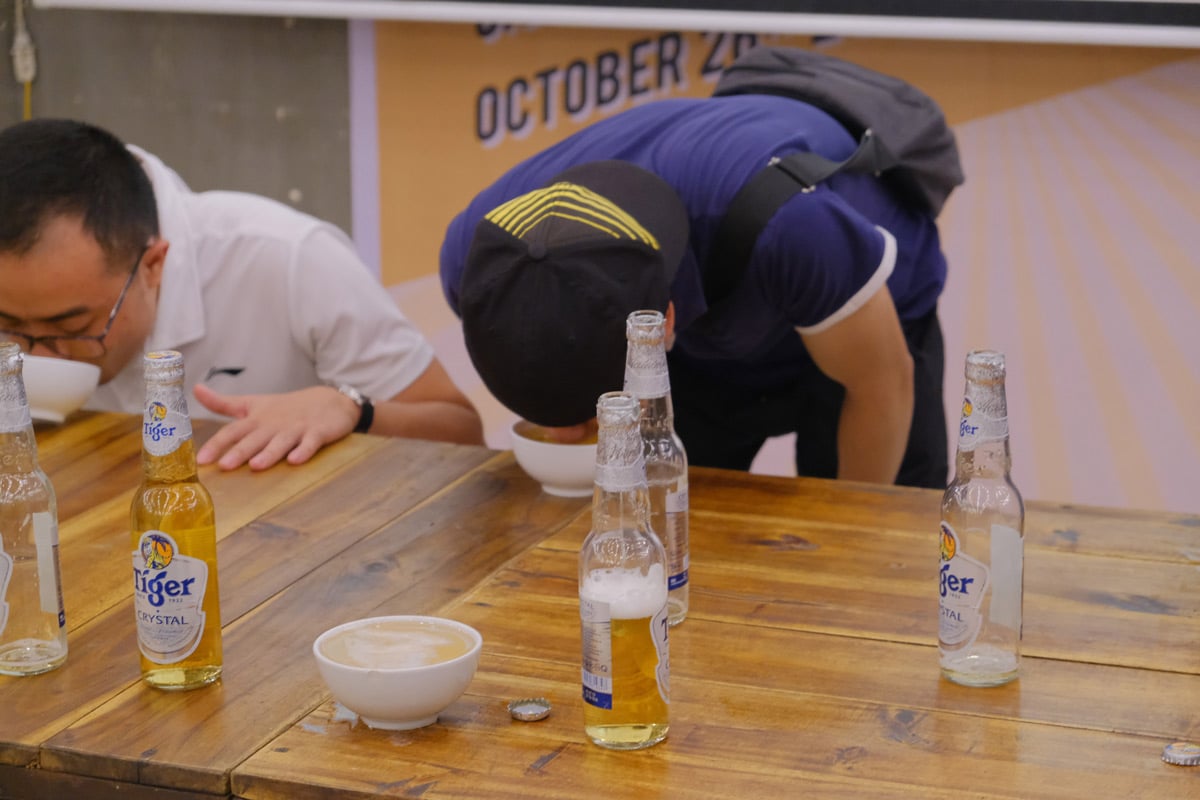 Fun challenges at Niteco's Octoberfest
Want to know more details and experience these very unique parties, join Niteco today to discover more.